Art knows no boundaries, so no matter if one has the right canvas or not, the creative people find a way of expression. They best tells the world about their skills and passion there are many artists that have offered something extra to masses. One such artist is Scott Wade whose art has materialized in the form of dirty car window sketching. Whether it is human sketch or the drawing of scenery this person has made its mark of differentiation with the art and craft. He along with a number of few artists have proved that car dirt, something considered dangerous for driving; can be the canvas of creativity.
The smooth strokes with overall neatness in sketching can be seen through it. Here are the 5 masterpieces that have really touched my heart.
A dedication to Bob on his birthday.

The mesmerizing staircase and people in 2D.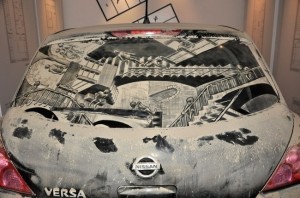 The famous Mona Lisa is also here. Wait! Is it water depicted in background?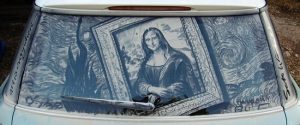 The waves are also here with impact of water on the lower edges.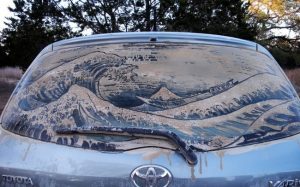 My favorite whale and fish in urban area with ancient menhirs.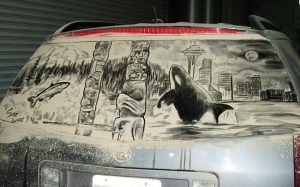 There is much more to the range, so to all those who have difficulty in expression find something worth it and express everything on your mind.
As canvas and resources never limit creative people!