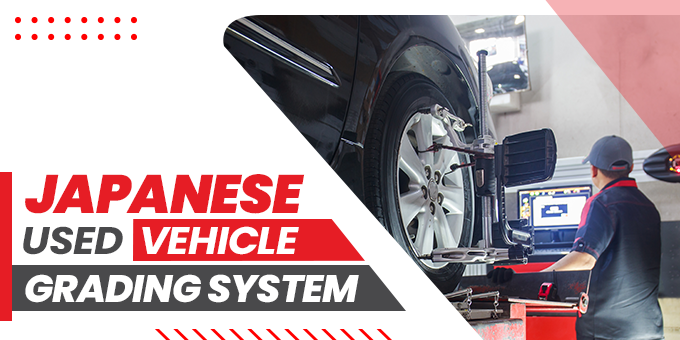 Ever experienced buying a Japanese used vehicle? Are you aware of the vehicle grading system? When it comes to Japanese cars, there are some grades. Learn these to find out which grade is good and what you are looking for.
Globally, Japanese used cars are very popular. These are known for their longevity and durability. People who cannot afford a new car often search for a used Japanese car. They can find good condition cars from verified dealers.
People can also check auto auctions in Japan. These offer good vehicles at very minimal prices. Importers are responsible for ensuring the quality and condition of the Japanese used vehicles.
The Japanese used vehicle grading system gives a grade to the car based on an overall assessment. It is given by the Japanese car auction house's inspector.
What is the Need for a Vehicle Grading System?
Currently, 115 auction house locations are functions that test and assess the general condition of the vehicle. They assign grades accordingly. Different houses have various methods of determining grades. However, they are likely similar and give similar results.
The established grading system presents valuable and required information about the vehicle. Strict Japanese standards are followed for grading the used cars. It helps buyers in finding and choosing the right vehicle.
As vehicles are already graded, the buyers don't need to inspect the vehicle. It provides accurate information regarding the Japanese used vehicle up for auctions or sale. It allows importers and buyers to buy with complete assurance and confidence.
Official grades are based on interior and exterior conditions and their mileage.
If you have any ambiguities regarding the grading system, read this and find out the grading criteria.
Japanese Vehicle Grading System
The grades are usually numbers or letters based on mechanical and visible vehicle conditions. Grading describes the quality of the vehicle.
Let me first discuss the concept of grades. The Japanese used vehicles are sent to auction houses by the authorities. Before the export, auctions are commenced on a specific bid. The cars are graded based on the standards defined based on the Japanese Automotive Standard Organization (JSO).
The grading system helps in reporting different types of defects on the auction sheets. These defects are listed below:
Dents
Wave
Rust
Cracks
Scatches
Overall Grading System
The overall grade system is based on A>B>C>D>E criteria. The overall grades are given below:
Grade 6 or higher or 'S'
The S-grade vehicle is considered brand new. Less than 12 months old, and used with under 10,000km. These cars have a spotless exterior and interior. Finding an S-grade car is difficult as these rarely come in for auction.
Grade 6 is marked when the car exceeds a lifespan of 1 year. Its mileage is between 10,000 to 30,000km. These are mostly old model cars in immaculate condition.
Grade 5
It is as good as new and has an exceptionally low mileage of less than 50,000km. The interior and exterior may have minor scratches or dents. But, these are quite hard to notice.
Grade 4.5
The vehicle is very slightly used and a mileage of up to 100,000km. The car may consist of minute scratches or dents.Although no repair work with the engine has been performed. It is the most desired grade after 5 and 6.
Grade 4
Used with the slightest visible flaws and has a mileage of less than 150,000km. The overall condition is good.
These cars are highly in demand based on five years import policy of vehicles.
Grade 3.5
Condition is good but with visible flaws. In this case, some minor body repairs may be required. However, the car has no history of a major accident or crash.
Grade 3
Average condition vehicle with light damages. The exterior has some scratches, dents, and repair marks. Interior also consists of stains, scuffs, and imperfections. Or, the interior and exterior require replacement or repairing.
Grade 2 or 1
Poor condition with prominent damages, but the vehicle is functional. It has undergone non-accidental damages or major transformation.
The engine is genuine, and no visible signs of rust or corrosion.
Grade R or RA
R represents the repair history or major modification. These vehicles have met a serious accident. One or two major body parts require immediate replacement.
RA stands for minor accident cars that have been fully repaired. This grade has nothing to do with the mileage or age of the vehicle.
Interior or Exterior Grading System
The Japanese used vehicles are assessed for auctions, and grading is provided for the interior and exterior as follows:
Interior Grading
A – Perfect – new vehicle's condition
B – Good condition – interior is tidy and nice
C – Cigarette holes and small food stains are visible inside the vehicle
D – Cigarette marks, stains, smell, and tears are prominent in the interior of the car
E – Bad condition – the interior has all aforementioned issues and even worse
Exterior Grading
A – An intact and spotless exterior condition
B – Small scratches – up to 15cm are visible
C – Scratches and dents up to 30cm are detected
D – Visible corrosion, rust, or scratches are identified
E – Car is in bad shape – many exterior breakdowns are visible. Rust and corrosion are also noticed.
Final Thoughts
I believe that the non-Japanese people find the grading system stricter than they expected. The inspection grades help buyers in making the right choices.
If you are thinking about bidding on a car but you are unsure, follow the grading notes presented above.
Preferring one grade over another is a challenging task. All grades have their pros and cons. Cars with grades 6, 5, and 4.5 are expensive but worth buying.
Grade 4 cars are budget-friendly, but consider the few imperfections attached to them. Affordability criteria have increased the demand for Grade 4 cars.
Choose wisely. If your budget is low, go for RA grade cars having low mileage rather than choosing grades 3, 2, or 1.