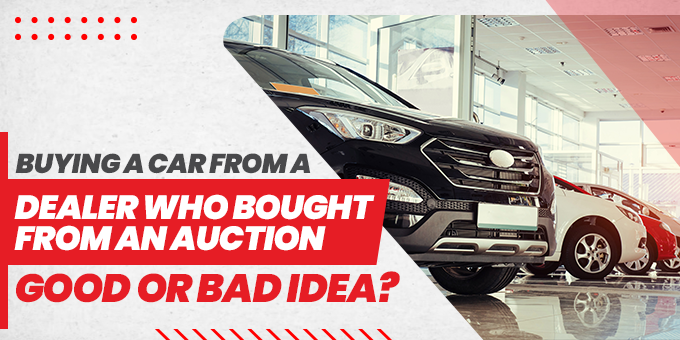 Car auctions have always gotten attention around the world. Car auctions are open to the public in the US, allowing people to acquire vehicles at auction prices. Moreover, they don't need a dealer's license; hence if you are interested in buying a car from a dealer who bought it from an auction or you want to buy directly from the auction, the choice is entirely up to you.
Every state has its set of requirements for vehicle auctions. Also, if you want to apply for a car dealer license, you'll have to follow the regulations. The industry analysis shows that people often buy, modify, and resell cars bought from auctions. They are earning a tidy profit through it.
However, buying a car from a dealer who bought it from an auction for yourself requires some insight. First, you'll have to scrutinize the vehicle and confirm that it's in good enough condition. Second, remember that purchasing expensive products and brands requires extensive research to ensure the purchase is right for you.
Remember that you won't be the first to use the car if you buy a car from a dealer who bought it at an auction. However, it helps save money, and you can get decent used cars and second-hand cars at reasonable rates at auctions.
Things to Consider When Buying a Car From a Dealer Who Bought It From an Auction
When you plan on buying a car from a dealer who bought it from an auction, you must know that it's an affordable endeavor. However, it involves some risks as well that you cannot ignore. Everyone has their preferences, and different factors influence the choices that are made.
Since the automobile industry is growing around the world, the number of auto dealers has also increased rapidly. Every car dealer claims to be authentic and credible. However, you cannot trust them all. Many of these are operating to scam their buyers. So the more you know, the more informed choices you can make.
We have prepared a list of things that you must know to avoid risks when buying second-hand cars or used cars from car auctions.
1.     Good Research
Even if you have ample experience buying new or used cars, you still need to spend time on research. Dealing with car traders is a complicated and daunting task. For first-time buyers, it can be overwhelming. However, it's not something that one should stress over these days. Just spend some time learning the basics of the market situation and the availability of vehicles and their features.
The internet can provide all the needed knowledge. For example, you can visit Quora, study the automobile industry reports, or ask questions on specific car-related forums. Through this, you can list down some of the most reliable and best vehicles in the market.
2.     Take Notes
Whenever you are purchasing a second-hand car, always watch out for the important details. After research, you'll have a list of auto dealers near you. So naturally, it's better to choose the ones who have better reviews and ratings. But there is more to a good auto dealer than just ratings and reviews.
The idea is to visit different auto dealers in your area. Ask questions and assess their process. Also, compare the prices they offer and then compare it with the information you got after the research. Take notes so you can easily compare the prices and models each auto dealer you visited offers. It'll greatly streamline the buying process for you.
3.     Check Out Reviews
Buying anything without really knowing anything about it involves risks. Today, the internet allows people to connect with other buyers and view their reviews related to products, brands, and companies. So before choosing an auto dealer or the car you want to buy, look for reviews on the internet.
Another way to gather information is by asking your friends, colleagues, or family. For example, you can ask if anyone around you has ever bought a car from dealers with second-hand cars that are bought from auctions. It will be great if they share their experiences. But take your decisions based upon what fits your needs, and don't rush to make a deal.
4.     Pre-Purchase Inspection
Whether you choose a used car or you're buying a car from a dealer who bought it from an auction, you must understand the importance of doing a  pre-purchase inspection and evaluation. Don't solely rely on the words of the dealers. Do it yourself. Check the exterior as well as the interior. Also, conduct an under-car inspection.
If you don't have relevant knowledge of vehicles, you can take your preferred mechanic with you. Performance analysis and evaluation of the brakes, steering, chassis, and suspension can facilitate you in making the right decisions. Then, go for a test drive and check all the papers and warranty.
Pros and Cons of Buying a Car From a Dealer who Bought it From an Auction
Assessing the pros and cons is one of the best ways to make the right purchasing decision. Of course, everyone wants a good deal at reasonable prices. So, think about the benefits you get and what you would lose if you buy used cars from auctions or dealers who have bought from auctions.
Firstly, the best part is that you can find cheaper options this way. So, you'll get a decent car for a fraction of what it costs when buying from a car dealer or any private seller. Also, this way you can find a range of vehicles. So, you'll have a lot of choices.
Thus, whether you are looking for a family minivan, a pickup truck, a cheap compact hatchback, or an SUV, you can get it all.
Moreover, used car auctions in the USA allow people to bid and make deals. It's fun for many. But you cannot make any trade until and unless you are mindful of what you are purchasing. It entails a lot of exploration and inquiry. So, spend your time and efforts sensibly.
It has been found that there are risks involved with this kind of purchase. First, you may not know the complete history of the car you are buying. Also, you don't get a warranty. Finally, in one test drive, you cannot fully judge the performance of the vehicle.
Final Thoughts
The bottom line is that buying a car from a dealer who bought it from an auction is not a bad idea. You can get a decent vehicle at a reasonable price. However, you cannot just wake up and decide to buy a car from an auction or a dealer that has second-hand cars.
Acquiring a car sounds fun for everyone. But you cannot miss the fact that it involves a hefty sum of money. Hence, it's better to research and find the right options for yourself.
A comparative analysis can help in choosing the right dealers and vehicles that suit your needs. Even when buying from dealers who bought it from an auction, you have options. Choose the credible and reputable ones.