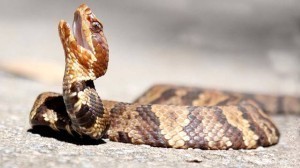 What comes to mind when you're on a bumpy or slippery road cruising slowly in your car? That your car doesn't slip or hit a bump and cause damage to your car? Well there is more than you bargained for. There is a rattlesnake out there that is aiming at your tires and making you scream for help!
Commuters at Maybe Creek had difficulty reaching their destinations due to immense floods that have hit the area cause highway lanes to be completely shut down and slowing down of the traffic. To add to the misery there is a rattlesnake present of the highways that has come out due to the extreme flooding of its hole and is desperately trying to get away. Being stuck in the middle of the road the snake is aiming its sharp fangs at the tires of every car passing by. This is nothing personal on the snakes behalf as the poor thing is only trying to make its way out of the storm and is stuck in the middle. The left lane has been completely closed for passenger safety. However it was the poor snake that needed protection as multiple cars ran over it and thus resulted in its ultimate demise.
So any commuters in the midst of a flood or storm make sure you keep your eyes opens and your windows shut because you never know when you could hear the hiss of the snake on your back seat!