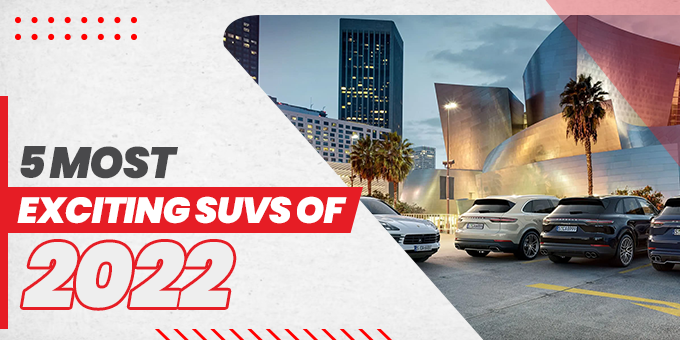 If you are contemplating purchasing the latest SUVs in 2022, you will also have difficulty deciding among the many alternatives available. If you want to make the best choice possible, you must consider various characteristics and variables. When it comes to selecting an SUV's body design, engine, and even infotainment technology, you must be clear about your preferences. Not only that, but you must also consider the latest performance, pricing, durability, and safety of the SUV before making your decision.
Considering that these off-road SUVs are still relatively new, it is important to be aware of their dependability rating, along with a comprehensive list of recalls and complaints, are not yet completely established. Here are the top latest SUVs in 2022.
1. Buick Envision
Buick has shown that it is a brand that listens to its customers by fixing the flaws that plagued the first-generation Envision, which has resulted in a more comfortable, dynamic, and upmarket 2022 model. Powered by a 2.0-litre turbocharged gasoline I4 engine and a 9-speed automated gearbox, the small SUV generates 228 horsepower.
2. BMW X4
It is no longer news that BMW enjoys coupe-fiddling with their SUVs, but what is new is that the 2022 X4 has been overhauled with enhanced external style, a standard 12.3-inch gauge cluster, and more color choices than the previous generation. More fascinating, though, is the mild-hybrid electrical system with 11 horsepower and 48 volts included with the M40i variant of the X4 engine.
The xDrive30i basic model is powered by a turbocharged 2.0-litre I-4 engine that produces 248 horsepower and 258 pound-feet of torque and accelerates to 60 mph in 6.0 seconds. The turbocharged 3.0-litre I-6 of the BMW M40i accelerates from 0 to 60 mph in 4.4 seconds. The M40i has a rated output of 382 horsepower and 369 pound-feet of torque.
3. Kia Sportage
Several improvements have been made to the 2022 Sportage, including the addition of a push-button start, black 18-inch wheels, and heated front seats. Due to the 2.4-litre 4-cylinder engine that produces 181 horsepower, the tiny SUV does not fall short in terms of performance.
Opt for the 2.0-litre four-cylinder turbocharged engine with 237 horsepower to have a livelier engine. With the SX Turbo trim level and above, the alternative engine choice is also available. The Sportage 2022 has received an outstanding rating.
4. Nissan Murano
When it comes to midsize SUVs, the Nissan Murano is among the best in its class in terms of both looks and performance in 2022. If you have an eye for zero-gravity seats and cutting-edge entertainment technology like as NissanConnect and Apple CarPlay with voice control, the inside of the 5-passenger SUV will entice you.
The 2022 Murano is powered by a powerful 3.5-liter V6 engine that produces 260 horsepower. The 2022 Nissan Murano maintains its lead over the competition in the midsize latest SUV segment.
5. Toyota RAV4
If you are talking about the best bargain in a small SUV, it is hard not to bring up the Toyota RAV4. Because of its cost and dependability, the RAV4 has become a small SUV mainstay. With the 2022 model year, Toyota stays to the script and makes the basic model as simple as possible. The RAV4 is available in a number of various trim levels. It is also available in a variety of various configurations.
Every RAV4 model is available, whether you are searching for an off-road adventure or exceptional fuel efficiency. It is powered by a 2.5-liter four-cylinder engine that produces 203 horses. The RAV4 gets 27 miles/gallon in the city and 35 miles/gallon on the highway, which is excellent mileage.
6. Porsche Cayenne
The Porsche Cayenne 2022, with its flash acceleration, razor-sharp handling, and exquisite interior design, further establishes the position of Porsche as a market-leading luxury SUV. The basic 3.0-litre turbocharged V6 engine produces 335 horsepower and has a peak speed of 152 miles per hour.
7. Subaru Forester
A unique gap in the SUV vehicle class is filled by Subaru off-roading adventure vehicles, which are marketed as SUVs. Off-roading capabilities are provided by the Crosstrek, Forester, and Outback models.
It is powered by a 2.5-litre four-cylinder engine that produces 182 horses. The Forester has a city fuel economy of 26 miles per gallon and a highway fuel economy of 33 miles per gallon.
The tiny SUV boasts a staggering 8.7 inches of ground clearance, which is rather impressive. When it comes to drivers that want to go along a road less frequented and get a taste of the great outdoors, this is the greatest choice on the list.
8. Honda CR-V
The Honda CR-V is a small SUV that routinely ranks towards the top of the compact SUV ratings lists. The Honda CR-V achieves an excellent mix of excellent driving characteristics, a big passenger and storage capacity, and excellent fuel efficiency.
It has a 190-horsepower 1.5-liter four-cylinder engine that employs four pistons. It has a 28 miles/gallon city fuel economy and a highway fuel economy of 34 miles/gallon. The antiquated infotainment system has been much upgraded in the 2022 model year, owing to a complete revamp for the year. The Honda CR-V has been updated and is now able to compete with the newest and most innovative small SUVs on the market today.
9. Mazda CX-5
The Mazda CX-5 is as near to a luxury car as a basic model small SUV can get. It provides even more pleasure and technology at higher trim levels as standard equipment. The Mazda CX-5 has only been on the market for a little over a decade, but it has worked its way to the top of the small SUV rankings in recent years because of its well-appointed interior and an extensive list of standard safety features.
Its 2.5-litre four-cylinder engine has 186 horsepower to give it plenty of power. When driven erratically, it gets 24 miles/gallon in the city and 30 miles/gallon on the interstate. One of the few SUVs available on the market comes standard with all-wheel drive as standard equipment.
10. Hyundai Tucson
The Honda CR-V and Toyota RAV4 have long been the undisputed leaders in the small SUV market. However, towards the end of the decade, a South Korean SUV will provide significant opposition to the two Japanese SUVs. Reports claim that the Hyundai Tucson is the greatest small SUV for the money.
Tucson is popular with customers since it is reasonably priced, practical, and provides a pleasant ride quality. It is powered by a 2.5-liter four-cylinder engine that produces 187 horses. It has a city fuel economy of 26 miles/gallon and a highway fuel economy of 33 miles/gallon.
A 9/10 overall rating and an Editor's Choice Award were given to the Hyundai Tucson in Car and Driver magazine for the year 2022.