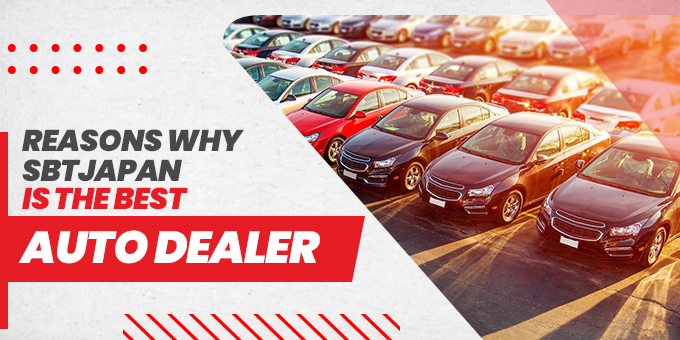 When buying automobiles, people focus on choosing the best auto dealer. They want to ensure that they purchase from authentic dealers as it's an expensive purchase. Unfortunately, you cannot just visit any dealer and buy your car. The market is full of scammers.
SBT Japan is one of the best auto dealers operating globally. You name a car of your choice, and SBT will make it available. We ship cars globally. Overall, our process is extremely simple and quick. When dealing with us, you don't have to worry about authenticity.
Before you begin to trust our words, check out the SBT Japan reviews and see how it has successfully satisfied its clients and customers worldwide. Still, if you think SBT Japan is legit or is SBT Japan trustworthy, focus on gathering more information about the company and its processes.
For years, SBT Japan has been shipping used automobiles globally to the Middle East, South America, Europe, Oceania, Asia, Africa, and the Caribbean. We have more than 30 offices located in different places. Thus, the company and its people aim to attract and satisfy customers belonging to various segments.
5 Reasons that Make SBT Japan the Best Auto Dealers
Buying and driving a brand new vehicle is one of the most rewarding experiences. However, it's not an easy process to walk into a car dealership and purchase a car of your choice. People get anxious as the purchase involves a lot of money.
If you want to buy a car, you must be well-prepared and educated. Things get easier this way. Your knowledge about the auto dealers and the car make and model you want can make you feel more confident.
So, if you want to buy a car, SBT Japan is one of the most legit and reliable auto dealers. In addition, you can check out the SBT Japan reviews shared online by its customers. Throughout, you'll be amazed to see how the company entertains customers from different segments by providing high-quality and timely services.
If you are thinking, 'should I trust SBT Japan'? Here, we've listed down 5 reasons that can help you choose SBT Japan.
1.    Variety of Vehicles
At SBT Japan, you can find any vehicle of your choice. Many automobiles fall into different categories, including SUVs, sedans, pick-up vehicles, and sports cars. They have set standards for quality and ensure providing cars that meet customers' expectations.
If you are looking for used Japanese cars, you name it, and SBT Japan will make them available for you. The positive SBT Japan reviews indicate that it professionally carries out its operations and processes. Throughout the process, your convenience and satisfaction are given high priority.
2.    Reliable Dealers
The SBT Japan reviews indicate how they are living up to the expectations of their customers. For around 25 years, the auto dealer has been focusing on reliability. However, when it comes to serving customers, the company prioritizes customer needs. Overall, it's a customer-oriented firm that involves processes and strategies intended to satisfy them.
With SBT Japan, you can get high-quality used Japanese vehicles. These are tested and inspected thoroughly. The certified dealers are reliable and always available to help you. For further details, you can connect with the representative and learn more about the processes and availability of automobiles.
3.    Simple Process
SBT Japan has been driving the needs of millions of people worldwide. As a result, they've managed to create a simple and quick process for choosing, ordering, and delivering the desired automobile. Buyers can check the official site of SBT Japan, compare vehicles, and choose the one that meets their needs.
According to the positive SBT Japan reviews, it has been found that the staff and team are always available to handle the process conveniently. As a result, they make things easier for the customers and help them import and buy Japanese used cars.
By making things easier and simpler for the customers, SBT Japan has achieved a strong and competitive position in the market.
4.    Compliance
Many car enthusiasts and experts have shared SBT Japan reviews. According to them, the company offers a front-page experience to its customers. In addition, their official website is easy to navigate and consists of valuable and relevant information.
The company operates worldwide and has ensured compliance with global and local laws and regulations. SBT Japan reviews show that the company carries out all the processes according to the legal policies to ensure the satisfaction of all the stakeholders. If you're wondering that 'is SBT Japan trustworthy?' Yes, it is.
5.    Fast and Efficient Shipping
SBT Japan reviews online reflect that the customers widely appreciate its fast and efficient services. However, when purchasing vehicles, the buyers are often worried about the deliveries and shipments. Therefore, they want everything to go smoothly while ensuring that they get their vehicles as soon as possible.
Therefore, SBT Japan has a strict policy of quick deliveries. Moreover, the SBT Japan reviews shared by experts indicate that the company responds quickly and manages quick shipments throughout the year.
Is SBT Japan Authentic / Trustworthy Auto Dealer?
We've seen people asking, 'is SBT Japan legit?' and 'should I trust SBT Japan?' We all know that buying an automobile is a big decision. It requires time, effort, and money. You cannot just visit any car dealer.
Most importantly, SBT Japan cannot be misplaced when using Japanese cars. So, if you're thinking, 'is SBT Japan authentic'? Yes, it has achieved a strong reputation in the automobile market.
SBT Japan reviews show that the company has never failed to impress the customers. It operates with the mission of continuously providing better services and pursuing customer satisfaction. As a leading automobile trading company, SBT Japan has great inventory. Therefore, they sell and deliver vehicles in the shortest time possible.
Final Thoughts
For more than 25 years, SBT Japan has been competing strongly and effectively in the auto market. However, the global expansion has helped gain more attention, more customers, and higher sales. So, if you are wondering that is SBT Japan legit? Yes, it is.
The SBT Japan reviews have always been positive, which shows a higher level of customer satisfaction. In addition, the company has brought development and advancements in its processes and approaches with time. As a result, they have attracted and retained customers from different segments.
Confusions That You May Have About SBT Japan
Why choose SBT Japan?
SBT Japan is one of the best auto dealers. If you look for the SBT Japan reviews on the web, you'll learn how millions of satisfied customers appreciate the company's services.
What are the benefits offered by SBT Japan?
SBT Japan ensures excellent customer support and satisfaction by ensuring 24/7 customer service. Also, they have a wide range of high-quality cars, which are thoroughly inspected. Moreover, the fast and efficient shopping and the fast response to queries make SBT Japan trustworthy.
Should I trust SBT Japan?
Yes, you should. SBT Japan has been functional in the market for around 25 years. Since the beginning, they have been complying with the policies and regulations while providing quality services and efficient deliveries.
Can I read and share the reviews of SBT Japan on its official site?
Yes, you can. SBT Japan promotes transparency and provides customers with the chance to share their reviews and feedback.
Does SBT Japan offer after-sale support and services?
Yes. SBT Japan gives priority to the customer needs and experiences. Hence, they have a strong sales support team. In addition, every car is thoroughly inspected before making it available for the customers.
Once they sell a car, they ensure that their vehicles are thoroughly tested. Hence, no warranties are offered.