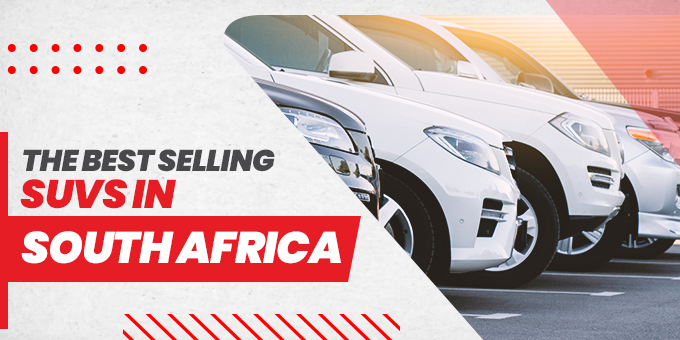 Your search for best selling SUVs in South Africa ends here. South Africa has the best and the largest SUV segment globally. Several automobile lovers turn their routes to this country when looking for a combination of luxury vehicles that gives a smooth on-road and off-road performance. 
As per the reports from the National Association of Automobile Manufacturers in South Africa (NAAMSA), there is a huge increase in the dealing of SUVs in South Africa. 
A significant rise in the purchase of SUVs and crossovers is seen in South Africa due to online automobile portals like SBT South Africa. These platforms attract customers with their enhanced ride heights and practicality. 
If you are also hunting for the best selling SUVs in South Africa. Here is a list of some to help you get your hands on the finest ones in the country. Without any delays, let's take a look at each of them. 
When it comes to providing luxury, reliability, and exceptional driving experience, nothing can beat Toyota Land Cruiser. It is one of the most in-demand SUVs available in South Africa. The seven-seater, moderate-sized SUV is one of the most precious cars in South Africa.  
It comes with a bold and stylish exterior look which is enough to make it stand out from its competitors. The front of this vehicle has sizzled square cut, giving it a sleek appearance. 
The headlights of this SUV are adaptive and smart and turn on whenever they sense some other vehicle near your car. Moreover, the tail lamps, as well as the headlamps, both possess sequential turn sensors. 
Additionally, Toyota Land Cruiser is quite spacious and comfortable on the inside. This seven-seater SUV offers a smart function upon entrance that enables the drivers to get into the car without using the key. 
The Volkswagen T–Roc is unbeatable in terms of luxury but is undeniably a small SUV. However, the model is gaining traction on the roads more than ever. It competes against Ford Puma, Mini Countryman, Seat Arona, as well as the Audi Q2. 
If you prefer to have an elevated driving position, then without any doubt, you will definitely love the Volkswagen T – Roc. This raised driving position makes the driver be seated higher above the road level as compared to other SUVs such as the Skoda Kamiq, Kia Stonic, and Seat Arona. Undoubtedly, the T – Roc's relatively elevated driving position would benefit you by giving you a proper view of the road ahead of you. 
It's impossible to miss out on BMW when talking about the best-selling SUVs in South Africa. BMW has grown from a name to one of the top brands in automobile marketing. One of the greatest SUVs in South Africa is the BMW X3. It is a compact yet luxurious crossover SUV. The model comes as Japanese used car in South Africa and is highly valuable in the automobile market. 
Moreover, this vehicle was produced by the German automaker BMW in the year 2003. It competes with the Mercedes-Benz GLK-Class and a lot of other SUVs in the same category. 
The 1st generation was called E83 and was produced from 2003 to 2010. Closely followed by the 2nd generation, which was known as the F25 and was manufactured from 2010 to 2017. The 3rd generation is known as G01, and it has been produced since the year 2017 till present. 
The BMW X3 comes with a 12 kWh battery and a newly introduced system known as the XtraBoost. This system allows power to increase temporarily through an electric motor of up to 30 kW (40 hp). 
The Suzuki Jimny is a 4×4 mini SUV often considered a tiny off-roader. It is an extremely simple car. Due to its small size and built-to-last ability, it has been proven to be a perfect car for off-roading. It was first introduced in the year 1970, and it is now in its 4th generation. 
The 1st generation of this automobile was known as a Light Jeep 10 (LJ10). Moreover, this model came with a simple 359 CC air-cooled line 2-cylinder engine and a 4-speed manual transmission. In 1970, Suzuki introduced the LJ20 model. However, this model has a powerful water-cooled engine. 
The 2nd generation came into being in the year 1981. However, it came with a 359 CC 3-cylinder engine. After some time, the same model started having bigger 970 CC and 1328 CC engines and a 5-speed manual transmission. 
The 3rd generation of Suzuki Jimny was manufactured in 1998 and is still being continued. Moreover, the car offers 4 different sizes of engines, including 658 CC, 1298 CC, 1328 CC, as well as 1461 CC. Also, this generation comes with a 5-speed manual and a 4-speed automatic transmission option. 
Apart from the gearbox and engines, nothing much is different in all 4 generations. All of them possess the same boxy appearance. However, the 4th generation started manufacturing 4 years ago, yet the 3rd generation is still more in demand than the 4th one. 
The interior of this boxy SUV is quite elementary, yet it houses a lot of feel-good features. Moreover, premium-quality leather wraps and protects the steering. Furthermore, it comes with a height-adjusting feature. The front is super spacious, whereas the back seats are quite compact. 
Unfortunately, the model has the hassle of climbing into the 2nd row because of the absence of the rear doors. Moreover, the rear windows are also immovable and do not open easily. These factors and the lack of air vents make any person feel quite claustrophobic during long drives. 
Toyota Fortuner is enough to compete fiercely with the best SUVs in South Africa. However, SUVs come in 3 stunning color choices, Black, Silver, and White. It is definitely a family-friendly SUV with an interior of beige and black combined and 3 rows of seats. 
The interior of the car has a luxurious ambiance and provides maximum comfort to the passengers. The seat covers are made of top-quality materials, with the Toyota emblem in the center of the steering.  
The car has a glamorous appearance and takes the overall car look to the next level. The car's security systems are remarkable and two steps ahead of the previous generations. Besides, as an example of perfection in interior and exterior, Toyota Fortuner gives exceptional on-road and off-road performance.  
In terms of overall performance and market value, Toyota Fortuner is unbeatable. There are several online platforms to provide used and new cars according to your budget and car condition requirements.  
Closing Words 
All clear about the top-selling features that SUVs in South Africa offer? But keep in mind that this article was only meant to guide you by listing a few of the best-selling SUVs in South Africa. Do not limit your search, as there is plenty of fish in the sea, and you will most definitely find yourself an SUV that simultaneously meets your needs and expectations. So, before making your vehicle, be sure you are well aware of the features and specifications of all the SUVs you have shortlisted for selection.