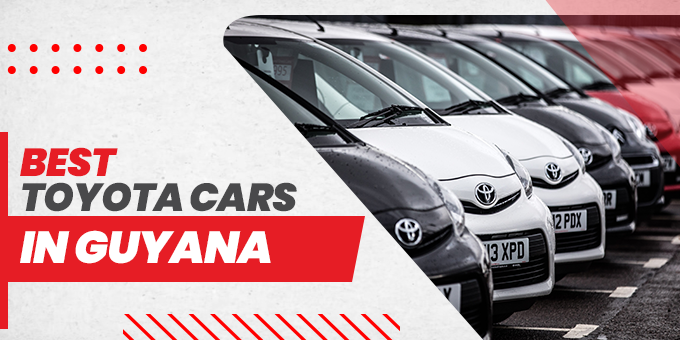 Toyota vehicles are favored all over the world for their functionality and style. If you're looking for Toyota cars for personal or business use in Guyana, SBT Guyana is a good place to find Japan-used Toyota cars. If you're confused, here are some of the best Toyota cars in Guyana that you can consider for purchase:
The Toyota Hiace Van is a popular commercial vehicle in production from 1967 until the present. The car is in its sixth generation. It is classified as a light commercial vehicle available in a variety of body styles.
Its various body configurations include a panel van, minivan, pickup truck, minibus, taxi, crew van, and an ambulance. The first-generation Hiace Van was introduced as a 2-door pickup and a 4/5-door van. It came in a front-engine, rear-wheel-drive layout with a 4-speed manual transmission.
Over the years, the Toyota Hiace Van underwent quite a few changes. The sixth-generation van went into production in 2019, and it is still in the running. It is named differently from other markets.
It comes as a 4-door van/minibus and a 5-door van/minibus. Also, It has a front-engine, rear-wheel-drive, fueled with a 2.7 L or a 3.5 L engine in petrol and a 2.8 L engine in diesel. The car is available in a 5-speed manual transmission, a 6-speed manual transmission, or a 6-speed automatic transmission.
Among other best-selling Toyota cars in Guyana, you can find the Toyota Camry at the top of the list. It has held the number-one selling spot in passenger cars for twenty years, which speaks volumes for its popularity, design, and functionality.
It's popular by several names in different markets. The Toyota Camry sells globally. It's been in production since 1982. Up until 1998, it was in the running as a compact car. However, from 1991 onwards, it comes as a midsize car.
The Toyota Camry is available in a front-engine, front-wheel-drive layout or a front-engine, four-wheel-drive layout. The car is known for fuel efficiency in hybrid models and plenty of safety tech features. The Toyota Camry is a dependable, competent, and comfortable family car.
At the entry-level trims, you may find the material quality quite standard; however, all trims offer comfortable and spacious interiors, with the top trims equating luxury. It has enough cargo space, which may not be the best in its category, but it is quite competitive with other similar cars. As you drive, you can enjoy the touchscreen infotainment system, which is standard across the lineup.
The Toyota Hilux is also known as the Toyota Pickup in the US. Introduced in 1968, the car is still in production. It is categorized as a compact pickup truck, and from 2004 onwards, it was introduced as a midsize pickup truck.
This popular Toyota car in Guyana is now in its eighth generation. The Hilux features a "Keen Look" with slim LED Daytime Running Lights and projector lights. The exterior design continues to the interior looks as well. These cars come well-equipped with an autonomous emergency braking system.
It is available as a 2-door pickup truck or a 4-door pickup truck. Its layout includes a front-engine, rear-wheel drive, or a front-engine, four-wheel drive. It's available in a 2.0L, 2.7L, and 4.0L petrol engine. It is also available in a 2.4L, 2.5L, 2.8L, or 3.0L diesel engine. The Toyota Hilux offers great fuel economy and a comfortable ride, especially for off-road use.
Another great car for off-road use among the best-selling Toyota cars in Guyana is the Toyota Fortuner. This midsize SUV has been in production since 2004 and comes in a 5-door SUV body style. It is available either in a rear-wheel or a four-wheel drive.
The Toyota Fortuner is in its second generation, which comes in a range of petrol and diesel engines. If you get the petrol engine, you can get a 5-speed manual transmission or a 6-speed automatic transmission. In the diesel engine, various transmissions are available, either manual or automatic.
In 2020, The Toyota Fortuner got a facelift with different headlights and an upgraded rear and front bumper design. Other features include 20-inch wheels, two-tone leather seats, interior ambient lighting, Toyota Safety Sense active safety systems, and a JBL sound system.
In Conclusion
Toyota cars are popular worldwide whether you opt for a light commercial vehicle, family sedan, or SUV. They give good fuel economy and have a powerful engine that makes maneuverability on all road conditions easier.
You can check out the extensive inventory at SBT Guyana for Japan-used Toyota cars. As one of the leading automobile trading companies, we offer unmatched services and car quality.
Purchasing a car through us is a simple process. You only have to register online and select a car from our inventory stock. If you can't find what you are looking for, our customer support staff is available to assist round the clock.
You can receive your Toyota car in Guyana within 6-8 weeks from the time of vehicle registration. You can reach us through call or Whatsapp if you have any questions.
You'll find only the best Japan-used Toyota cars in our inventory. We have a trained team who conducts inspections for the vehicles we receive in our yard. We also have auction inspectors who ensure we only get the top-quality cars from Japanese auctions. At SBT Guyana, you can find the best quality used cars in Guyana with efficient delivery and prompt customer service.