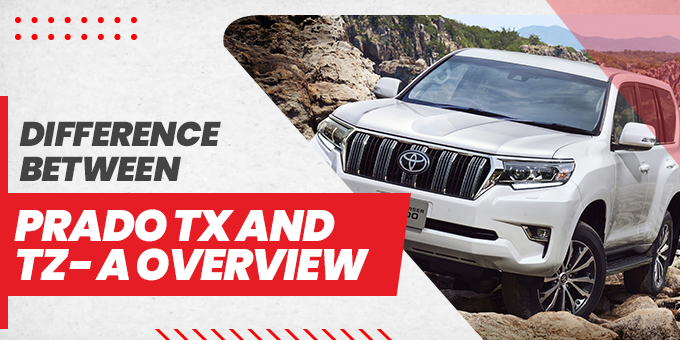 The first Toyota Land Cruiser Prado was launched in 1984. It was launched as a replacement for an existing model, LJ71G. The model was light-bodied with some features and comfort. Prado was launched as a smaller option in the Toyota land cruiser lineup but had many same luxury options found in the bigger versions. The model kept improving and reached its latest trims, TX and TZ. Prado is known for its reliability and strength, along with the luxury look, which no other vehicle can come close to. A heavy-duty vehicle from a trusted brand Toyota made it a favorite. For those who want a strong vehicle built to last, go for Prado. Prado comes in different trim levels, including TX, TXL, and TZG having distinct differences. However, comfort, power, and convenience are constant. The difference between Prado TX and TZ has been explained below;
Prado TX is the base and affordable model, but the fuel economy is lower than the other models. The vehicle's seating capacity is 5 individuals, while the maximum tow rating is 1,500 kg. The model has various advantages, like superior handling and multiple color options to make a purchase decision. The engine displacement of TX is 2,693 cc. The top speed of the Prado TX is 180 km/h. However, Prado, TX, is very unstable. Its engine cannot sustain its height, especially in corners. It is available in both diesel and gasoline.
Prado TX's mileage is 7.3 to 8.0 km/l. The Automatic Petrol variant has a mileage of 7.3 km/l. The Automatic Diesel variant has a mileage of 8.0 km/l. As a basic version, it had great features of a strong and indestructible vehicle. People who like heavy vehicles with luxury looks had a good option to buy TX before TZ was launched.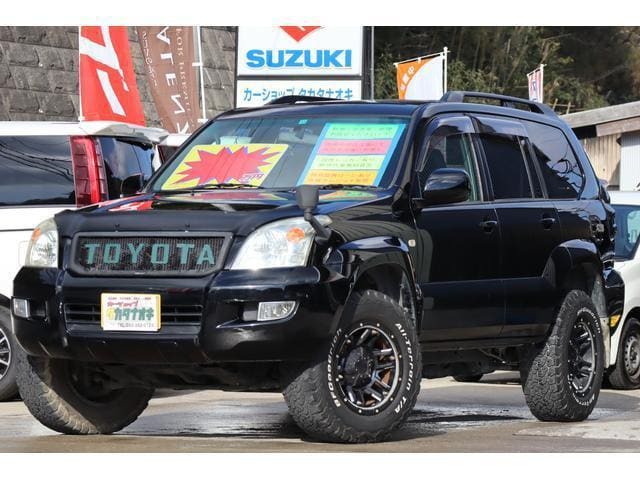 Prado TZ charges a higher amount for its additional features. The handling is very smooth, and the interior is cozy. More seats are available in TX, making it suitable for large families. It is a great attraction because spending so much on a vehicle and finding out that the entire family cannot fit in is discouraging. Prado TZ came in with many additional features compared to TX, including higher engine displacement, i.e., 3956 cc. TZ is the most powerful model in Prado, and its handling is easier and smooth. It has a mileage of 8 to 9 km/l.
Difference
The key difference between TX and TZ is the power and performance. Another component that makes these trims different is the price. Prado TX is the cheapest, while TZ is expensive with Zenon lights, a sunroof, and comfortable electric seats. Prado TX offers less powerful variants around 2.4-3L. On the other hand, Prado TZ offers 3-3.4L. The engine displacement is lesser in TX, as discussed in the previous section.
Toyota came up with an even more wonderful Prado model after TX to offer better features and a more comfortable interior. For the model, it charged a higher amount which looks reasonable considering the additional features and level of comfort. TZ is available with a turbocharged engine making it the right choice for towing heavy equipment. TZ offers more comfort for large families on long drives as compared to TX. The two extra seats make it more spacious and useful. TZ has dual AC, while TX has single-zone AC. Another difference is suspension; TZ comes with airmatic suspension and height control, while TX does not have airmatic suspension.
Features
Similar to any vehicle whose second model is an improved version. Prado TX was also improved in the shape of TZ. TZ is costlier and heavier than TX. Moreover, the airmatic suspension makes the driving experience smoother. Those who want a better driving experience and can afford it will choose TZ over TX. TX and TZ were tested for some safety features, such as frontal crash, side impact, and rollover tests. It was found that the rating of TZ was higher than TX in all of these tests. It indicates that TZ is definitely a safer vehicle than TX. Toyota Prado is built to last and is famous for this feature. The vehicle has been in production for a long time. However, the company continued its struggles to improve the model. It then came up with something outstanding and exceeding the required standards.
Downsides
Let's discuss some downsides of Prado, TX, and TZ. In terms of price, TZ is more expensive than TX. However, the price is justified when we look at the features, but it is counted as a luxury vehicle that everyone cannot afford. Another downside is its fuel inefficiency. It will increase your monthly expense if you opt for TX or TZ. So, if you expect to save fuel, do not go for Prado. It is good for a heavy, high-capacity, beautiful SUV; however, it will lead to higher expenses. It isn't easy to maintain since its spare parts are also expensive. However, it is obvious that only the elite class or high-income earners purchase this vehicle. Its maintenance and fuel might not be a problem for such a target market.
Toyota has become well-known for its land cruisers, and Prado is one of the most liked vehicles by Toyota. The difference between TX and TZ is all about some additional amazing features and prices, which makes TZ better than TX. You can say that TZ is an improved and better model of TX. Toyota has succeeded in improving its cars and coming up with advanced technology to increase the quality of life features. TZ's price is higher, which is justified by its additional features like dual AC, airmatic suspension, height control, and better safety features. Hence the overall rating of TZ is high, but the price is also high. Therefore, the target market is high-income earners who can maintain the vehicle since it is not fuel-efficient and its maintenance is expensive.
Conclusion
Toyota Prado is a well-known name that looks astonishing and has great strength. Toyota has improved Prado over the years. We spoke about two of its models, TX and TZ. Both models are great. However, TZ has some competitive advantages. TZ is an improved version of TX on which Toyota has worked a lot. Although both the models have some common downsides like fuel inefficiency and high prices, there are some aspects in which TZ is better than TX.
Some additional features in TZ include dual AC, airmatic suspension, height control, and better safety features. These factors make it much better than TX. For these new features, customers are ready to pay a higher amount. The engine displacement of TX is 2,693 cc, while TZ has a higher engine displacement, i.e., 3956 cc. This clearly shows that TZ is much stronger than TX and can provide value for money. Toyota has been successful in manufacturing a better model of Prado.