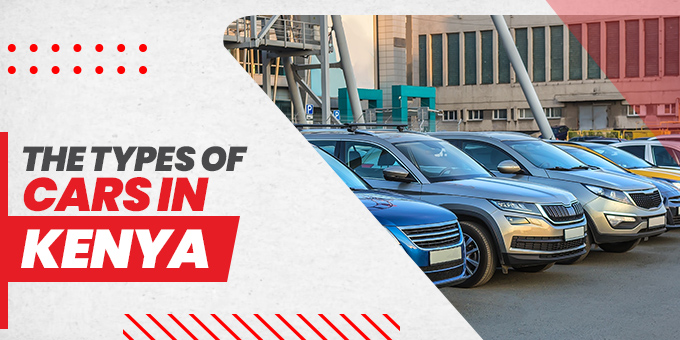 Kenya is a country of more than 54.99 million people, all of whom love driving good cars. This makes Kenya a popular place for global automobile manufacturers to launch different types of cars in Kenya.
If you are considering a road trip around Kenya, it is important to be aware of the different types of cars that are driven there. Because of the diverse climate and terrain, you will find various types of cars in Kenya, from small hatchbacks to large SUVs, all on Kenyan roads.
Each type of car has its own advantages and disadvantages, so it's important to know what each one is capable of before you hit the open road. In this article, we'll take a look at the most common types of cars for sale in Kenya driven in Kenya and give you an idea of what to expect from each one.
Overview Of The Cars For Sale In Kenya
Kenya is a land of different traditions and diversity. It is of no surprise that there are various categories and types of cars in Kenya on vibrant Kenyan roads.
Saloon Japanese used cars are the most popular type of car in Kenya. These cars are spacious and can be used for both work-related and personal purposes. Saloons are available in both petrol and diesel variants, making them a popular choice for both rural and urban drivers.
SUVs are also growing in popularity in Kenya. They're perfect for touring or long road trips as they offer good space for cargo and passengers. SUVs are available in petrol, diesel, and hybrid variants, so there's sure to be one to suit everyone's needs.
Finally, we have the small hatchbacks that are perfect for city driving. They're easy to park and maneuver in tight spaces but don't offer as much space as the larger saloons or SUVs. They're available in both petrol and diesel variants, making them a popular choice for those who want to save on fuel costs.
Sedans, Hatchbacks, & Coupe Models
Kenya has a wide variety of different car models that are driven on its roads, ranging from sedans to hatchbacks to coupes. Every car has its own set of unique benefits and discomforts, so it's essential to have an understanding of the advantages and disadvantages of each before making a purchasing decision.
Sedans are the most popular type of car in Kenya, and for some good reasons. They are stylish, comfortable, and practical for everyday use. However, they can be quite big-budget and high maintenance.
Hatchbacks are the perfect choice for budget-minded drivers. They are less expensive than sedans but still provide a number of features. The foremost drawback is that they aren't as cozy and comfy as sedans and can be compact for a large number of passengers.
Coupes are the perfect choice for those who want something a little more sporty and exciting than a sedan or hatchback. They offer great performance and handling but can be impractical for everyday use.
SUVs & Vans
Kenyans love their SUVs and vans! These vehicles are perfect for navigating the chaotic streets of Nairobi and other Kenyan cities.
SUVs are recognized for their roomy interiors and powerful engines, making them perfect for long road trips. On the other hand, Vans are perfect for large groups or families, as they can comfortably seat up to 10 people.
Both SUVs and vans are incredibly popular in Kenya and come in a variety of different makes and models. So if you're looking to buy a car that's perfect for driving in Kenya, be sure to check out SUVs and vans!
Popular Luxury Cars
Luxury Japanese used cars are a popular choice in Kenya for all the right reasons. They're comfortable, stylish, and make a statement. If you're looking for a luxurious ride, here are a few of the most popular options:
The Mercedes-Benz S-Class is the epitome of luxury and sophistication. It's packed with high-end features and delivers an incredibly smooth ride. If you're looking to make a real impact, this is the car for you.
The BMW 7 Series is another excellent option for luxury car shoppers. It offers an impressive blend of power, comfort, and style. You'll enjoy a luxurious ride without sacrificing performance.
The Audi A8 is another popular choice for luxury car buyers in Kenya. It's known for its comfort and cutting-edge features. If you're looking for the latest and greatest luxury cars, the Audi A8 should be at the top of your list.
Laws & Regulations
There are a few things you need to keep in mind when it comes to cars. For starters, all cars must be registered with the Kenya Roads Board. You will need to provide proof of ownership as well as a valid insurance policy. Once your car is registered, you'll be given a license plate and a registration certificate.
It's important to note that there are different types of cars in Kenya, and each type has its own set of rules and regulations. For example, private Japanese used cars are only allowed to be driven on public roads. On the other hand, commercial vehicles can be driven on public and private roads.
So, what are the different types of cars in Kenya? Let's take a look.
Financing Options for Car Purchasing in Kenya
Now that you know what types of cars are popular in Kenya let's have some insight into the different financing options available for car purchases.
One option is to take out a loan from a bank or other financial institution. This can be a good option if you have good credit and can get a low-interest rate.
Another option is to lease a car. This can be workable if you don't have the cash to buy a car outright or if you want to lower your monthly payments.
Finally, you could also buy a car outright with cash. This is usually the cheapest option in the long run, but it may not be feasible if you don't have enough money saved up.
Final Thoughts
So now that you know all about the different types of cars for sale in Kenya, you can be sure to choose the perfect car for your needs. Whether you're looking for a family-friendly vehicle or something that will make your commute a little easier, you're sure to find the perfect car for you on Kenyan roads.
Moreover, if you are looking for a dealership in Kenya that can offer valuable and reliable vehicles, you can contact the welcoming and friendly staff of SBT Kenya. We are available 24/7 at your service, and you can reach out to us for different types of cars in Kenya. Enjoy driving in Kenya!