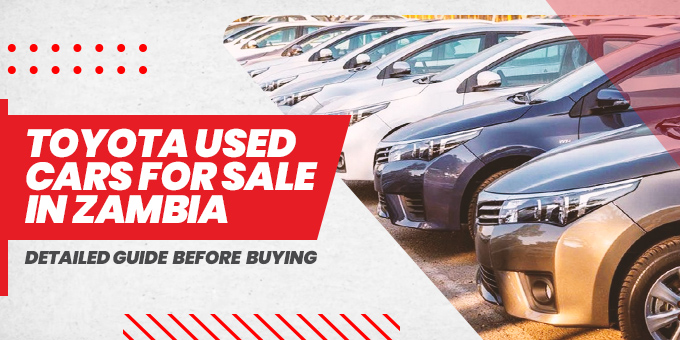 Everyone aspires to own a new vehicle, but a used one is sometimes a better and more economical option. If you're considering purchasing Toyota used cars for sale in Zambia, without a doubt, it is the best choice. When searching for the best deals and options, consider shopping at a reputable online dealership like SBT Japan.
Top Reasons To Consider Toyota Used Cars For Sale In Zambia
Let's look at some reasons why a used Toyota is a great investment:
Save Money
One of the most significant reasons to purchase a used vehicle is that it's more affordable than purchasing a brand-new one. If you're looking to save money and want to own a Toyota, buying a used one is an excellent option.
A used Toyota costs thousands of dollars less than a brand-new model, making it easier to find a quality used car that fits your budget. Additionally, buying a used Toyota also means that monthly payments are more affordable.
If you're interested in a certified pre-owned Toyota, these vehicles are carefully inspected to ensure they're in excellent condition, come with a warranty, and are typically only a couple of years old.
Dependability
When purchasing a used vehicle, you want to ensure that it's dependable and won't require constant repairs. Toyota is known for producing reliable vehicles, making them one of the best used automobiles in the market.
Toyota makes it to the top year after year as the most reliable automaker. Moreover, it also incurs lowest maintenance and repair costs than the industry average. Buying a Toyota means you can trust that it will run for years with minimal issues if it's properly maintained.
Equity
Toyotas are popular for a reason: they hold their value. Unlike other automobile brands, Toyotas don't rapidly decrease in price. If you're planning on driving a used vehicle for a few years and then upgrading to a new car, buying a used Toyota is the way to go.
When you choose to sell your Toyota, you'll likely be able to sell it for more than you expected because Toyota is a brand that can be trusted to last.
Tips To Buy A Toyota Used Car In Zambia
If you are planning to purchase a used car, truck, or SUV in 2022, you may have to face high prices and low inventories. Despite the past recession vehicle supply crisis, the demand for cars remains steady, even for the best-used cars under $10,000 that were retailing for half their value in 2021.
In this situation, being a savvy buyer is more critical than ever. For the best deals, you have to know where to shop, the ins and outs of the car market, the right questions to ask sellers, and how to inspect the car you're interested in.
Know Your Requirements and Average Spend
The price of used vehicles has increased by about 10%, so be realistic about how much you want to spend. Some car models are even higher than 10%. Therefore, it is important to conduct your research and list down the features you want and how much you can pay for them.
For instance, if you want to buy a $25,000 Jeep, be aware that its current value is around $27,500, and it may or may not be worth it to pay that amount.
Ask the Right Questions
When shopping for a used Toyota car from SBT Japan, you need to learn everything about the specific car model you are interested in. Following are some of the most important questions to inquire about from the seller:
1. Does the vehicle have service/maintenance records?
2. How many people previously owned the car?
3. Is it a clean or a salvage title?
4. What is the origin of the car?
5. Does the car have a warranty?
6. Do you give an extended warranty?
7. Can I return the car if I am not satisfied?
8. How many keys will you give to the car?
9. Does it have an owner's manual?
10. Does the vehicle come with jacking tools and a spare tire?
11. Does the car have floor mats?
Become a Vehicle Inspector
Once you have your answers, it is also important to physically check the car before purchase. Following are some things to inspect before closing the deal.
Check for rust:
Often the car's underbody, fender areas, and lower doors give away signs of rust. You must check these to ensure it is rust-free. Also, look for rust or flood damage under passenger cabin mats and the trunk/hatch area.
Check the Ground for Leaks:
If the car has leaks, you will know it instantly by checking the ground. Leaks are not a good sign and can often translate into replacing the engine, differential service, or transmission, which could be expensive.
Take a quiet drive:
Leave the stereo system off during the test drive and listen to the vehicle. If you drive the vehicle on a rough road, you will be able to identify any squeaks and rattles. Smell closely for foul odors indicating an exhaust leak, engine or transmission damage, or mold. All of these are an indication of a flooded car or leaks from a sunroof, windshield,  or trunk seal.
Drive straight:
Another thing to check is that the car drives in a straight line. A vehicle that tilts to one side indicates severe suspension or body damage. Another thing to inspect is the tires. You should ensure they are even and without any signs of damage.
If you are uncomfortable getting dirty or do not know enough about the car, you should get a mechanical inspection.
Check the fluids:
You should also check the fluid levels and ensure they are not low or dirty. Some of the fluids to check include the engine oil, transmission fluid, brake fluid, power steering fluid, and coolant.
Check the electronics:
Test all of the electronics in the vehicle, including the lights, radio, air conditioning, and power windows. Make sure everything is working properly, and there are no warning lights illuminated on the dashboard.
Purchasing Your Vehicle From SBT Japan
When it comes to used Japanese cars, SBT Japan is one of the market leaders for reliable and trustworthy used car options. We stock a large inventory of used Toyota cars for Zambia with hassle-free shipment and payment solutions.
When you purchase from us, you don't have to worry about inspections. All our vehicles undergo a rigorous inspection from trained and professional vehicle inspectors who ensure only the best cars make it to our inventory.
You don't have to worry about anything. Once you purchase your vehicle, you can sit back and relax while we do the legwork. Our representatives guide you through the process and update you at every step.
End Word
Toyota used cars are reliable and practical. They retain their value over time. In Zambia, a used Toyota car is a good option if you are looking for a family vehicle. They are dependable cars that drive well on all kinds of terrains. With a Toyota, you won't have to worry about regular repair and maintenance, which can become costly.