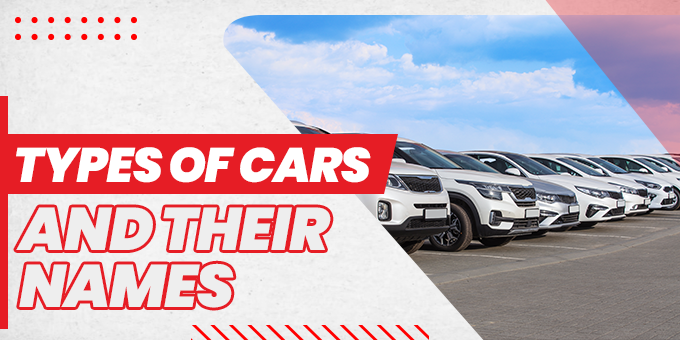 There are various car types, each defining the car's unique features. All kinds of vehicles, from sedans to pickups and hatchbacks, serve different purposes. To purchase a vehicle that exactly fulfills your needs, you must know the different types of cars and their names.
Roughly, all cars can be classified into 20 types. Most cars are first identified by their body style, and then all the other features follow. If you habitually notice cars on the road, you may have found that some cars look big and boxy while others are low or have flat doors.
Body styles are one of the easiest ways to classify cars into different categories. So without further ado, let's learn about the different types of cars, their names, and what they signify.
Sedan
Sedans generally have a three-box design and are typically four-door passenger cars. It has separate compartments for the passenger, engine, and cargo. Sedans are known for their better weight distribution and more stable drive.
The unibody structure of sedans also allows them to have improved fuel efficiency. Sedans come in several categories, such as small, compact, mid-size, and full-size. Sedans are considered a reasonable family cars due to their stability, performance, and ample interior space.
Station Wagon
Station wagons look like a stretched version of a sedan. They are also known as estate cars and offer more space for cargo. Station wagons are well-received by large families looking for reliable transportation. Station wagons give better mileage as compared to similar SUVs.
Some station wagons, like the Audi A4 Allroad, have a rugged body and give more ground clearance, making them comparable to sport utility vehicles (SUVs). However, station wagons have been replaced by other car types over the past few cars, and only a handful can be seen on roads.
Coupe
Coupe reflects a compact sedan, but really, this type of vehicle is defined by its simplistic features. It's a two-door car with a fixed roof and trunk. However, the most exciting feature of a coupe is the sloping roofline that makes it look rather stylish and sportier.
Coupes usually have well-defined features. You will find a coupe having sharp handling and increased horsepower. It is an impressive minimalistic car that takes up minimal space. Coupes are most well-suited for single individuals or couples who like sportier and classier cars.
Some well-known coupes include cars like the Audi A5 and Ford Mustang. In recent years, car manufacturers have started referring to four-door or crossover cars as "coupes," as well, such as the BMW X6 SUV or Mercedes-Benz CLS Sedan, as these have a sleek roofline.
Hatchback
A hatchback is usually a two or four-door vehicle similar to a sedan. Hatchbacks usually have more spacious cargo and better fuel economy than a sedan. The most common hatchback models are the Kia Rio and Volkswagen Golf. The defining features of a hatchback are the upward-moving rear hatch and a sloping tailgate that gives easier access to the trunk.
SUV
A sport utility vehicle (SUV) is known for its off-road capabilities and spacious interior. SUVs are designed for long drives, so they perform better on rugged terrains and rough roads. The seating position in SUVs is higher, which gives better road visibility.
SUVs are perfect if you have frequent cross-country trips or outdoor adventures or expect to haul a dirt bike. SUVs are usually all-wheel drive, and the trunk space in SUVs is accessible through sliding hatchback doors. Some common SUV models include Nissan Kicks, Ford Expedition, and Chevrolet.
Convertible
Convertibles are one of the most stylish cars to date and come in endearing designs. These have been popular for decades and symbolize independence. Convertibles can only seat two people. Their distinct feature is a retractable canopy and a small cabin. 
You can find a power-folding fabric roof on most convertibles. However, on other convertibles, you may have to lower it manually. Some of the most popular convertibles include the Porsche 911 Targa and the Mazda MX-5 Miata RF.
Pickup Truck
Pickup Trucks are unique in design and are one of the most popular types of cars. Their distinct features make them stand apart from other cars. Pickup trucks can easily accommodate 3 or 4 people and have a separate cargo space.
Pickup trucks have an open bed in the back and a separate cabin for passengers to ride. They usually come in an all-wheel drive in either a full size or medium size. Pickup trucks are another vehicle great for outdoor adventures and off-road terrains.
Minivan
A minivan is an ideal family car. They boast a bigger cabin, although the storage space is somewhat less. Minivans are another ideal family car for bigger families. The design for minivans is such that everyone can fit in the car easily. 
Minivans usually have sliding doors for easy access and a tailgate that gives access to the cargo area. It may not be as big, but it is satisfactory. You can easily fold or remove the second and third-row seats in minivans to create more space for cargo. Some of the famous minivan models include the Chrysler Pacifica and Honda Odyssey.
Jeep
A jeep is one of the easiest to identify with its unique vehicle structure. It appeared in the 1940s, just before World War II. Jeeps can cover all kinds of terrains, which also makes them the perfect vehicle during wars. Nowadays, jeeps are ideal for outdoor activities on rough terrains, such as hunting, camping, and others.
Limousine
Almost everyone is well aware of the limousine due to its unique and stylish design. It is one of the most luxurious cars in the world. Limousines have an extended length, which is their most distinctive feature. 
Limousines have a partition between the front and back, allowing privacy for the passengers. Furthermore, a chauffeur drives the car. Limousines are not common and are usually owned by dignitaries, movie stars, politicians, or businessmen. However, you can easily pre-book a limousine for a formal event from a car management company.
Subcompact Cars
Subcompact cars usually have four to five doors and a combined space for interior and cargo. Up to five passengers can sit easily and comfortably in a subcompact car. Most subcompact cars use premium materials and come within an affordable range. It is best for small families looking for a reasonable everyday vehicle. Some of the most popular subcompact cars are Opel Corsa and Peugeot 208.
End Word
Now you have a better understanding of the types of cars and their names. When someone mentions one of these car types, it will be easier to understand the car's features. If you are searching for a used car, check our extensive inventory at SBT Japan.
We have the capability to deliver cars to various countries around the world. You can find the right fit for your budget with us. Moreover, we have a dedicated support staff available round the clock to assist you in your decision. Purchasing a car is a big decision, and we help make it easier for you.
Please read this blog