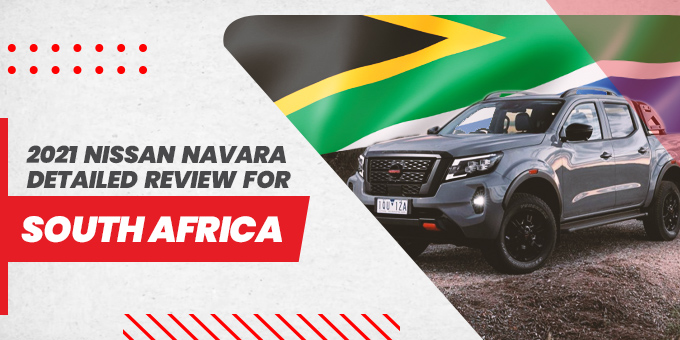 The 2021 Nissan Navara is a mid-size pickup truck perfect to take on tough terrain and heavy loads. With a range of features and capabilities, the Navara is a versatile vehicle that can handle any challenge. In this 2021 Nissan Navara review, we'll take a closer look at what makes this pickup truck stand out from the competition.
If you're in the market for a new double-cab bakkie, you might want to take a closer look at the latest version of the Nissan Navara. This revised iteration of the 3rd-generation Navara, which first hit the South African market in 2017, has undergone a major facelift and is now built in South Africa at Nissan's Rosslyn production facility.
A Closer Look
With its bold, powerful, and squared-off look, the new Navara is turning heads. In fact, many are saying it's one of the best-looking bakkies on the market right now. And that's no small feat, considering there is stiff competition from popular models like the Toyota Hilux and Ford Ranger.
The Nissan Navara's latest upgrade includes an impressive redesign that makes it look bigger and bolder than its predecessor. Upgrades include a new grille, LED headlights, and a redesigned bumper that not only looks great but also provides better ground clearance. Plus, the new Navara's muscular wheel arches add to its bold and rugged look.
The Nissan Navara comes with a choice of two powerful engine options. Both engines are bundled with a 6-speed manual or 7-speed automatic transmission and offer impressive power and torque. The diesel option delivers 140 kW of power and 450 Nm of torque, making it a great choice for heavy-duty work.
The Navara also comes equipped with an impressive array of safety features, including vehicle dynamic control, hill start assists, and traction control. Plus, its strong and sturdy chassis provides excellent protection in the event of a collision.
Engine And Performance
The 2021 Nissan Navara is available in two engine options: a 2.5-liter four-cylinder diesel engine or a 2.3-liter four-cylinder diesel engine. The former produces 187 horsepower and 332 lb-ft of torque, while the latter delivers 158 horsepower and 297 lb-ft of torque. Both engines are paired with either a six-speed manual or a seven-speed automatic transmission.
Navara's engines provide ample power for most driving situations, and the vehicle handles well on both highways and back roads. The seven-speed automatic transmission is particularly smooth and responsive, making for a comfortable driving experience. Moreover, Navara's on-road capabilities will not disappoint you.
Ride and Handling
Despite the slight deviation to the left while driving, the Navara's performance on various road surfaces is commendable, providing a smooth and comfortable ride. The Navara's 5-link coil-sprung rear suspension and shock absorbers have been tweaked by Nissan to enhance its ride quality.
Equipped with 17-inch alloy wheels, the Navara proves to be an excellent performer on both tar and gravel roads. While most bakkies tend to have a bumpy ride when empty, this model showcased minimal jiggling. Nonetheless, the suspension felt more stable after adding a load to the tray.
Navara's updated steering system, aided by an electrically-assisted wheel, makes maneuvering in the city easier. Despite the improved maneuverability, the bakkie's weight is noticeable through the steering wheel, and it feels somewhat sluggish and unresponsive. However, that is not the case on every Navara model, and consumers have mostly reported smooth performance and handling.
Interior Features
Inside, the 2021 Nissan Navara offers a spacious and comfortable cabin that's well-equipped with practical and refined features. The dashboard is intuitive and easy to use, and the infotainment system is available in a range of sizes, from 7 inches to 9 inches.
Other features include a rearview camera, a leather-wrapped steering wheel, and climate control. Higher trims offer even more features, such as a power-adjustable driver's seat, a sunroof, and a 360-degree camera system.
The Navara also features a range of technology, including Bluetooth connectivity, satellite navigation, and smartphone integration. The infotainment system is user-friendly, and the available premium audio system provides high-quality sound.
Inside, the Navara's spacious and comfortable cabin is now decked out with some impressive tech features, including a large touchscreen display with Apple CarPlay and Android Auto, a surround-view camera, and a smart key with push-button start. The Navara also boasts a 5-link rear suspension system, which provides a smoother ride, making it a great choice for both works and play.
The 2021 Nissan Navara comes with a range of safety features, including front and side airbags, antilock brakes, and stability control. Higher trims offer additional features such as lane departure warning, blind-spot monitoring, and rear cross-traffic alert.
Off-Road Capabilities
The 2021 Nissan Navara is powerful vehicle and it is capable to drive on tough terrain. It features a four-wheel-drive system, skid plates, and an electronic locking rear differential. The vehicle also offers impressive ground clearance and approach and departure angles.
Additionally, the Navara's off-road mode adjusts the throttle response and transmission settings for better off-road performance. This feature, combined with the vehicle's rugged construction, makes the Navara an excellent choice for off-road adventures.
New Nissan Navara 2021 South Africa Price
The Nissan Navara SBT comes at a competitive price within its class, starting at around $26,000 for the base model. Higher trims can cost upwards of $40,000, depending on selected features. You can find a used Nissan Navara 2021 price in South Africa starting from USD 9,300 and up to USD 38,910, which includes some of the latest used models.
The latest version of the Nissan Navara is a significant improvement over its predecessor. It boasts an imposing curb presence and delivers impressive overall performance, particularly for those who enjoy off-road adventures.
Pros and Cons
In summary, the latest iteration of the Nissan Navara is an upgrade from its predecessor, with a commanding street presence and excellent overall performance. Nevertheless, the piecemeal interior execution may disappoint those seeking a premium driving experience. Nonetheless, the Nissan Navara's comprehensive warranty and service plan make it an attractive option for those prioritizing solid value and dependability.
However, the interior execution is a letdown, lacking the refinement and attention to detail expected from a range-topping vehicle. Regrettably, stepping into the Navara does not evoke a feeling of excitement or luxury.
Despite this, the Navara has its merits, and many consumers prioritize durability and affordability over the luxury of the interior. The lower-end versions of this model provide better value. Moreover, you cannot overlook the comprehensive warranty and service plan that Nissan offers.
Conclusion
Overall, the 2021 Nissan Navara offers a good balance of value and features. It's a versatile pickup truck suitable for work and play. Its off-road capabilities make it an excellent choice for adventurous drivers.
You can trust SBT Japan to deliver a high-quality vehicle. We have a rigorous testing system in place, ensuring that only the best vehicles make it to our inventory. If you have questions or concerns, our customer service team is available to guide you at every step of the process.