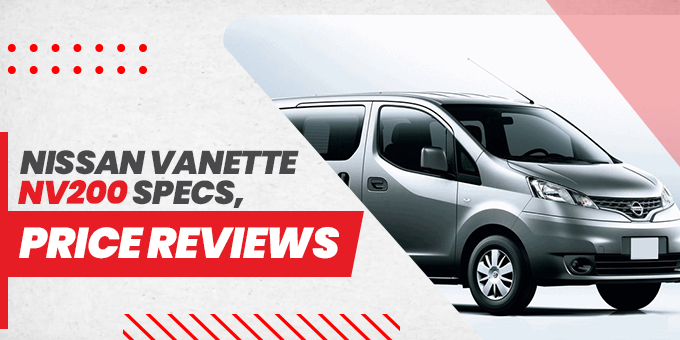 The Nissan Vanette NV200, first introduced in 2009 by the leading Japanese automaker Nissan, is a light commercial van suitable for city dwellers and small-scale businesspeople. Its low entry price point makes it an attractive option for those looking for a 4/5 door van on a budget. It offers decent mileage, a comfortable ride, and easy maneuverability.
The Nissan Vanette NV200 price in Kenya is affordable if you're looking for it. You can easily purchase the car through SBT Kenya, which offers quick delivery and 24/7 customer support.
A detailed review, specifications and Nissan Vanette NV200 price in Kenya are discussed below:
Nissan Vanette NV200 Review
The Nissan Vanette NV200 for sale comes under various names for different markets. Differentiated as a light commercial vehicle or a leisure activity vehicle. It is available in a front-engine, front-wheel drive, or a front-engine, four-wheel drive.
The car comes in a passenger and combi version. You can find three options in the petrol variant and one for the diesel engine. Its design differentiates it from other vans in its league and makes it an ideal choice for carrying load volumes.
The Nissan Vanette NV200 has undergone minor upgrades since its first introduction. Some of the key specifications of the car include the following.
Nissan Vanette NV200 Key Specifications
The car is powered by a 1.5-liter dCi engine having a power output of 89bhp or 110bhp. It is the only compact cargo van with Continuous Variable Transmission (CVT). It comes in a 4-speed automatic transmission, a 5-speed manual transmission, and 6-speed manual transmission, which is introduced for the European market. The automaker has also introduced a full-electric van named the Nissan eNV200. It is available in two trim levels:  the base S trim and SV.
The base S trim features a 2.0litre, 4-cylinder engine with a CVT transmission. It comes with, Electronic Brake Force Distribution, Brake Assist, and a 4-wheel Anti-lock Braking System. Other features on the base S trim include cruise control, RearView Mirror, hill start assist, and Vehicle Dynamic Control with Traction Control System. It comes fitted with NissanConnect 7 touch-screen display, Apple CarPlay integration, Android Auto, and Tire Pressure Monitoring System, among others.
On the SV trim, you can find additional features such as a Rear Sonar system, 15″ x 5.5″ steel wheels with split 5-spoke silver wheel covers, a remote keyless entry, power-adjustable heated side-view mirrors, two 12-volt DC power ports, steering-wheel-mounted controls, six floor-mounted D-rings in the cargo area, and a chrome grille.
Performance
The Nissan NV200 has a quiet engine, and it is built for a powerful drive around the city. Despite its tall and narrow build, it gives a smooth ride on all kinds of roads. It gives a 148 lb torque on the base engine, which is sufficient; however, on the 110bhp engine, the torque increases to 177 lb-ft. The extra gear improves fuel economy and speed.
Interior
Compared to other city vans, the interior may feel unusual, but it does not affect the capacity. The Nissan NV200 features a spacious cabin. The driving position may initially feel awkward and may require some getting used to; however, it is not uncomfortable.
The interior panels are shiny and made of hard plastic. There's an infotainment/navigation console with little storage space above it. The doors have A-4-sized pockets, while the passenger seat can be folded down as a tabled surface.
Boot and Passenger Space
The Nissan Vanette NV200 is a spacious van despite a length of just 4400mm and a width of 1695mm. The rear gives a space capacity of 4.2m3 and can move a load up to 750kg. It has wide-opening doors that can easily accommodate standard-size pallets. The rear doors feature dual opening positions of 90 and 180 degrees.
Safety Features
Nissan cars are safe and reliable as they come well-equipped with various safety features. You can find the Nissan Vanette NV200 fitted with standard safety features, including front airbags, an electronic stability control system, and roof-mounted curtain side-impact airbags.
Fuel Economy
The NV200, according to EPA, can attain 24 mpg in the city and 26 mpg on the highway. These are average numbers of a car of this class as you can find more fuel-efficient vehicles than Nissan, especially on the highway.
Nissan Vanette NV200 Price in Kenya
Whether you buy a new or used car, the Nissan Vanette NV200 price in Kenya is quite affordable. Both trim levels have favorable features for personal and commercial use. You can conveniently purchase your vehicle of choice from SBT Kenya.
The prices for Nissan Vanette NV200 lie between USD 5,070 and USD 16,150. You can also make a comparison on the website for the cars you select for purchase before finalizing one.
Final Verdict
The Nissan Vanette NV200 is a promising car for light commercial use or family trips. It offers good load capacity, decent fuel economy, and a smooth drive. When it comes down to the specifications for both trims, they offer good value for money.
All models come equipped with ABS and Vehicle Dynamic Control (VDC). The bump in price for SV trim is quite justified for the added features it contains. It can be tough to choose between the two trims, but a detailed analysis of your needs can help you decide which trim to go for to consider the Nissan Vanette NV200 price in Kenya.
You can find a wide variety of new and used NV200 Nissan for sale at SBT Kenya. We are one of the leading automobile trading companies with sales offices in different regions. Our customer support team is available 24/7 to assist you in finding the best car within your budget. We provide complete assistance in vehicle purchase and can help you purchase a car directly from dealers or auctions as well.