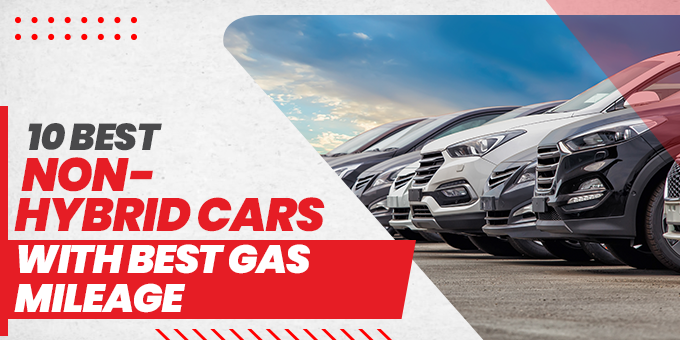 For years, the increasing fuel costs have been one of the major factors that affect the car budget. So, people are commonly looking for the best gas mileage cars around them. Therefore, it makes sense to look out for these vehicles even when the fuel prices are low as these offer a chance to save money.
When looking for fuel-efficient vehicles, people often consider hybrid cars. However, their choices aren't limited to it. They can also choose efficient diesel-powered vehicles. Many of these are small and compact cars that have achieved great ratings from EPA.
Remember, choosing a fuel-efficient car makes sure that you pay less at the pump. Hence, it's best to consider the gas expenses when planning your car budget. We've prepared this list of the most wanted non-hybrid cars with the best gas mileage for your convenience. You can assess and compare any of these best mileage cars before choosing anyone.
10 Best Non-Hybrid Cars with Best Gas Mileage
When choosing cars, people often get wary of hybrid technology even when seeking fuel efficiency. So, they don't need to worry anymore. We've found a dozen cars on the market that offer the best gas mileage and fall in the non-hybrid category. These vehicles run on diesel and are surprised by their high quality and effective performance.
The best part of buying non-hybrid cars with the best gas mileage is cheaper. Hence, you have the opportunity to buy cars at reasonable prices that also ensure great performance and surprises with their amazing interior and exterior features.
Here's a list of the 10 best non-hybrid cars with the best gas mileage that offers great performance along with amazing fuel efficiency:
Honda launched the Honda Fit LX model in 2015. Since then, the model has achieved a reputable position in the auto market as the most spacious vehicle in its category. Also, it competes strongly as one of the most fuel-efficient vehicles falling in this range.
You aren't going to regret buying this one. Its exterior is highly appealing. Along with this, the model ensures great performance and an amazing on-road experience. You can enjoy the rides with the super-flexible interior that provides a classy deal of utility. Also, the car comes with standard as well as advanced entertainment features.
Scion iQ is one of the non-hybrid vehicles that belong to the list of cars with the best gas mileage. Toyota produced Scion iQ that comes with a compact steering rack, which allows the overall width of the car can be reduced. It's one of the innovative packaging solutions manufactured and launched by Toyota.
Scion has a seating capacity for four passengers and consists of a 1.3-liter four-cylinder engine. Further, the compact heating and advanced air conditioning unit make it a preferable vehicle.
In 2015, Nissan redesigned and retreated its Versa model. Also, the S Plus earned a cosmetic makeover. Despite this, it's one of the least expensive automobiles that surprise buyers with its extraordinary features.
The Versa S Plus is one of the best mileage cars you can find. The sedan provides its buyers with ample rear-seat legroom along with a large truck that allows carrying weight and load. Further, its four-cylinder 1.6-liter engine produces 109 horsepower, ensuring competitive and smooth performance.
Volkswagen is one of the most competitive automobile manufacturers producing high-quality and advanced automobiles that offer great value to its customers. The Jetta TDI is a non-hybrid model launched in 2015 with three inches added to the wheelbase and more space added to the compact sedan.
Volkswagen Jetta TDI is one of the fuel-efficient cars with the best gas mileage. You'll be impressed by the modest styling updates in this model, which guarantees an appealing and robust appearance. Additionally, some structural changes were made to add rigidity and improve the car's performance.
Are you searching for cars with the best mileage? Then, don't forget to check the Audi A3 that is ruling in this category. The model comes in a tidy size that delivers value like many large compact cars available in the market.
The A3 model looks like an Audi and provides its owners with the best equipment and great fuel efficiency. A four-cylinder diesel engine powers it. Also, its six-speed automated manual transmission is an additional feature that can easily meet your requirements for the best mileage cars.
Honda is among the most competitive automakers globally, producing fuel-efficient sedans. The Honda Civic is known as one of the non-hybrid cars with the best gas mileage. The model is among the ultra-economical vehicles manufactured by the automaker.
Honda Civic HF also offers to outclass performance with its sporting wheels that ensure maximum aerodynamics. In addition, its 1.8 four-cylinder engine makes it capable of competing with the non-hybrid cars with the best gas mileage.
When looking for the cars with the best gas mileage, you cannot miss this one. Experts have criticized Mitsubishi Mirage for its lack of refinement. However, the model is perfect for gaining access to valuable transportation sources that ensure high fuel efficiency. Also, its low price is a silver lining.
The model has a 1.2-liter engine that produces 74 horsepower. However, the small car is a complete package for people looking for standard features and fuel efficiency.
BMW has impressed people by offering durable and reliable automobile models for years. They rely on their driving machines to complete and satisfy the consumers. So if you want to find cars with the best gas mileage, you can pick one.
The BMW 328d sedan ensures driving pleasure along with outstanding fuel economy. Its overall performance relies on the 2-liter four-cylinder diesel. You'll easily find this among the cars with the best mileage.
Ford vehicles are durable and reliable and come with a highly impressive interior and exterior. However, if you want to buy a car with the best gas mileage, look for a Ford Fiesta. Many experts believe that this car has a whole lot of secret ingredients.
The best thing is its EcoBoost Fuel Economy Package. It comes with a 1.0-liter three-cylinder engine. Hence, you cannot deny that the model is a good competitor among the various non-hybrid cars with the best gas mileage.
Volkswagen Passat is another Volkswagen car that falls in the non-hybrid cars with the best gas mileage list. It's one of the most fuel-efficient vehicles in the country. The model is a full-size four-door sedan that ensures fuel economy and has been rated 5-star in this category.
The Passat easily competes with the best gas mileage cars in the market. It comes with a robust exterior and handsome and unique styling. Also, you cannot ignore the upscale interior ambiance and dynamics.
Final Thoughts
When it comes to buying a car, everyone has their preferences. Some look for better styling and the best brand in the market, while others consider the interior and exterior features. Additionally, many people are looking for the best gas mileage and fuel efficiency that ensures great performance and high fuel efficiency.
Above, you can find a list of the most desired non-hybrid cars with the best gas mileage. Each of these has its pros and cons and has a range of features that differentiate them from competitors. So before you make a choice, look for the best gas mileage vehicles around you and then choose the best one.