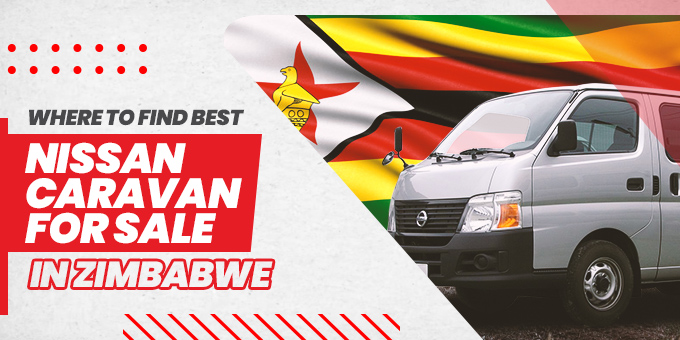 The Nissan Caravan is a popular light commercial van created by Nissan in 1973. This vehicle was mainly designed to be used as a fleet vehicle or cargo van. It has been a reliable choice for businesses ever since.
Interestingly, between 1976 and 1997, Nissan also produced a rebadged version of the Caravan, known as the Nissan Homy, which was initially introduced as an independent model in 1965. In addition to this, outside of Japan, the Caravan was marketed under different names, including the Nissan Urvan and Nissan King Van, and earlier with Datsun branding.
The reason for the Caravan's success and popularity lies in its design. All generations of this vehicle follow a cab-over approach, which is in compliance with the Japanese Government's size regulations that levy taxes on larger vehicles.
As a result, the cab over design enables the Caravan to maximize its interior space while still complying with the predefined exterior dimensions. Let's take a brief look at the most popular models of the Nissan Caravan for sale in Zimbabwe.
2007 Nissan Caravan
The 2007 iteration of the Nissan Caravan Van is part of the 2001-2012 generation of models. With an average fuel economy ranging from 9.1 km/l to 14.1 km/l, this Nissan Caravan is the ultimate machine designed for fleet use and cargo transportation. The van provides ample space to haul cargo or transport large groups of people, making it an incredibly versatile option.
The Nissan Caravan Van is an RWD vehicle with various customizable options. Its 4-cylinder inline 2.5L engine produces up to 147 hp, and it can reach a top speed of 160 km/h. The van is available with both a 4-speed automatic and 5-speed manual transmission, and diesel models come in both regular and turbocharged editions. This model also features a newly-introduced 2,488cc gasoline engine, boosting its speed and fuel efficiency.
The Nissan Caravan Van can seat up to twelve people, making it an excellent economical choice for anyone seeking a more manageable vehicle. The cab-over-wheel setup enhances its maneuverability, even with its size, and has a minimum turn radius of 10.8 meters. The boxy design of the van maximizes cargo space, making it ideal for hauling boxes or large, bulky items.
2008 Nissan Caravan
The Nissan Caravan Van of 2008 boasts an impressive fuel efficiency of 9.1 to 14.1 kilometers per liter, making it an excellent choice for those looking to save money on fuel.
The Nissan Caravan is available in both front-wheel and rear-wheel drive options. The 2.5-liter 4-cylinder inline engine packs a punch with up to 147 horsepower and a top speed of 160 km per hour.
The van comes with both a 4-speed automatic and 5-speed manual transmission, and diesel models also offer an additional turbocharger option. The latest model features a brand-new 2,488cc gasoline engine with 147 horsepower and improved fuel efficiency.
The 2008 Caravan Van has received a Five-Star Crash Safety Rating from the Australian New Car Assessment Program (ANCAP), the highest possible score, providing peace of mind for drivers and passengers alike.
2009 Nissan Caravan
Introducing the latest iteration of the popular cargo van – the Nissan Caravan 4th generation. Boasting impressive rear-wheel drive capabilities and a range of customizable options, this powerhouse is a top pick for those seeking a reliable and efficient vehicle.
Its 2.5L 4-cylinder inline engine delivers exceptional performance, reaching a maximum speed of 160 km. Both a 4-speed automatic and 5-speed manual transmission are available, with options for front and rear-wheel drive to suit your needs. Diesel models also offer an additional turbocharger option.
The 2009 Nissan Caravan continues the brand's reputation for dependability, with a 2,488cc gasoline engine providing 147 horsepower. The manufacturer has made further improvements to the transmission of the vehicle in order to increase fuel efficiency. With a spacious interior accommodating up to twelve passengers, the Nissan Caravan is an excellent choice for those seeking capacity.
Even novice drivers will appreciate its cab-over-wheel setup, which enhances weight distribution and handling, despite its size. The square design with tall ceilings also maximizes cargo space for those seeking to transport boxes or move bulky objects.
Whether you're a seasoned driver or a new one, you can count on the Nissan Caravan to offer great value. It's the perfect choice for those searching for a reasonably priced yet reliable vehicle.
2014 Nissan Caravan
The 2014 Nissan Caravan is an iteration of the popular cargo van in its fifth generation. This Rear-Wheel Drive powerhouse offers various customizable specifications to fit your needs. Equipped with a 4-cylinder inline engine, the Caravan boasts up to 147 horsepower and a top speed of 160 km. The manufacturer provides the van with a 4-speed automatic or a 5-speed manual transmission as options.
The new NV350 Caravan features the all-new YD25DDTi engine, which utilizes clean diesel technology for a cleaner and more efficient driving experience. These updated engines have led to a 5-10% improvement in fuel economy. This year's lineup consists of three options – the DX, GX, and Rider.
The DX model comes with basic amenities like central locking and automatic windows, while the GX model adds premium seats, a CD player, a backup camera, and HID headlights. The GX model also comes with optional electronic stability control for added safety. The Rider model includes additional cosmetic upgrades, such as a chrome body kit, alloy wheels, a wood-like dash, a leather steering wheel, and leather seats.
This van can easily seat up to twelve people, making it an economical choice for anyone looking for a van that's easy to drive. The cab-over-wheel setup provides better handling despite its size. However, the boxy design maximizes cargo space, making it perfect for transporting bulky items.
Nissan Caravan Price in Zimbabwe
The price of a Caravan in Zimbabwe begins at USD 1,400 and goes up to USD 2,770. People heavily use this popular vehicle for business and larger families, resulting in many makes and models being available
The SBT inventory of Nissan Caravan includes the most popular models, some of which we have already talked about. You can read the description of every vehicle on the website. Additionally, you can contact our customer support specialists to help you find the right vehicle for you.
End Word
In conclusion, the Nissan Caravan is a versatile and reliable cargo van, perfect for families or businesses. With customizable specifications and improved fuel economy, it's a great investment for anyone needing a dependable vehicle.
SBT Japan stocks high-quality Nissan Caravan for sale in Zimbabwe, which reaches you after a thorough inspection process. We ensure that every vehicle goes through rigorous testing before reaching you.
With our extensive industry experience, we are able to bring you a convenient and hassle-free shipping and payment process. Our agents are available round the clock to assist and guide you throughout the process. Should you require any guidance, you can contact them at any time. The decision to buy a used vehicle is significant because it involves investing your hard-earned money.