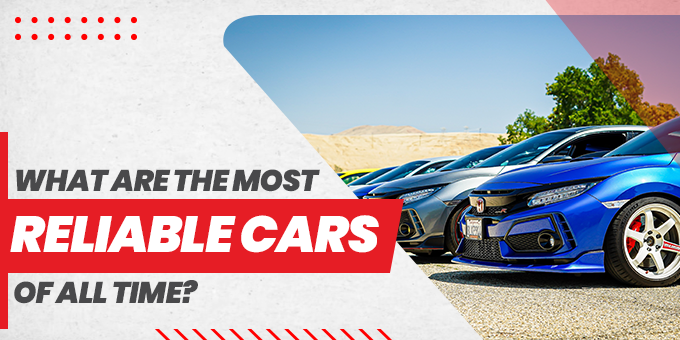 Getting a car has forever been a huge deal. You spend a large part of your savings to enjoy your rides and manage your commute conveniently. However, for most people, a car is more than a transportation device. It's a status symbol that represents their wealth and taste too. That is why they treat their vehicles with care and look into getting the best ones.
Some people take a lot of time picking the right car that fits their needs and goes with their tastes. However, the price factor has a significant impact on their decisions. On the other hand, many people get rid of their vehicles as they become unfashionable and obsolete.
Most people opt for cars that reflect their interests and personality. However, others are also looking for used cars that meet their needs and budget. Such people don't look for luxury vehicles and aren't affected by the latest trends.
Among all these people, there is one thing that they all look for when buying automobiles, which is reliability. If you are also looking for the most reliable cars of all time, we have a list for you. You can also contact SBT Japan for both new and used vehicles as they offer a range of cars in excellent condition ensuring reliability and durability.
The Most Reliable Cars of All Time
People around the world are looking for vehicles that grow old with them. Car enthusiasts have emphasized that reliability is the most crucial aspect to consider when buying a car. It involves a huge investment, so it's better to spend some time looking for the right one.
We've got a list of the most reliable cars of all time that you can rely on to be with you in the long run. For your convenience, we are presenting this list that has been prepared according to the reliability scores presented in consumer reports.
1.    Honda Accord
The retail price of the Honda Accord is around $21,000 to $31,500. It's identified as one of the most classic vehicles of all time. The family sedan has many reasons to rank on top. For years, the automobile has been offering its buyers a smooth ride along with great fuel economy.
What makes it reliable is the overall engine and riding capabilities. So if you want to fulfill your environmental responsibility and ensure that your money is spent on the right thing, this is the choice for you.
2.    Subaru Forester
Subaru Forester is one of the most lightweight, durable, and reliable vehicles. It's a compact SUV crossover. Surprisingly, the five-seat offers maximum cargo storage to the passengers. Moreover, the model guarantees a typical all-wheel drive constructed to keep up with you for long.
For years, Subaru has been leading by providing standard vehicles with a highly powerful engine. As a result, the models have been awarded the best small SUV for three consecutive years, from 2004 to 2006. Also, it was awarded as the top safety pick and best compact SUV award in 2008.
3.    Mazda MX-5
Mazda vehicles have never failed to impress their buyers. The popular sports vehicle has achieved a place among the most reliable cars of all time. Moreover, it has been one of the bestselling convertible automobiles in history.
The overall durable and lightweight frame makes it reliable and safe. In addition, it's designed for maximum torque. In 1989, the Wheel Magazine named Mazda MX-5 as the car of the year. Also, in 2000, Sports Car International called it the best sports car of the 1990s.
4.    Mitsubishi Carisma
Next is Mitsubishi Carisma, on our list of the most reliable cars of all time. It's a large family-sized sedan that provides buyers with appealing and conservative looks. As a result, the model largely remains popular with middle-class buyers.
The Mitsubishi Carisma is identified as the first automobile model that was designed using plastic and fabric frames. As a result, it contributes to better reliability and durability as it ensures lower chances of wear and tear.
5.    Honda Civic
When it comes to reliability and style, the Honda Civic always stands out. The early 90s model of Civic has impressed people around the world. Moreover, these cars can conveniently be handed down to the next generation; such is their reliability.
If you are looking for robust and dependable used cars, you can look for a Honda Civic model. SBT Japan can help you in getting a vehicle in good condition with a reasonable price tag.
6.    BMW 3 Series
BMW manufactures car models that are well-known for their reliability. The automobile manufacturer ensures the quality and effectiveness of its models along with offering the best features. For years, BMW has gained prominence and success for its precision engineering. Their cars are built to last.
The BMW 3 Series cars were produced between 1981 and 1984. These are the best among BMW models to date. People find these cars affordable as well as stylish. Also, you can easily find its parts. However, the components may be pricey.
What Makes a Car Reliable?
When you have a reliable car, you don't have to be anxious about safety and security. You can give it down within families and generations. Moreover, such cars never leave you stranded along the side of the road in unknown places far from home.
A reliable car takes care of you and looks out for you behind the wheel; they make long commutes more comfortable and less stressful. As it pertains to vehicles, reliability means that everything is working as it should be. It never puts you stuck on the side of the highway with a flat tire.
If all is well, there won't be any warning lights coming on, suggesting something major has gone wrong with an important part under the hood.
Most modern cars are designed to outperform others. These are reliable with better features and offer value to the drivers. Despite this, you must have relevant knowledge and understanding of what makes a car reliable. It helps in ensuring that you choose the right vehicle that stays long with you.
Final Thoughts
When buying automobiles, it's essential to consider the brand image, style, durability, and reliability. How can you buy a car without looking for these factors? It's a huge expense. Even if you're looking for a vehicle that only helps in commuting to your workplace, you must know to spend time researching for the best available options.
The list mentioned above of the most reliable cars of all time can facilitate you in choosing the right one that offers value. Furthermore, you can connect with SBT Japan for used cars, which have achieved a reputable position in the market.
And lastly, for aspiring owners, it's always better that they take precautions. You can't just go and pay for any car. Always look for the finest offered alternatives that meet your needs. Then, assess and compare these vehicles so that you can find the best one among the most reliable cars of all time.