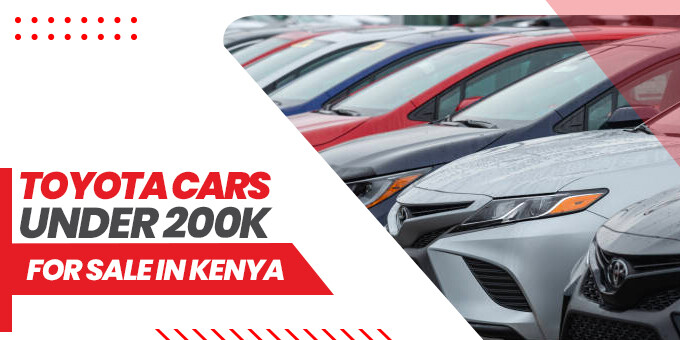 Toyota is one of the leading and most reliable automobile brands globally, with a huge fan base. It's known for its style and safety and for offering the most reliable and durable cars. Even the used and cheap Toyota cars meet the expectations and needs of people.
You've visited the right page if you're seeking Toyota cars under 200k in Kenya. We've got a list of top affordable Toyota vehicles available in Kenya. The list can help you quickly select a car that meets your needs as we believe it can be challenging to research and find low-cost Toyota vehicles easily. We've got all the necessary information to help make the right decision.
8 Toyota Cars Under 200k for Sale in Kenya
For decades, Toyota has been known for launching the best models one after the other. People trust the brand, and it has a huge fan following. When it comes to purchasing cars, Toyota is mostly the first choice of people due to its reliability, durability, and safety features.
You can conveniently find the best Toyota cars under 200k in Kenya. Many reputable Toyota vehicle traders offer both new and used affordable Toyota vehicles that can meet your needs. Here's a list of some of the best Toyota cars under 200k that can help you make a wise choice.
1.    Toyota RunX
Toyota RunX achieved immense popularity as a domestic vehicle. Since its inception, the five-door hatch model has become popular in European countries. Its spacious interior, like sedans and the safety features, including the anti-lock braking system, airbags, and tinted rear glasses, makes it more appealing.
These days, you can easily find used RunX in the category of Toyota cars under 200k in Kenya. It's one of the affordable Toyota vehicles bought from reputable Toyota car dealers. Its interior and exterior are highly impressive, giving people the best features despite falling in the range of cheap Toyota cars.
2.    Toyota Ractis 
Toyota Motors has been producing the most comfortable vehicles with the best features. Ractis is one of the most selling cars of the company that falls in the subcompact category. It's ideal for Asian roads and offers fantastic performance and an excellent drive. You'll love this car.
Toyota Ractis is not only an affordable option but comes with a spacious interior, which is best for medium-sized families. It's available in different sizes and transmissions. You can find it in both manual and automatic transmission. So, there is no reason to miss out on this car.
3.    Toyota Porte
Toyota Porte was launched in 2004 in two versions. You'll find this car highly impressive as it comes with distinctive features. The compact car has an astonishing interior and exterior. You cannot miss the large capacity that adds value and makes it a comfortable drive for everyone.
It's one of the Toyota cars under 200k available in Kenya that meets the Environmental Standards EURO IV. It's a fuel-efficient car that's perfect for daily commute. The used ones can easily be bought from Toyota vehicle traders like SBT Japan.
4.    Toyota Vitz 
Vitz is another amazing model launched by Toyota Motors in 1998. It's one of the subcompact Japanese cars available in three and five doors. It belongs to the third generation of models and is famous for its small size and style exterior.
You can find a used Vitz in the category of Toyota cars under 200k. The 1.3 liter petrol vehicle offers excellent fuel efficiency and various engine and transmission options. It also consists of advanced safety features that add value to the model and makes it reliable, safe, and durable. You can contact SBT Japan, which offers low-cost Toyota vehicles to satisfy your needs, for more details.
5.    Toyota Probox
Toyota Probox was launched in 2002 and had similar features as its previous generations. It comes with 1300cc and 1500cc in both 2WD and 4WD. Thus, the tiny wagon has impressed people globally. It's being commonly used for transporting goods as a commercial vehicle.
You'll find Probox when looking for Toyota cars under 200k. Contact SBT Japan, one of the most reputable low-cost Toyota vehicles dealers. Purchasing Probox can be a great deal as it offers a stable ride and can be used as a business car and family car.
6.    Toyota Fielder
Toyota Fielder is another model that generates handsome horsepower and is perfect for both on-road and off-road experiences. The model was launched with different prices and variants to target people from varying segments. Check out this car if you are looking for reliable Toyota cars under 200k.
The model comes with an elegant exterior and innovative trims. Also, you cannot miss its striking design and luxurious interior features. The spacious interior is something to look forward to. The used ones are available at Toyota car dealers. You can search for cheap Toyota cars and buy Fielder to get all you need at affordable rates.
7.    Toyota Corolla
All the Toyota Corolla models have impressed people globally. It is recognized as one of the most reliable vehicles that offer durability, safety, convenience, and functionality. The new ones come with advanced features and tech systems.
You can easily find a used Toyota Corolla in the list of Toyota cars under 200k. All you've to do is contact Toyota vehicle dealers and ask for the low-cost Toyota vehicles that are easily available. It can be a perfect choice for a daily commute to work.
8.    Toyota Starlet
Toyota Starlet is one of the compact hatchbacks launched by the company that offers space and fun. It's a 1.4-liter hatchback that comes with young urban energy. The car is packed with style and street cred and can be a fantastic addition to your list.
Many Toyota vehicle traders in Kenya are offering affordable Toyota vehicles. You can find Toyota Starlet among the Toyota cars under 200k in Kenya. It can be a great choice if you're looking for a fun ride.
Final Thoughts
The bottom line is that you can conveniently find Toyota cars under 200k in Kenya. Toyota is a leading automobile dealer that has caught global success and fame. It has a vast customer and fan base. For years, Toyota has been producing and marketing some of the best and most appealing vehicles that quickly grab eyeballs.
So, whether you're buying a new one or a used one, you can opt for affordable Toyota vehicles without any second thought. Contact SBT Japan, which is a reputable Toyota vehicle trader operating internationally. With SBT, you can find any low-cost Toyota vehicles listed above.