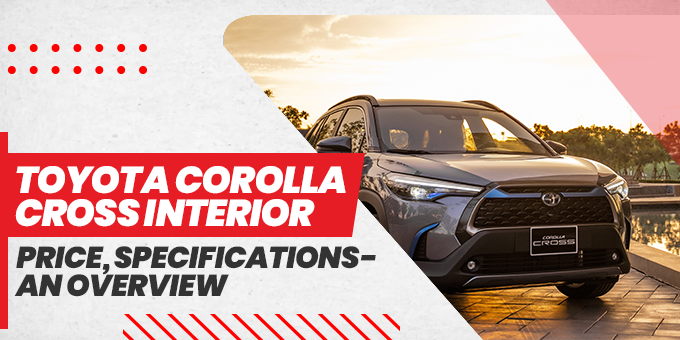 Toyota entered the subcompact SUV market with its Corolla Cross, a massive cargo hold with sportier trims and fuel economy. The favorable aspects include the space inside the car, its looks, and fuel efficiency. However, it has failed to compete strongly in the market because the SUV market is full of subcompact, good-looking, and fuel-efficient vehicles like Mazda CX30, Hyundai Kona, KIA Soul, etc.
These cars are smaller than Corolla Cross, making them more suitable for the SUV market. Toyota Corolla Cross' interior is attractive and comfortable, for which the vehicle is especially known. Toyota Corolla Cross comes in various models. All non-hybrid Corolla Cross models will come in a 169-hp 2.0-liter four-cylinder engine and a continuously variable automatic transmission. In non-hybrid, the front-wheel drive is standard, but all-wheel drive is available as an option. Since the model is new, it is not or rarely seen in the Japanese used cars market, and Toyota is planning to introduce the hybrid version in 2023.
Specifications
The 2022 Corolla Cross was launched in three trim levels; L, LE, and XLE. There are indications that a new model will be introduced in 2023. The L trim is the base trim level, starting at about $23,400 MSRP. The LE trim starts at about $25,800 MSRP, and the XLE trim starts at about $27,500 MSRP. However, it has been found that the engines are the same no matter which trims they opt for. They come with a 2L four-cylinder engine producing 169 horsepower. The same model will be introduced in hybrid in 2023. All the trims include an extensive suite of smart safety features, including automated emergency braking and adaptive cruise control. It makes all the Toyota Corolla Cross trims quite safe.
At A Glance
The L trim was basic, which was upgraded with the LE trim. L trim had a 7-inch touchscreen display, while LE had an 8-inch display. As a standard feature, the LE trim has a wireless phone charger. Moreover, the L trim had manual AC controls, while the LE trim comes with an automatic AC system. The LE trim includes a leather steering wheel cover, push-button start, remote keyless entry, panic buttons, and more features.
Pricing
Despite the LE trim being a good upgrade to L, the XLE trim is considered the best Corolla Cross trim. In terms of price, it is only $2,000 higher than the LE trim and $4,000 higher than the base L trim. However, it offers a lot more for that price. There are a lot of features in the XLE trim that customers were looking for. XLE has many additions absent from the LE trim. These additions include blind spot monitoring, front and rear parking sensors, and rear cross-traffic alert.
Further Differences
Moreover, the L and LE trim have a 4.2-inch info driver's display, while the XLE has a 7-inch display over and above the 8-inch touch screen. The XLE has higher comfort features as compared to L and LE trims. Its interior contains leather, dual-zone automatic climate control, and heated front seats. It means the XLE trim has many extra goodies in addition to what the LE trim has, which makes XLE the best trim.
Price
The price of the Toyota Corolla Cross depends on the trim level. Toyota Corolla Cross L starts from $22,445, Toyota Corolla Cross LE starts from $24,795, and Toyota Corolla Cross XLE starts from $26,575. The price difference between the three trims is around $2,000, which defines the difference in features.
Interior
The Toyota Corolla Cross interior is highly attractive, with a 5-seater seating capacity and a front seat legroom of 42.9 inches. The front seat headroom is 38.6 inches, and the front seat shoulder room is 52.7 inches. The rear seat legroom is 32 inches, and the headroom is 39 inches. The cargo space is 25.5 ft3. It contains an optional Bluetooth connection, optional premium sound system, satellite radio, smart device integration, WiFi hotspot, auxiliary audio input, and an MP3 player. The interior trim contains bucket and cloth seats, the leather steering wheel is available in LE and XLE, and premium synthetic seats are only available in XLE. At the same time, the sunroof is optional in LE and XLE only.
The comfort features include steering wheel audio controls, power liftgate, power mirrors, A/C, adaptive cruise control, climate control, cruise control, heated front seat (only in XLE), keyless entry (only in LE and XLE), multizone AC (only in XLE), power driver seat (only in XLE), remote trunk release, keyless start (only in LE and XLE), and telematics. The Toyota Corolla Cross interior is attractive and comfortable with comfort and safety features.
The safety features in Toyota Corolla Cross include the backup camera, cross traffic alert (only available in LE, rear parking aid (only available in XLE), Blind sports monitor (available in LE and XLE), lane departure warning, lane keeping assist, ABS, tire pressure monitor, brake assist, stability control, traction control. Driver airbags, front head, side and knee airbags, passenger airbags, rear head, and side airbags. Hence, the safety features are staggering in Corolla Cross.
Competition
Compared to the other SUVs, Corolla Cross has many competitive advantages. Its fuel economy attracts most drivers, and the cargo space is also more than many the SUVs. However, the overall body and size of the vehicle allow reviewers to mention that it is larger than other SUVs. Some say it is inappropriate to count it among SUVs because it does not serve the purpose of small and easy-to-manage cars. Other than its size, Corolla Cross has been praised for its features and comfort. Toyota plans to introduce its hybrid version in 2023 after the success of the 2022 model. It indicates that the demand for the vehicle is not low, and its hybrid version might make even higher sales.
Corolla Cross being in the SUV market, is highly fuel economical, giving it an edge over others. Its competitors like Mazda CX30, Nissan Rogue Sport, Subaru Crosstrek, Honda HR-V, and many more have features not as good as Cross. Some are not as spacious as Cross; some have lower fuel efficiency, and some do not have enough safety features. It shows that Cross is better than many SUVs in the market.
Conclusion
Toyota Corolla Cross entered the SUVs market in 2022 with three trim levels; L, LE, and XLE. The best version of Cross is XLE based on its features and comfort, while L is basic. Toyota kept improving the model and came up with XLE as the best version. Moreover, the company plans to launch the hybrid model as per the market demand since hybrid cars are in high demand. It highlights Toyota's commitment to continuous improvement.
The Toyota Corolla Cross interior is outstanding, from the seats to the space and safety features. Cross is also known for its price range which is better than many SUVs, the difference in the prices of different trims is not very high, and the features are a lot better. Conclusively, Toyota Corolla Cross is a convenient, comfortable, and technologically advanced SUV with many features for a very reasonable price range. If you live in Africa, you can purchase your Corolla Cross at any trim level from SBT South Africa. We ensure high-quality customer service and the best prices.