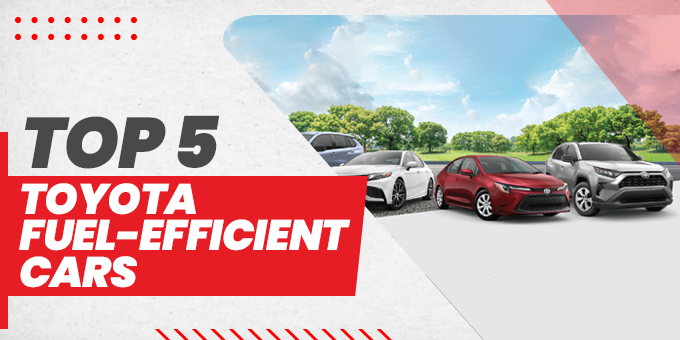 Welcome to the comprehensive blog regarding the top 5 Toyota fuel efficient cars. Fuel efficiency is one of the most crucial considerations for consumers when purchasing a car in the present economic climate.
The top five Toyota models with an excellent track record for fuel economy will be discussed in this article. We'll delve into their features, and pricing and highlight what sets each car apart from the rest. Whether you're a daily commuter or someone who loves road trips, these fuel-efficient Toyotas are bound to meet your needs.



Fuel Efficiency at Its Best
The Toyota Prius has long been synonymous with fuel efficiency and eco-friendliness. This hybrid vehicle's combination of an electric motor and a gasoline engine results in outstanding fuel efficiency. With its advanced hybrid technology, the Prius offers an impressive EPA-estimated mileage of up to 58 MPG in the city and 53 MPG on the highway.
Features and Innovations
Apart from its outstanding fuel efficiency, the Prius also boasts a range of innovative features. It comes equipped with advanced safety technologies, such as Toyota Safety Sense, which includes features like pre-collision braking and lane departure alert. The interior also has a cozy cabin, cozy seats, and an easy-to-use entertainment system with a smartphone connection.
Pricing and Trim Options
The Prius comes in a variety of trim levels, so you may pick the one that best meets your needs and price range. The starting price for the base model is around $24,525, while higher trims may have additional features and a slightly higher price tag.
Efficiency and Elegance Combined
The Toyota Camry Hybrid is well-liked by people looking for a midsize car with outstanding fuel economy. The Camry Hybrid's hybrid powertrain, which achieves remarkable EPA-estimated mileage of up to 51 MPG in the city and 53 MPG on the highway, makes it among the more fuel-efficient cars on the automotive market.
Stylish Design and Comfort
Additionally, the Camry Hybrid offers a sleek and stylish design. Both the driver and passengers take advantage of the large seats and legroom. A comprehensive feature set, including a touchscreen infotainment system and driver-assistance technologies, is included in the cabin's design, which uses high-quality materials.
Pricing and Trim Options
The Camry Hybrid is available in various trims, starting from around $28,265 for the base model. However, higher trims offer additional features such as leather upholstery, premium audio systems, and advanced safety features.
Fuel Efficiency Redefined
The Toyota Corolla Hybrid is a compact car that delivers outstanding fuel efficiency without compromising style or performance. With its hybrid powertrain, the Corolla Hybrid achieves an impressive EPA-estimated mileage of up to 53 MPG in the city and 52 MPG on the highway.
Modern Design and Tech Features
The Corolla Hybrid features a modern and sporty design, making it an appealing choice for those who value aesthetics and efficiency. Inside, you'll discover a meticulously designed cabin with supportive seats and a number of cutting-edge technological features, such as a user-friendly infotainment system with smartphone connectivity and Toyota Safety Sense.
Pricing and Trim Options
The Corolla Hybrid offers various trim levels, starting from approximately $23,650 for the base model. The more high-end trims may include additional features such as heated seats, upgraded audio systems, and enhanced safety technologies.
Fuel Efficiency Meets Versatility
The Toyota RAV4 Hybrid is a great option if you're searching for a fuel-efficient SUV. The RAV4 Hybrid gives up to 41 MPG in the city and 38 MPG on the highway, according to EPA estimates, combining the strength of a hybrid engine with the utility of an SUV.
Spacious and Feature-Rich Interior
The cabin of the RAV4 Hybrid is roomy and relaxing, and there is enough cargo room. It has a number of amenities, including an infotainment system with a touchscreen, Apple CarPlay, and Android Auto compatibility that are meant to improve convenience and connectivity. The RAV4 Hybrid also comes equipped with advanced safety features, ensuring a safe and enjoyable driving experience.
Pricing and Trim Options
The RAV4 Hybrid is available in multiple trim levels, starting from around $32,500 for the base model. Higher trims may offer additional features, including leather upholstery, a panoramic sunroof, and a premium JBL audio system.
Fuel Efficiency and Family-Friendliness
For those in need of a spacious and fuel-efficient SUV, the Toyota Highlander Hybrid is an ideal choice. With its hybrid powertrain, the Highlander Hybrid achieves an impressive EPA-estimated mileage of up to 36 MPG in the city and 35 MPG on the highway.
Comfort and Convenience
The Highlander Hybrid offers seating for up to eight passengers, making it a perfect vehicle for family adventures. It provides a comfortable and well-designed interior, with features such as tri-zone climate control, a rear-seat entertainment system, and a range of driver-assistance technologies for enhanced safety.
Pricing and Trim Options
The Highlander Hybrid is available in various trim levels, starting from approximately $38,410 for the base model. Higher trims may offer additional features like leather upholstery, a panoramic moonroof, and a premium audio system.
Additional Considerations
While fuel efficiency is a crucial factor to consider when purchasing a car, there are other aspects to keep in mind. Here are some additional factors to consider before making your final decision:
Safety Features
Toyota is renowned for its strong commitment to safety, and the top five fuel-efficient cars described above have cutting-edge safety features. These include options like adaptive cruise control, rearview cameras, blind-spot monitoring, and automated emergency braking. Prioritize the safety features that matter most to you and ensure they are available in the Toyota model you choose.
Reliability and Resale Value
Toyota has a reputation for producing reliable vehicles with high resale value. It's crucial to take into account the long-term advantages of owning a Toyota when making a car purchase. Their reputation for reliability and strong resale value means you can have peace of mind knowing your investment is protected.
Maintenance and Ownership Costs
While fuel efficiency can save you money on gas, it's also important to consider other ownership costs. Factors such as maintenance, insurance, and depreciation should be taken into account when evaluating the overall cost of owning a vehicle. Toyota's reputation for durability and affordable maintenance can contribute to lower long-term costs.
Conclusion
In conclusion, the models covered in this article are outstanding options to take into consideration if you're looking for fuel-efficient Toyota vehicles. From the legendary Toyota Prius to the versatile Toyota Highlander Hybrid, these vehicles offer exceptional fuel economy without compromising performance, features, or comfort.
Your budget and preferences are two major factors that impact the decision of which car is the right one. Toyota has vehicles for individuals with different needs. It is committed to offering fuel efficiency along with reliability and sophistication.
Explore these fuel-efficient Toyotas, compare their features and pricing, and take a test drive to experience their exceptional performance firsthand. Find the ideal fit that meets your needs, then set out on your next adventure with assurance of safety.