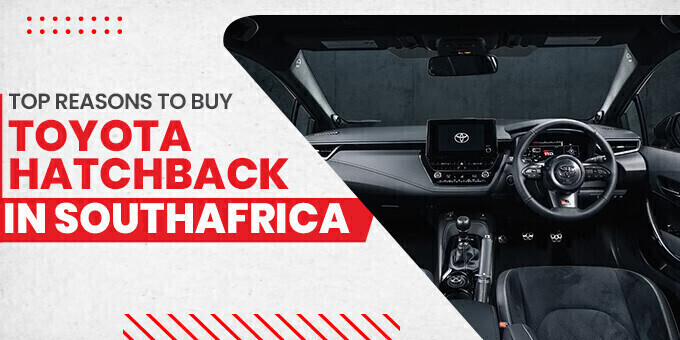 Hatchbacks provide comfort and room in a small package. However, one of their most compelling advantages is their modest size. It makes it easy to maneuver your Toyota hatchback through narrow passageways, squeeze into the tiniest parking places, and easily travel through traffic while carrying your passengers comfortably. 
This is useful because of how crowded roadways are nowadays. The cost of maintenance and fuel consumption are other crucial aspects. Owning a car with a decent fuel economy and less maintenance is essential, given the variable fuel cost. 
Most Toyota hatchbacks have smaller engines, ranging from 660 CC to 1200 CC, and more modern engine technology. 
Toyota used cars, as was previously noted, provide ample storage. Moreover, modern hatchbacks with a folding trunk capacity, like Picanto or the third-generation Suzuki Swift, can accommodate additional cargo or a respectable number of people. A hatchback's folding trunk makes it the ideal vehicle for young families and those who frequently need to transport large loads for business or recreation. 
Not least, among other things, hatchbacks are very stylish. All contemporary ones follow the most recent fashion trends and are really fashionable. They also come in a range of hues. 
Excellent For A Novice Driver 
If you recently passed your test and didn't already have a car in mind, you should seriously consider a hatchback. They are contemporary, vibrant, chic, and elegant — really all you could ask for. They are both big enough to fit furniture and tiny enough to allow easy movement, not to mention how simple they are to drive.  
Compact Design
Toyota hatchbacks offer convenience and greater room than high-end sedans. In addition, they allow drivers to maneuver in tight spots where a typical SUV or sedan would not always fit. For instance, driving a hatchback is simpler than driving a bigger vehicle on a busy route. 
Price
We've all heard that the more you pay to have a nice, safe, reliable automobile, the better it is. According to pricing, the top 10 automobiles for novice drivers were examined in a BusinessTech article. Guess which vehicles dominated the list? Hatches, of course! In other words, the hatchback is almost always the best place to start if you're trying to buy a cheap yet dependable automobile. 
Large Boot Space
As was already noted, a hatchback automobile can transport both people and a respectable quantity of weight or goods. Typically, hatchback automobiles are built with big trunks to serve this function. Because of this, hatchback vehicles are an excellent choice for many kinds of motorists, including single drivers and those with passengers.  
Parking Could Not Be More Convenient
Some people find parking difficult, particularly parallel parking. In automobiles with only limited sight, parking might be significantly more difficult. With a hatchback, you won't need to be concerned about that! Parking is simple for hatchbacks. One, since they are smaller automobiles; and two, you can fit them in more spots than larger cars. Everyone benefits. 
Unique
Driving a hatchback is no longer tedious or monotonous. They are far more fashionable than some of the large animals present nowadays. You will be spoiled for choice with so many distinct colors. Hatchbacks are among the most stylish vehicles available because of their distinctive appearance. Comparatively speaking, other automobiles do not have this large a selection of colors available.  
Flexibility
Split-folding rear seats are common in many Toyota used cars for sale in south  Africa, although hatchbacks gain the most from them because of their larger interiors. This gives you more freedom to transport any combination of passengers and goods. That will be useful when you go antique shopping or Ikea runs with a few of your friends. 
Small On The Outside, Big On The Inside
A hatchback's roomy interior frequently rivals that of bigger vehicles without the added outward space. However, a hatchback's footprint can occasionally be less than that of a sedan. This implies that finding a parking space for your flexible small car won't be difficult whether you live in a city or other area where space is at a premium. 
Fuel Economy 
Now, let's face it, driving a car that can help you save money is a winner, given the shifting cost of gas. Fortunately, the perfect hatchback can accomplish that for you! Hatchbacks are far lighter than sedans due to their size, and if there's one thing we know about light vehicles, it's that they're fantastic at the gas station, which means they're great for your wallet. 
Maintenance
One of the most important factors is how much it will cost to maintain the automobile before purchasing one. In a report, hatchbacks once again dominated a list of the finest vehicles with the lowest operating expenses. They said that factors including sparing fuel use, a reputation for toughness, economical maintenance, high-value retention, and minimal thief appeal result in low operating expenses.  
Thus, if you locate the ideal hatchback, you can have an incredible first driving experience. 
Best For City Drive
We're now on the road, just where you wanted us to be. But, first, we had to walk you through everything necessary to make your traveling pleasurable. So, after going over everything we discussed, it should be clear that recommending a hatchback in this stop-and-go driving environment is the sensible thing to do, given its maneuverability, fuel-saving capabilities, and low cost. 
Insurance 
Hatchbacks are less expensive to insure than sedans, even though insurance prices are based on "risk profile-dependent premiums." In addition, because insurers view hatchbacks as rational purchases due to their smaller engines and less expensive parts, they are less expensive to operate. Therefore, insurance companies believe that simple hatchbacks make sense, and you should believe the same. 
Hot Hatches
Some drivers also desire performance. As a result, most manufacturers have created variations of their conventional hatchback vehicles with improved performance. Despite packing a lot more power, they nonetheless manage decent fuel economy and are typically more environmentally friendly. This draws drivers who prefer a hot hatch without breaking the bank on gasoline expenses.