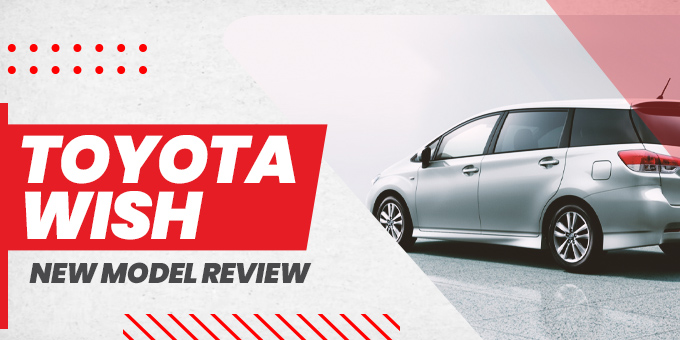 The Toyota Wish is a popular vehicle from the Japanese automaker Toyota. It remained in production from 2003 to 2017 and was positioned between the Corolla Spacio and Ipsum. In Hong Kong, the vehicle was imported from Japan; otherwise, it was also assembled in Taiwan and Thailand.
The Wish is classified as a compact MPV with a 5-door station wagon body style. It comes in a front-engine, front-wheel-drive layout or a front-engine, four-wheel-drive layout based on the Toyota MC platform.
Let's take a look at the first-generation model, and then we will talk about the Toyota Wish new model for a complete review and understanding.
First Generation
The first generation Wish was officially launched in 2003, while it was revealed to the public in 2002 at the Tokyo Motor Show. The first generation vehicle was extremely popular in its home market and made it to the Top 5 frequently on the 20 bestseller list every month.
The Toyota Wish gave tough competition to its competitors, such as the Mazda Premacy and the Honda Stream. It is available in three trims in Thailand, including the 2.0 S, 2.0 Q, and 2.0 Q Limited. The vehicle is similar to the Japanese model except for a few differences.
The Toyota Wish came in two engine variants: a 1.8 liter and a 2.0 liter 1AZ-FSE. Furthermore, it was powered by a 4-speed automatic transmission or a Super CVT-I transmission.
In 2005 it received a facelift. The Wish was already an attractive car that was fundamentally well-designed; however, a few changes further uplifted its look. Cosmetic changes to Toyota's look included improved LED tail lights, bumpers, headlights, and revised automatic transmission and switchgear.
Second Generation
The Toyota Wish 2017 remained in production from 2009 to 2017. It is powered by Dual VVT-i 2ZR-FAE and 3ZR-FAE engines. You can find the 7-speed Super CVT-i transmission on all Wish models.
The second-generation Toyota Wish received a facelift in 2012, which improved the car's rear lamps and headlights. It also featured a revised grille, rear tailgate garnish, and LED insets. Furthermore, the 2017 Wish is available as a 2-wheel drive or a 4-wheel drive.
Let's take a look below at how the Toyota Wish fairs on various features.
Interior and Space
When you purchase an MPV, you expect a bigger space as these cars are designed keeping in mind space and comfort. The Toyota Wish takes full points for ample cabin space, allowing everyone to sit comfortably. The Toyota Wish can easily seat seven passengers.
Even with a second and third row, all the passengers can be comfortable in their seats and stretch their legs easily. The third row can easily accommodate adults as well. In the front, you will find a small console in the center which you can use to keep an eye on the back seats, which is especially handy for parents.
There are enough pockets in the front to keep smaller items. Two-tiered trays are within arm's reach, where you can toss your wallet, phone, and keys. There are huge door bins on the doors where you can fit a 1.5-liter bottle easily and even some CDs.
While the Wish ranks fairly well on space, it lacks in other departments. You will find limited use of technology. For instance, you can pair your phone with the infotainment system via Bluetooth, but it does not have Android Auto or Apple CarPlay.
The interface can use some updating as well. The doors open outwards, while sliding doors could have been more stylish and comfortable on a car of this league.
Exterior
The Toyota Wish has a sleek and stylish design. It looks great compared with other MPVs on the market with its almost sporty look. It is designed based on a capsule prototype. The sharp inclines from the front to the back give the vehicle a defined look, and it is not boxy at all. All in all, it is an attractive vehicle that turns heads on the road.
Drive and Handling
The most important feature of any car is the drive. The Toyota Wish comes powered by a 1.8-liter DOHC inline 4 producing 176 Nm of torque and 144 bhp. If you know how to read these figures, you can understand that it is one of the most powerful MPVs in the market. It will get you off the line quickly, and you can cruise down highways quite smoothly.
When it comes to handling the Wish feels like a breeze. The steering is light, enabling easy maneuvering, despite its length. You will have no problem driving through multi-story car parks or making U-turns.
The Toyota Wish boasts a soft suspension that absorbs many road bumps, giving you and your family the comfort you deserve.
Toyota Wish Price
The Toyota Wish is a promising car that not only looks good on the road but it also glides smoothly. You will love driving it as it gives superior handling and performance. The first and second-generation vehicles both garnered enough praise from consumers.
The Toyota Wish new model price in Tanzania SBT lies between USD 1,140 and USD 6,790. You can find a used Toyota wish for sale of your choice, whether you are looking for an older or a newer car model.
Why Choose SBT Japan?
If you are considering purchasing Toyota Wish 2017 in Tanzania, you can purchase your vehicle from SBT Japan. We have a wide variety of used Japanese vehicles that undergo a rigorous testing process before they make it to our inventory.
All vehicles pass through a standard quality assessment to ensure that only the best vehicles are maintained in our stock. You can find all the details regarding each vehicle in the description, so there's complete transparency when you are purchasing a used vehicle.
You can find a wide variety of Toyota Wish models, whether you are looking for an older, less pricey model or a newer one. Furthermore, if you wish to clear your doubts about the vehicle, we have a 24/7 available and active customer services team ready to take all your answers and questions.
We train our staff to assist you in every possible way. If you are unsure about the vehicle you have chosen, we can also help you find the best one within your budget. You can contact our representatives via call, message, Skype, or Live Chat, and they will promptly address your concerns. Our representatives keep you informed at every step of the shipment process, making our car delivery process well-structured and hassle-free.
Conclusion
The Toyota Wish provides a comfortable and spacious ride, making it the preferred vehicle for larger families. It offers a great driving experience and is perfect for frequent road trips. Although Toyota has discontinued it, the car's build and structure are still solid, and you can easily find a high-quality Wish on the market at a reasonable price.
When purchasing your vehicle, you must know the most important aspects for you and your budget. Knowing these before you begin your research will help you find the right car within your budget.