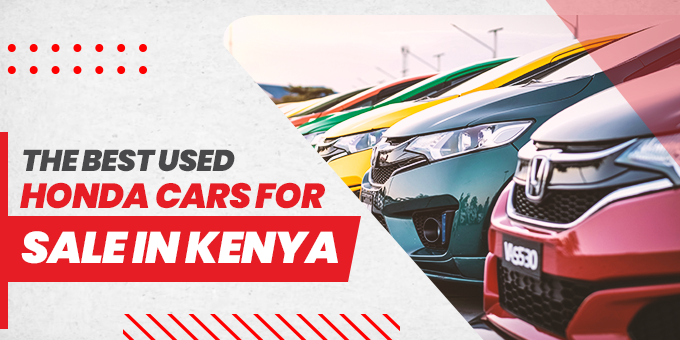 When buying best used honda cars for sale in Kenya, you must look for several things first. For instance, the reselling value of the vehicle that you are interested in. Fortunately, Honda cars for sale in Kenya have a good resale value and, thus, can be bought without having to worry about their worth decreasing after a few years.
Kenya is one of the largest automobile hubs for buying and selling used cars. Moreover, this country is one of the most renowned names when it comes to getting used cars at incredible prices. The automobile market of Kenya delivers SUVs and luxurious vehicles globally. Also, these cars are in premium in terms of their condition. It is almost daunting to distinguish between the new and the old ones. However, professionals can differentiate easily. In this article, we have made a list of some of the best-used honda cars , so without any further ado, let's get started. 
The Honda CR – V is a moderate-size crossover SUV that is popular for its affordability as well as reliability in the longer term and that too as a family car. It might come as a shock that this model of Honda cars is not as well-known as its competitors, including the Vanguard and X – Trail. However, despite not being  well-known as its rivals, it sums up many great features such as high performance, off-road potentiality, interior design, and overall build quality.  
The Honda CR – V underwent a massive redesign in 2011. The entire focus of the company was on providing it with modern aesthetics, aerodynamic performance, a brand new 4 WD system, and fuel efficiency. The Honda CR – V competes against Toyota RAV – 4, Subaru Forester,  Toyota Vanguard, Mazda CX – 5, Mitsubishi Outlander, and Nissan X – Trail.  
The Honda CR – V has been produced for 5 generations since the year 1995. The 1st generation was produced from 1995 up till 2001 and was called RD1. The 2nd generation was manufactured from the year 2001 to 2006 and was known as RD4.  
At the same time, the 3rd generation or RE3 was in production from the year 2006 up till 2011. The 4th generation or  RM1 was  from the year 2011 up till 2016. Lastly, the 5th generation, the RW1, come into existence from 2016 to the present.  
Moreover, this stunning automobile comes with 3 engine options, including a 2.4 liter K24A i – VTEC petrol engine, a 2.0 Liter R20A i-VTEC petrol engine, as well as a 2.2 Litre i – DTEC turbo Diesel engine only available in the European models. These engines are combine to either a 6 – speed manual, 5 – Speed automatic, or a CVT. It comes in both 2 WD AND 4 WD.
The Honda Vezel is rapidly spreading its wings in the Kenyan markets as one of the most reasonable Honda cars in Kenya. It offers exciting features, including exceptional fuel economy, commanding SUV design, affordable cost points, as well as an overall stunning look. The best part is that it competes against Peugeot 2008, Mitsubishi RVR, Toyota Rush, Nissan Dualis or Qashqai, and Subaru XV.  
Honda Vezel comes with 2 engine options, including a 1.5 liter DOHC i – VTEC petrol engine as well as a 1.5 liter DOHC i – VTEC i – DCD hybrid petrol engine. They either have a CVT transmission or a 7 – speed DCT transmission made especially for the hybrid models. It comes in both 2 WD and 4 WD. 
The interior of the Honda Vezel is quite luxurious with combination of leather along with soft plastic materials. The panel comes up with a clear LCD displays and soft buttons. The legroom of the Honda Vezel is extremely spacious and excellent for tall people to sit comfortably, especially during long drives. Moreover, the seats can be adjust and fit for any sitting position.
The Honda Fit is a five-seater hatchback luxury car. It was produce in the year 2001 in Kenya. Furthermore, it is an extremely well-known Honda car in Kenya. It has been gaining popularity as more people are becoming familiar with the reliability as well as quality of Honda cars for sale in Kenya.  
Locally, the Honda Fit competes against Nissan Tiida, Toyota Vitz, and Mazda Demio. It is unquestionably great in terms of safety, fuel consumption, comfort, as well as reliability. It is ideal for urban driving. However,  you can use it for the purpose of driving long distances occasionally. 
The 2nd generation Honda Fit is familiar to many of us as GE. Also, it came in being from 2007 until 2014. In comparison with other generation ,the 2nd generation is much wider and longer . It also possesses several major enhancements in the overall interior, engine, and suspension.  
The Honda Fit comes with 2 engine options. Moreover, it has a 1.3-liter L13AI4 engine as well as the 1.5-liter L13AI4 engine. They are coulpe with either a 5 – speed automatic or a 6 – speed manual transmission.  
As mentioned earlier, the 2nd generation of Honda Fit is wider. In contrast to the previous generations, Honda fit is better. However, it generally means that this model houses more legroom and sufficient space for both drivers as well as passengers. This car is quite spacious and can mislead you to think that you are traveling in a much bigger car. 
The Honda Freed has been manufacturing since the year 2008, but it is, for some reason, quite inconspicuous in the Kenyan car markets. It comes as a shock because this model of Honda possesses strong credentials that hold the potential to attract the majority in Kenya. For instance, it is cost-effective, cheap to maintain, fuel-efficient, as well as possess the capacity to carry up to 8 passengers. Built on the well-known platform of Honda Fit, it is extremely reliable, just like its cousin model. 
It is a Multi-Purpose Vehicle (MPV) and is highly sought–after in Asia, Japan, and many other countries. The 1st generation, known as the GB3 or GB4, was from 2008 up to 2016. At the same time, the company has been manufacturing the 2nd generation of Honda Freed since 2016 till date. Their experts have launched it as GB5.  
Honda Freed brought incredible success to the company and is a worthy competitor of Peugeot Partner, Toyota Passo Sette, Nissan Lafesta, Toyota Sienta, Mazda Premacy, and VW Touran.  
The Honda freed comes with a 1.5 liter L15A engine just like Honda Fit. However, it possesses more torque and is more powerful. The engine comes in hybrid as well as normal versions. Furthermore, the engine has an automatic transmission which comes in both 2 WD and 4 WD. 
Honda Freed is definitely a spacious car having a flat floor and a high roof. It offers a spacious cabin that is extremely comfortable to sit in. It also provides exceptional legroom in all 3 rows, making it an ideal car for tall people to sit comfortably. Another characteristic feature is its sliding door feature on both sides, making it entirely effortless to get inside or outside the car. 
Final Thoughts 
Honda is an automobile winner in the market. With every new model launch, the company keeps passengers' comfort, safety, and luxury in mind. As a person with an extreme love for luxurious cars and adventures. You can never go wrong by choosing a Honda car, especially in Kenya. These cars provide comfort, reliability, and fuel efficiency.  
However, buying best used honda cars for sale in Kenya is not a piece of cake; it requires research, effort, and knowledge of cars to evaluate. If you don't have these things, it's best to rely on renowned and trusted professionals like SBT Japan, one of the largest dealers of used and new Japanese cars that are examined by expert mechanics to evaluate their condition and worth before buying or selling.