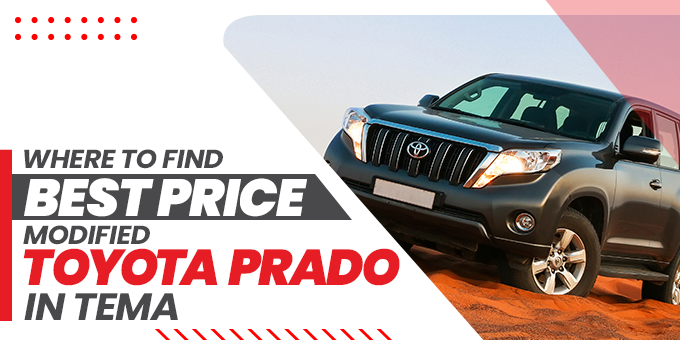 Where to Find the Best Modified Toyota Prado in Tema
The Toyota Prado is at the forefront of the competition when it comes to luxury features, elegant design, and outstanding off-road performance among luxury SUV cars. It is one of the longest-running vehicles by Toyota and among the best cars to modify. Let's discuss the features of the modified Toyota Prado and where you can find it in Accra and Tema.
Why Choose a Modified Toyota Prado?
A modified Toyota Prado is perfect for individuals who want a stylish yet functional car. You may benefit from a dependable vehicle that has been tailored to your specific needs, like the Modified Toyota Prado in UAE.
The Toyota Prado delivers a smooth driving experience irrespective of the terrain. A modified version of the Prado is an excellent choice for a car that reflects luxury and practicality. Modified Toyota Prados are also an excellent investment as they tend to retain their value better than their stock counterparts. This means you can enjoy your car for longer and even resell it at a higher value than a stock Toyota Prado.
Where To Find The Best Modified Toyota Prado In Tema?
If you are looking for a modified or left-hand drive Toyota Prado in Accra or Tema, look no further than SBT Japan. Our team of experts has years of experience in best-price cars and selecting the best Toyota Prados to meet the diverse needs of our clients.
You can find the best facelift and modified Toyota Prado in UAE, which we can help you import. We have an innate understanding of the nuances indicative of individual tastes and preferences regarding their cars. It is the reason why a considerable amount of time is allocated to understanding your needs. It is a crucial step before we offer tailor-made solutions that meet your expectations.
Our modified Toyota Prados are aesthetically pleasing and perform exceptionally well. The utilization of high-quality materials and equipment is guaranteed so that you get the best value for your money. Irrespective of whether your goal in getting a car is to go on off-road adventures or something that is a reflection of your superior taste in luxury, we have got you covered.
What You Can Expect From A Modified Toyota Prado
Toyota is a leading manufacturer of high-end SUVs with a well-founded reputation for producing durable vehicles. The Toyota Prado is one such offering that has become synonymous with the brand's status for quality and luxury.
What steps can be taken if you want to take your Toyota Prado? That's where modifications come in.
Exterior Modifications
One of the most popular ways to modify a Toyota Prado is through exterior modifications. They might be as minor as adding a spoiler or some new wheels or as dramatic as installing a body or lift kit.
A body kit is a great way to completely transform the look of your Toyota Prado. It often features new side skirts, a new hood, and new front and rear bumpers. These changes create a look that makes the car stand out and can serve as a statement of style.
A lift kit is another popular exterior modification for the Toyota Prado. It requires the mechanic to increase the vehicle's ground clearance. It enhances its off-road capabilities and gives it a more aggressive stance. With a lift kit, you can also fit larger tires on your Toyota Prado, which can further enhance its off-road performance.
Also, read more about Procedure To Import Used Cars From Dubai To DR Congo
Interior Modifications
If you often take your Prado for long dives, you may consider making several modifications to the interior. These can be trivial customizations, such as the addition of a new stereo system or seat covers. Or something more substantial, such as the addition of new seats or a custom dashboard.
One popular interior modification for the Toyota Prado is the installation of a navigation system. It is quite beneficial if your travel often takes you to new locations or the off-beaten path. The system ensures you will always find your way, even if it is the area is unknown.
Another popular interior modification is the addition of new seats. This can improve the comfort of your Toyota Prado and give it a more luxurious feel. The choice of materials for seat customization is quite diverse.
Our Process
We understand that car import from UAE requires a substantial investment, with one wanting to be sure that they get a favorable deal. This is why we have a straightforward process ensuring our clients get exactly what they want.
Consultation: We start by understanding your unique needs and preferences. Our experts will work in conjunction with you to ascertain the modifications that your Toyota Prado requires.
Research: Once we clearly understand your needs, our team researches the best modified Toyota cars to meet your specifications. An extensive workup is done to ensure that there is synergy between the chosen options and the listed requirements.
Execution: Our team of experts will then execute the modifications you require on the vehicle. In most cases, the modified Toyota cars in our inventory meet client needs as is. Furthermore, we ensure your vehicle is as per your demand.
We conduct thorough testing to ensure that your modified Toyota Prado meets high quality and performance standards once we have completed the modifications.
Delivery: We will then deliver your customized Toyota Prado to you in Accra or Tema in pristine condition.
Our Extensive Range of Modified Toyota Prados
At SBT Japan, we offer an extensive range of modified Toyota Prados that cater to diverse client specifications. The list below contains the offered modifications:
Exterior and Interior Modifications: An extensive catalog of exterior and interior alterations are available. The designs and offerings enhance the car's appearance and comfort.
Summing It Up
If you are looking for the best price for a modified Toyota Prado in Accra or Tema, look no further! Our company offers high-quality, modified Toyota Prados that cater to your unique preferences. The team of experts that we have gathered can help you get a car where aesthetic meets performance. Connect with us, and we'll guide you to the right car.