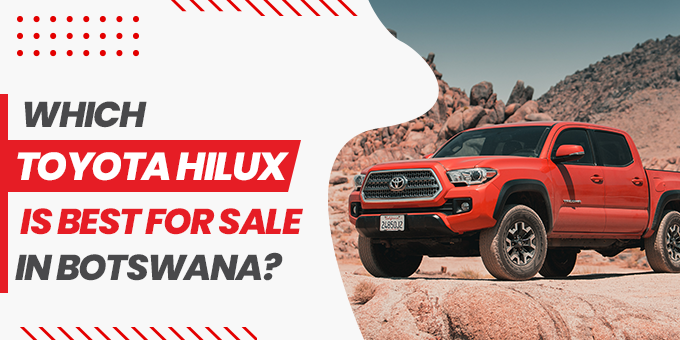 For the last 50 years, Toyota Hilux for sale in Botswana has been the most popular 4-wheel drive off-road robust pickup truck. This extraordinary pickup truck has an eight-generation history buried behind its apparent success among SBT Japan dealers in Botswana. Let us take a peek inside to learn more about its previous models.
1st Generation (1968―1972)
In March 1968, Toyota introduced the Toyota Hilux SBT Japan. The new bonnet-type truck replaced the Light Stout and the Briska. Toyota came up with the idea. And Hino Motors, Ltd. designed and built the vehicle at the Hamura plant in Japan.
Toyoace introduced engine 2R, a 1.5-liter, 70 PS powerplant. Toyota Hilux for sale in Botswana used separate frame structure double wishbone/coil spring front suspension and rigid axle/feather spring rear suspension. 4-speed manual gearbox with a column shifter. With a cargo bed of 1,850 mm in length, the Toyota Hilux for sale in Botswana provided seating for three people and a payload capacity of 1,000 kg.
2nd Generation (1970-1978)
In May 1972, the second-generation Toyota Hilux for sale in Botswana was launched. Replacing the mechanical components of both the long and short wheelbase variants. But the wheelbase was increased by 10 mm and 45 mm, respectively. However, the deck's overall length and maximum cargo capacity have not altered. With the introduction of the Highway model. The 1.6-liter engine replaced the 2.0-liter 18R engine, which has 105 horsepower for better driving on highways.
3rd Generation (1978―1983)
On the market since September 1978, Toyota introduced the third version of the Hilux pickup truck. Car-like features and equipment were included in its model, with a smooth-riding experience. Three models were of the regular length, while the other four were of the extended body. As per Toyota Hilux reviews, Engineers added an enlarged cab of 90 mm to the top-of-the-line Super Deluxe variant to increase internal room. The previous generation's 1.6-liter 12R-J engine was carried over. In the front, engineers retained the double-wishbone suspension and replaced the coil springs with a torsion bar. The Deluxe and higher trim levels came standard with front disc brakes.
4th Generation (1983―1988)
In November 1983, Toyota introduced the fourth-generation Toyota Hilux for sale in Botswana. Two RWD versions remained in production: Comfortable (fourth generation) and Popular (third generation). All four-wheel-drive (4WD) vehicles received a completely new body. The front and rear blister fenders of the fourth-generation cars distinguished them from their predecessors in terms of the exterior look.
5th Generation (1988―1997)
The fifth-generation Hilux, which debuted in September 1988, embodied the three fundamental ideas of power, toughness, and comfort in a single vehicle. Designers added a variety of new features to the interior of the vehicle to improve its versatility as a recreational vehicle. It had pressed doors with connected window sashes. RWD vehicles featured fenders without flares, whilst 4WD cars had durable fenders with flares. This resulted in a width increase of 1,690 mm, or 40 mm larger than the width of RWD cars, for 4×4 variants. The layout of the dashboard and other inside equipment evolved even more sedan-like.
6th Generation (1997―2004)
The sixth-generation Hilux, released in September 1997, has two trim levels: business and personal. The latter had multi-purpose vehicle equipment and systems and a longer and quieter cabin. The extra cab variant, which debuted in November, had a 100 mm wider body and a longer cargo bed. And two more seats in the back.
7th Generation (2004―2015)
In August 2004, Toyota introduced the seventh generation Hilux as a new pickup truck in over 140 countries across the globe. As a carryover from the sixth generation. It retained its tough exterior appearance while providing 21st-century buyers with the high rates of comfort and durability they desired. Including ample interior room, increased comfort, and both passenger car-like ride quality and SUV-like utility.
Toyota created five new models on a single platform as part of the Innovative International Multi-purpose Vehicle (IMV) project: one minivan model (Innova), three pickup truck models (Hilux). And one sports utility vehicle model (Fortuner).
At the same time as developing more attractive goods at a lower price, the company also built the best manufacturing and supply systems on a worldwide scale in order to meet the needs of its global clients.
Thailand, South Africa, and Argentina manufacture most of the cars and export them to countries in those areas, with a small number made in Malaysia, Pakistan, and Venezuela. This was the first version of Hilux that was manufactured outside of Japan.
8th Generation (2015―Now)
Launched in May 2015, the Hilux is the 8th version of the popular pickup truck. Development teams visited the world to get a true understanding of what consumers anticipate and the issues they experience on a daily basis. They received direct input from customers. It drove on a range of various routes to get a feel for diverse use situations.
Engineers employed an entirely new approach to toughness for the eighth-generation Hilux to make it tougher by broadening its definition to include more aspects. The eighth-generation Hilux's design was not only more durable but also less stressful. Forget typical notions of ruggedness; this vehicle offered a smooth, quiet interior for clear communication no matter the weather condition and a longer driving range owing to better fuel economy. It will also deliver on the model's famed toughness, performance, responsiveness, and security.