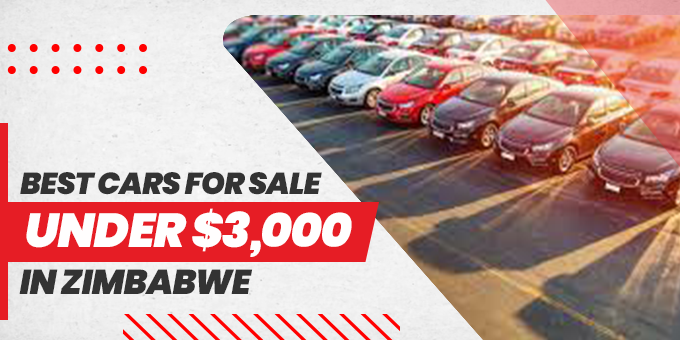 Are you in search of cars under $3000 for sale in Zimbabwe? In Zimbabwe, there are a variety of automobiles to choose from. If you are on a budget and searching for a vehicle, the used automobile market is a great place to look. Super-cheap secondhand automobiles are in more demand than ever. With the coronavirus epidemic, commuters are shunning public transportation in favor of their own automobiles in order to avoid the spread of the disease.
Can a used automobile be purchased for under $3,000? You can, but you will have to make some concessions if you are on a budget. Buying a used automobile on a budget means you will be getting older, has more miles on it, and may have damage or title difficulties. You should not anticipate a late-model luxury automobile or SUV with a $3,000 budget. To locate a wide selection of cars, you will have to travel back almost a decade.
There is a problem, though, when dealing with automobiles that are so ancient. They are not even worth the pittance that sellers are asking for them in many cases! You have to be extra careful. That includes examining car history records, doing a full test drive, and having any vehicle you consider checked thoroughly by a technician not affiliated with the dealership.
In this post, we looked through the inventory of used automobiles in Zimbabwe and selected cars for sale in Zimbabwe under $3,000 that were still available at the time.
1.    Toyota Corolla
The hybrid version of Toyota Corolla has seen a considerable uptick in sales since its introduction. It is possible to buy a Toyota Corolla in several configurations, with pricing varying depending on the configuration. All models have cutting-edge technological features. The safety features of the vehicle are up to date and operational. It is a great automobile for the whole family to ride in. The Toyota Corolla is the best-selling vehicle if you are looking for a vehicle to buy under $3000.
2. Nissan Maxima
The 255-horsepower Nissan Maxima is a capable front-wheel-drive sports sedan with a solid track record of dependability. The 222bhp 3.0-litre engine in the early fifth-generation Maximas may easily be found for around $3000 in Zimbabwe. Cars with 255bhp 3.5 V6 in 2002-2003 are the most exhilarating, though. They are a little difficult to come by at this price range, particularly with a six-speed manual transmission. An automatic is better if you do not need to shift gears manually.
3. Ford Crown Victoria Police Interceptor
As long as you are willing to spend a little more time searching for an ex-police interceptor from the early 2000s, you can have a Crown Vic for $3000. They will feature better suspension components a 4.6-litre V8 engine with 239 horsepower, and they have been properly taken care of for most of their existence. There are lots of aftermarket options for the 4.6, and you can get a six-speed manual conversion kit if you want more power. Despite its size, it's an old-school muscle automobile that you can take by the neck and do havoc with.
4. Nissan Sunny
Nissan Sunny is a low-cost vehicle with a long list of high-tech options. Despite its reputation as a well-known Japanese automaker, Nissan is selling a low-cost vehicle at a premium price point. In light of Japan's low used-car pricing, auction houses are able to offer the Nissan Sunny at a discount, and they also provide auction sheet reports for the cars they sell.
5. Honda Vezel
It is a small cat with a hybrid engine. Since an electric motor propels it, this vehicle travels faster and consumes less gas. In terms of comfort, the Honda Vezel is a fine pick-up truck that you can get in under $3000. Comfortable seats and luxurious interior make for a pleasant journey. There is enough trunk room for your belongings, and the distance between the first and second rows of seats is generous. If you are looking for a bargain, an online auction site may help crack up a great deal.
6. Toyota Passo
Passo is a popular and comfy creation of Toyota. The automobile is small, but it packs a powerful punch. In addition to that, it is a vehicle that is easy on the wallet. The Toyota Passo is a safe and affordable vehicle. The automobile is extremely reasonably priced. The design of the car is simple, and it comes in a variety of colors. An auction site or a used automobile market in Zimbabwe may both be utilized to discover a great deal on a new or used car.
7. Buick Regal GS
It was a supercharged 3800 V6 engine of Pontiac that powered the flashier Grand Prix GTP from 1997 through 2004. Some claim that the Buick was even faster, but it depends on who you ask. Call it the sleeper of choice for our budget-friendly list since the Regal could reach 60 mph in around 6.5 seconds while seeming as boringly ordinary as any Regal of the decade in which it was produced. In spite of a more aggressive suspension tune on the GS, it will never satisfy as a back-road screamer. In place of that, its excitement is derived from unassuming power, excellent dependability, and a robust aftermarket for the V6, which makes 400 horsepower a cinch to get.
8. Nissan X-Trail
For those looking for a stylish and functional crossover under $3000 in Zimbabwe, the Nissan X-Trail is the vehicle for you! The Nissan X-Trail is a luxurious vehicle that ensures the safety of both the driver and the passengers. The crossover belongs to the crossover family, although secondhand cars are the cheapest option. Crossover buyers like the X-Trail are well-liked in the United States because of its quickness. Zimbabwe is also able to import the Nissan X-Trail.
9. Toyota Hilux
Double-cabin trucks have traditionally been utilized for business purposes, although this has changed in recent years. The Toyota Hilux is the finest choice for a two-cabin vehicle in Zimbabwe. The Toyota Hilux is a pricey vehicle, but it delivers incredible performance. Vehicles of this sort are built to withstand rough roads and wet weather.
10. Toyota Vitz
Yet another low-cost vehicle option that you can acquire for under $3000 is the Toyota Vitz. Toyota Vitz is the greatest car for everyday driving. Taking advantage of the growing interest in plug-in vehicles, Toyota has just introduced a hybrid version of the Vitz. The design of the car is straightforward. The pricing varies based on the specs of the many models available on the market. The price of the automobile is not so expensive, therefore you can simply get a used car for a reasonable price.
Conclusion
If you are seeking the greatest vehicles in Zimbabwe, these are your best bets. All of the vehicles listed above are readily accessible in Zimbabwe and well-suited to long road trips as well as day-to-day commuting. The used automobile market is a good place to go if you are actively looking for a low-cost vehicle.