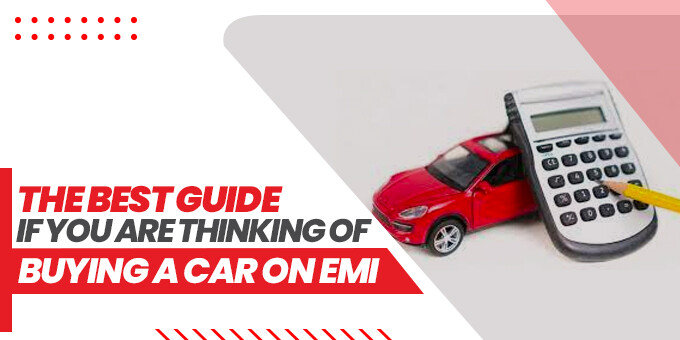 Buying a car has always been a challenge. It's not like buying any other product. You cannot just walk into an auto dealership, choose, and buy a car. It requires thorough research to find a car that suits your needs. It should meet your budget too.
A car is not always an extravagance thing; it has also become a need for many. People rely on automobiles to commute to work and get home every day. Also, they need a car to take their children or roam around for fun. It's an essential part of life.
People mostly look for reliability, comfort, durability, price, and style when choosing a car. These days, there are endless choices. All you have to do is find the right one that meets your need and budget. Apart from this, you need to figure out if you want to use your savings or prefer buying a car on EMI.
Reasons for Buying a Car on EMI
There's a lot to ponder about when buying a car. For some, it's a certainty, and for others, it holds a thrusting worth. Most people opt for buying a car on EMI rather than utilizing their savings. Buying a car on EMI is one of the intelligent ways to own it.
Here are some reasons that make it appropriate for buying a car on EMI:
1.      All Major Banks Offer Car Loan Facilities
Worldwide, all central banks are offering their customers the opportunity to buy a car on EMI. It's a loan facility that involves an interest rate that relies on different factors. For instance, it depends on the type of vehicle, price, risk profile, creditworthiness, tenure, type of income, and other factors.
All this helps in considering your budget and the impact of EMI on your financial well-being.
2.    Know the Language of Financing
It's vital to comprehend the fundamentals before you step onto the auto financing escapade and plot to buy a car on EMI. Firstly, a car loan is a contract signed between you and the lender. It has some terms, and you're required to pay over time. In most cases, you pay interest on every month's amount until and unless you get a 0% financing deal.
It's essential to go through the loan documents thoroughly. Here, you'll find the interest rate and loan fee. You can compute the total you'll have to pay additional to possess the vehicle.
3.    Loan Tenure
When thinking about buying a car on EMI, it's essential to pay attention to the loan tenure. On average, it's between 5 to 7 years. Opting for a more extended period can reduce your EMIs. It's easier to make repayments this way.
However, if you choose a lower tenure, the EMI augments. It's best to consider your financial position before you make a choice.
4.    Customer Service
Dealing with banks and financiers must be a hassle-free procedure. We believe you would like to ensure a smooth process without any complications when buying a car. Here, customer service matters. Choose a bank that has high standards of customer service.
Buying a car on EMI means that it will be a long shot. Depending on your tenure, you'll be connected with the bank for at least 5 to 7 years. So, isn't it better to have good customer service standards that make it easier to deal with?
5.    Terms and Condition
The terms and conditions involved in buying a car on EMI are essential. Don't miss it. Make sure you read these carefully and understand every point. It will help in making informed decisions.
Also, going through the terms and conditions will help avoid any issues later.
Process of Buying a Car on EMI
The process is simple. You have to make up your mind and choose a bank that offers the best interest and customer service. Here's a simple roadmap to manage the process:
First, focus on your financial standing and plan a budget to determine how much EMI you can afford every month.
A higher score indicates higher creditworthiness. It will make it easier to convince the bank to approve your loan request.
Make sure you have all the compulsory papers. You'll need proof of income and identity, residence information, and some details indicating your financial stability.
Don't forget to spend time researching. You'll have to shortlist the banks and compare their rates. Through this, you can find the best offering.
Here, you can discuss better terms considering your credit score. Also, if you have a healthy and old relationship with the bank, it will work in your favor.
Plan the loan terms. You'll have to decide the tenure of your loan. It will help in reducing the EMIs accordingly.
Don't rush. Take your time and go through all the terms and conditions carefully. You can also consult the experts for their opinions. It's a long-standing choice, so you need to be careful all the way through the process.
Benefits of Buying a Car on EMI
Buying a car has been a milestone for many. Today, a vehicle is no longer considered a luxury. It has become a necessity. So, if you want to bring comfort to your life or provide your family with the best, you can choose to buy a car on EMI. The easy installments make it easier to repay and manage finances.
For years, people have been looking for the pros and cons of buying a car on EMI. If you are also muddled, let us highlight some of the assistances that you can attain:
When buying a car on EMI, there is no need to mortgage your existing assets. EMI is a secured car loan. However, until you don't repay the loan, the bank has the power and right over the car. They can seize it if you don't pay on time or if they are unable to recover the dues.
With EMI, you can own a car. Simple. You can enjoy your drives and live happy moments.
You won't have to exhaust your existing finances. It will help in maintaining your budget and saving money.
So, before you opt for buying a car on EMI, focus on the following:
Know your financial position precisely. It's best to consider the debt to income ratio. If it's healthy, go for the loan.
Don't miss out on making a repayment plan. You must know all the dates and deadlines so that you don't pay the penalty.
Always keep your family in the loop. It's best to keep them informed by discussing your plans.
It's best to hold adequate insurance. You must insure the car optimally as it benefits in achieving financial security.
Final Thoughts
Owning a car is one of the most aspired assets that people from different segments are looking forward to. It's not only a financial but an emotional decision too. However, the constantly increasing car prices have become a significant concern. Hence, buying a car on EMI has become a good option.