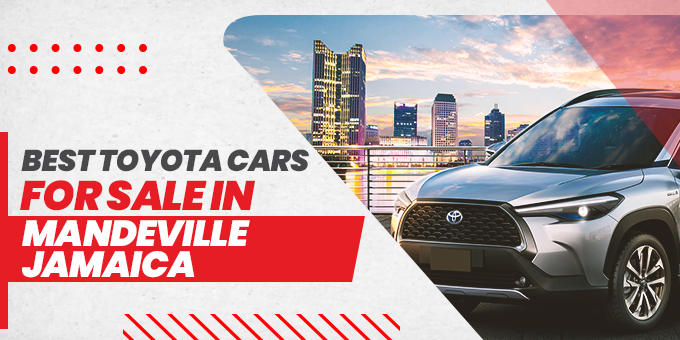 Toyota is a well-known automobile brand across the globe. It is ranked second in Consumer Report's reliability rankings. Toyota cars are dependable and have a reputation for delivering value for money. Some Toyota cars, such as the Corolla and Mark X, are classics and remain popular despite some models' discontinuation.
Toyota constantly evolves its car features and safety standards. It conducts sufficient research before introducing new safety features. However, Toyota cars are a treat to the eyes and prove to be a thrill to drive. If you're looking for Toyota cars for sale in Mandeville Jamaica, here are the top 5 cars to consider from SBT Jamaica:
The Toyota Corolla Fielder is an eleventh generation Corolla that comes as a 5 door station wagon. It is available in Luxel, G, X, and a 1.8S trim. The car came into production in 2012, and a hybrid model was introduced in 2013.
The Toyota Corolla Fielder is equipped with a 1.5-liter hybrid system with a fuel efficiency of 3.03 L/100 km. If you're going for the 1.8S trim, it comes with a Super CVT-i with a 7-speed sports sequential shiftmatic with CVT sport mode. Other trims are available in Super CVT-I or 5-speed manual transmission. The hybrid model comes with an E-CVT transmission.
The Corolla Fielder is a visually-appealing car displaying a one-piece grille in the front and LED lights at the back. Inside, you can find comfortable and spacious seating with a durable panel. If you go for the G trim, you'll find a slightly different interior featuring controls on the steering and automatic climate control. It also has a full instrument panel, including ancillaries.
If you're looking for a Japan used cars Toyota model, then the Toyota Succeed Van is a promising car among other Toyota cars for sale in Mandeville, Jamaica. It is sold as a passenger or commercial van, which is now discontinued by the automaker. It ran in production starting from 2002 up until 2020.
This light commercial vehicle comes as a 5-door station wagon with a front-engine, front-wheel-drive, or a front-engine, four-wheel drive. You can find the Toyota Succeed Van in a 4-speed automatic transmission, a 5-speed manual transmission, or a CVT transmission. It is available in a 1.5L I4 or hybrid engine in petrol, or you can get a 1.4L I4 turbo-diesel engine.
Among other best-selling Toyota cars for sale in Mandeville, Jamaica, you can find the Toyota Corolla Axio. This Japanese car is a 10th-generation Corrola that comes in a 4-door saloon body style. It has many promising features in different trim levels.
Some of the most notable features include the intelligent parking assist system, a backup camera monitor, and additional features such as Tiptronic transmission and Dynamic radar Cruise Control in its highest trim level.
In the mid-range trims, you can find an audio system with steering audio controls, projector headlamps, speedometer clusters, and a Push-button start. The Corolla Axio also introduced a Pre-Cash Safety System that comes with Pre-Crash seatbelts and a Pre-Crash Brake Assist System.
The Toyota Mark X is among other reliable Toyota cars for sale in Mandeville, Jamaica which you can find easily on SBT Japan's website. Although it is discontinued now, this mid-size, 4-door saloon/sedan can be bought as a pre-owned car in good condition from SBT Japan.
First introduced in 2004, it has a front-engine, rear-wheel-drive layout and also comes in a front-engine, four-wheel-drive layout. It came in a 6-speed torque converter automatic transmission, which was the standard, while on the four-wheel-drive models, it was available in a 5-speed automatic transmission. A manual transmission was not introduced for the Toyota Mark X.
The entry-level model of the car came with a 2.5L engine in rear-wheel drive. The premium model was available in a 2.5L or 3.5L engine, while the sports variant came in the 250S/250RDS or a 350S/350RDS.
Japanese cars are reliable and stylish. The Toyota Wish is another good option if you're looking for a used car in Jamaica. The car was in production from 2013 to 2017. The Toyota Wish is a compact MPV, 5-door station wagon which is good for use as a family car.
It comes in a front-engine, front-wheel-drive layout, and a front-engine, four-wheel-drive layout. The Toyota Wish was an extremely popular car in its home country at the time of its first launch and gave tough competition to its competitors.
Stylish inside out, the Toyota Wish comes in a 2WD and a 4WD available in various trims. All models are equipped with safety features making it a top choice for families with small children.
End Word
Toyota greatly emphasizes functionality and ensures attention to detail. Their elegance sets the cars apart from others in their league. SBT Japan is a reliable importer of new and used Japanese cars.
If you're looking for Toyota cars for sale in Mandeville, Jamaica, check out our extensive inventory to book the car of your dreams.
We ship globally, and our customer support staff is there to assist you at all times.
With extensive experience as an automobile importer, we ensure thorough inspection before shipment and ensure the best quality cars for sale.
Our industry knowledge and expertise allow us to offer prompt shipment that gets you the car in the least amount of time.
You can easily compare the cars on our website or talk to our customer sales support for advice and the best options within your budget. We assist in complete custom clearance as well. Purchasing your car from SBT Japan is a hassle-free, reliable and safe process.