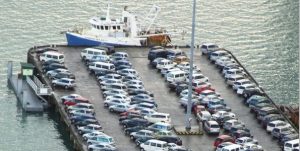 There are two crucial factors that need to be considered before determining the costs and fees of importing a car from Japan to Zimbabwe. The factors are:
The value added tax of 15 percent  applies on all imports and
 Import duty that varies with the type of vehicle and its purpose for import. For instance 40 % is charged on vehicles with small capacity engines around 1500 cc or less, 60 percent on vehicles that carries 10 or more people and 25 percent on vehicles gross weight. These factors are subject to change overtime depending on circumstances.
Additional Import Taxes
The additional taxes are charged upon the full value of vehicle plus the costs and expenditure incurred during acquisition such as brokerage commission, transport fee and 25 percent surtax applied on vehicles having more than five years old history.
Zimbabwe – Duty Value
Imported Japanese car brands are levied a charge upon reaching any of the Zimbabwe's main port. The duty for used car imports is calculated on the basis of total import cost that has incurred. The cost is calculated by adding the import cost, freight expense, delivery charges and the value added tax. The import cost tends to differ for different cars due to fuel consumption of the vehicle and the category it belongs to. For instance the commercial vehicles are taxed comparatively less than the personal cars being imported in Zimbabwe.
Important Documents Required
There is a list of documents that must be in hand to facilitate the import process and ensure its authenticity. These documents include mainly the agreement of sale, export permit, registration form, freight documents and vehicle insurance form.