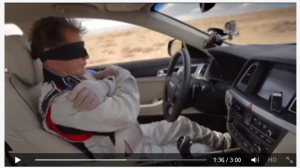 The Hyundai has come up with a innovative advertisement explaining the technology of safety in an innovative way. Hyundai video starts with the warning of not trying the stunt at home. Then the inland California Testing Facility is shown where a number of cars are standing. The drivers comes with safety jacket on themselves and start driving car.
Once the car are nose to nail, all drivers except the one in the front jump to the semi truck that was starring the video with cars. The lead driver blind fold his eyes and put the car in Smart Cruise Control mode. The cars are shown running in line with lane departure assist to facilitate the  in-line drive and when the semi truck comes in front at the end of video all cars automatically brake.
The video tells us that the vehicle is as safe as mother's lap. The accidents can be avoided next to zero because of it. So the confidence in driving this new technology included model will be high.
Although limits must not be pushed, but the stress free experience is something that comes handy when we drive this new car in near future.
Enjoy by clicking the video below: