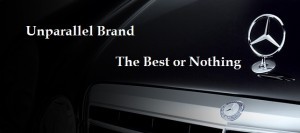 A company that have a reputation to carve niche through bringing in unparallel luxury is none other than Mercedes-Benz. It was basically founded in 1926 with its head-office in Stuttgart, Germany. It was the mutual effort of Karl Benz and Paul Daimler. Although before that Mercedes and Benz existed as separate entity with the functionality starting from 1901 and 1886 respectively. It is the number one best selling luxury car that stands on top of the Big 3 league with Audi and BMW as followers.
Logo Of Luxury
The graceful trademark form of three stars in laurel wreath basically came in 1925, but with continuous improvement mechanism in later years, a refinement in the basic concept happened. The vivid star became a trade mark of brand with the base having Mercedes Benz embossed.
Tagline Of Class
The Mercedes Benz has a number of taglines. The first one being the "Engineered to move the human spirit" best tells about the fact that the superior spirit is enhanced because of engineering efficiency it brings. The second one being "Mercedes Benz- The Future of Automobile" best telling that it adjust itself with the changing technology, making it the car of future. The third tagline is "Unlike Any Other" that is compatible to famous "The Best or Nothing "tagline telling about uniqueness and the paramount option in reference to competition.
Hence this gave an edge to the Brand of Mercedes Benz with the basic recipe being building benchmark and engineering the vehicle in the way that it achieves it.