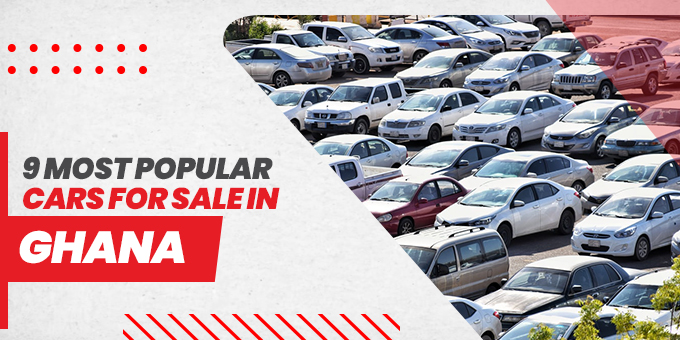 In Ghana, the automobile market is extremely lucrative. In September 2021, the vehicle market expanded slowly to recover after the COVID-19 pandemic. Toyota has been leading the market in terms of market share and sales. Nissan and Hyundai are following Toyota.
The financial schemes offered by financial institutions have become the essential factors that have contributed to the growth of the automobile industry of Ghana. These days, banks offer flexible schemes, which has made it easier to buy and own vehicles.
Read on if you're looking for popular cars for sale in Ghana. We've covered some of the best ones that offer outstanding features and value to its customers. However, we believe that your choice relies on the brand, car cost, maintenance cost, consumption rate, resale value, and fuel efficiency. Thus, it would help if you looked out for famous cars that offer the most benefits in the long run.
Most Popular Cars for Sale in Ghana
There has been a misconception that only sedans and hatchbacks have been famous in Ghana for years. However, that's not entirely true as people in the country are widely demanding reliable vehicles that offer the best and advanced features.
Overall, the Ghanaian automobile industry has gone through various changes and developments with time. However, it has come a long way and is successfully impressing and serving people belonging to diverse groups and segments.
If you plan to buy a used car in Ghana, it's better to check out the list of the most popular cars for sale in Ghana. Through this, you'll be able to make the right choices.
Here are the 9 most famous cars in Ghana, which easily grab the attention of people belonging to different segments.
1.    Toyota Land Cruiser
The Toyota Land Cruiser is one of the SUVs that have made its special place in the automobile industry of Ghana. It's popular because of its strong brand image, safety features, and amazing interior and exterior.
The four-wheel drive comes with an 8-cylinder and a 5.7-liter engine capacity. Also, the vehicle ensures good fuel efficiency. As a result, you can drive this car conveniently in-crowd and when the road conditions are great. The engine immobilizer, emergency brake assist, rear height adjustable, and stability control are some of the features that make a Land Cruiser a perfect fit.
2.    Mercedes Benz C-Class
Mercedes Benz C-Class has made it to Ghana's top most popular automobiles. It is because the model targets top-notch industry players of the country mainly. However, it has also gained attention among the middle class in recent years.
Overall, the Mercedes Benz C-Class offers good fuel economy and efficiency. Therefore, luxury vehicles easily attract people. You can also find the model in the list of best-used cars in Ghana. For this, you can contact SBT Ghana and check out the prices of used cars in Ghana.
3.    Toyota Corolla
For decades, Corolla has been one of the most desired models in the world. It has achieved and maintained a strong reputation in the Ghana market too. The car falls on the list of the most affordable automobiles.
If you check out the automobile dealers in Ghana, you can easily find Corolla from different years. It has become extremely famous in Nigeria. It is reliable and has also achieved good safety ratings and handling.
4.    Ford F-150
Ford F150 is another SUV that has achieved a strong position in the Ghana market. It is one of the popular cars for sale in Ghana. The model is a full-size pickup truck, spacious, and has tremendous capability. Also, the comfortable cabin makes it one of the best options.
Overall, car enthusiasts have claimed that the Ford F150 is one of the most reliable and durable cars. In addition, it consists of class-leading hauling and towing capabilities.
5.    Honda Civic
Honda Civic is one of the most impressive cars that easily falls on the most popular cars for sale in Ghana. For decades, Honda has been holding a strong reputation in the market. It offers some of the most reliable and durable vehicles.
Honda Civic is a compact car that is responsive, reliable, and fuel-efficient. As a result, you can easily rely on Honda Civic for smooth and convenient rides.
6.    Hyundai Elantra
Hyundai is one of the popular cars for sale in Ghana. The brand has evolved with time after learning its lessons. They have heavily invested in improving models to meet customers' changing needs and demands.
Today, Hyundai Elantra has solid sales in the Ghana market. The midsize sedan comes with a massive interior, which is crafted creatively. Overall, it provides the passengers and drivers with the best travel experience.
7.    KIA Morning
If you're talking about the most popular cars for sale in Ghana, you cannot miss Kia. Kia Morning comes with a classic modeling style. However, it's more famous for the ride-hailing or taxi business. You can find Kia Picanto, Rio, and Morning used by Uber and Bolt.
When looking for used cars in Ghana, you'll come across Kia models. Check out the reliable automobile dealer in Ghana, like SBT Ghana, which offers quality and tested vehicles at affordable prices.
8.    Nissan March
In the Ghanaian market, Nissan models are very famous. These models offer exactly what the people of Ghana demand. Nissan March is one of the best models from Nissan Motors. The 3 to 5 door vehicle comes with two engines: 1 liter and 1.3 liters.
Along with this, when searching for the most popular cars for sale in Ghana, you'll also come across Nissan Sentra, Patrol, Maxima, Pathfinder, and Altima. All these come with some amazing performance and safety features that easily meet the needs and demands of Ghanaian buyers.
9.     Toyota Vitz
For decades, Toyota has manufactured and marketed most of the impressive vehicles in the world. The automaker believes in offering value in quality, reliability, and interior and exterior features. As a result, Toyota Vitz is one of the vehicles that fall on popular cars for sale in Ghana.
It's not only reliable and safe but modern and durable too. The Japanese automobile ensures impressive performance and experience. You can also choose to buy used cars in Ghana that are easily affordable and have the potential to meet your needs.
Final Thoughts
People are commonly looking for popular cars for sale in Ghana. So, we have listed down some of the best vehicles that have easily grabbed attention and have achieved strong positions in the Ghana market.
From Toyota to Suzuki, all the automobile manufacturers have been adding variations and advancements in their vehicles. In Ghana, Toyota vehicles are the most preferred ones. However, the overall competition is high as consumers are also looking for budget-friendly and used vehicles in Ghana.
You can also connect with SBT Ghana that offers a range of used vehicles that easily meet the quality and style standards. SBT Japan is legit. Therefore, you don't need to worry about anything when dealing with SBT.