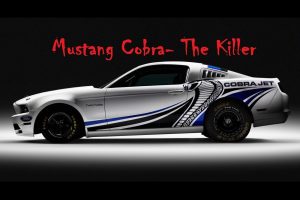 Ford is among the market leaders in automobile manufacturing. It had offered many models that have ruled the heart, but Mustang Cobra is a different case. Like a typical Cobra it kills people through its looks. Once a person looks at it, it's hard to resist second glance. This makes  people want to die looking at it.
Being a true diva, the vehicle has following main advantages
Tantalizing Body
The hoods installed make it aerodynamically fabulous. The bulging front mid make it look conspicuously best. The four tires with Alloy Wheel give a new level in look, making new levels of style. The colors available are also as according to the requirement of target market. Although with sporty paint on body the vehicle becomes classy and tough.
Breath-Taking Features
The features inside include Power Window and Power Steering as a facilitator in drive. The seat belts with Anti-lock Braking System works on safety with diverse seat material to support drive. The speedometer with fuel indicator and much more assist driver to the optimal level. At this moment the twin turbo has gained greater popularity. Now the sporty experience can happen to refine level any moment every time.
Are you ready to see demo of attention grabbing Twin Turbo adding further value of being a killer.
Click below, NOW: