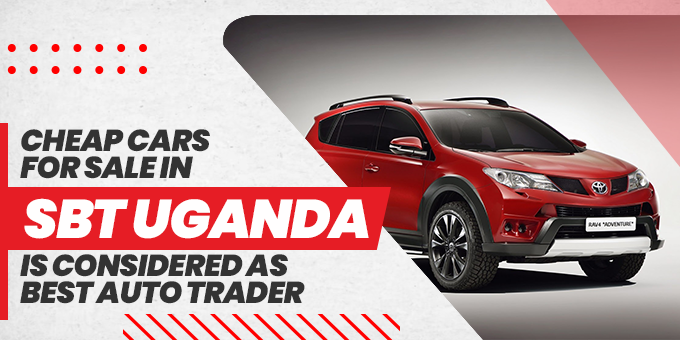 Purchasing a new vehicle is both a monetary and an emotional endeavor. When it comes to vehicle maintenance, servicing, parts, and guidance, you should always go to SBT Uganda.
SBT Uganda is among the most reputable used cars traders in Uganda. An automobile of your choice will be made available to you by SBT if you specify it. They export automobiles worldwide, and their procedure is really straightforward and efficient. When working with them, you would not have to be concerned about the legitimacy of the automobile.
The following are a few attributes to look for in a used vehicle dealer to see whether you and your dealer are a good fit.
1.    Delighted Former Customer
SBT Uganda is a trustworthy Japanese auto trader in Kampala and has genuine testimonials and references from recent and past clients. They have a reputation first to cultivate customers and have a furnish list of such clients. Their satisfied customers are a solid indicator of high-quality items and excellent service.
2. Repeat Customers
A good way to find out how frequently a dealer works with repeat customers is to ask whether any of those customers would be prepared to talk with you and serve as a reference for the shop. This is a common practice of SBT Uganda; they have a respectable used vehicle trader's reputation and have a history of high-quality items and services from repeat customers, rather than from a perspective of a one-time buy. Customers return to them as they treat them properly. People will not return if they have been treated unfairly or taken advantage of.
3. Transparent
Never purchase a secondhand car until you know all there is to know about the present state of the vehicle. It is possible to achieve full transparency when a certified technician performs a complete, impartial check of the vehicle on behalf of the client and makes the findings accessible for review. This is what SBT Uganda is well-known for.
Besides summarizing the history, they also reveal what the dealership has done to prepare the vehicle for sale. In order to issue a guarantee, they have complete information of the present condition and history of a car, as well as complete transparency.
4. Fair Charges
It is a good idea to do some research on the car you are interested in before you even step foot in a dealership to get an idea of what it is worth in the market.
A wholesale price offer is all you can anticipate when trading in your current car for a new one. SBT Uganda will treat you with respect and provide you with a fair trade-in value for your car. You do not want to deal with a swindler by getting a price that is far lower than the worth of your trade-in vehicle. Consider your options before making a decision.
5. Attitude Of A Salesperson
Stereotypes abound when it comes to the profession of vehicle sales. You are aware, though, that stereotypes are not always true. Many of us in the automotive industry attempt to give courteous and helpful service, but some are unduly pushy.
The demeanor of the salesman from SBT Uganda is an excellent predictor of the general attitude of the dealership. To put it another way, their employee will also value you for a company that values you.
6. Selection of the Car
Having a large selection of new and used vehicles to choose from improves the purchasing experience. There is no substitute for taking a vehicle for a real test drive, even if you largely depend on Internet research to make your decision. SBT Uganda has a broad assortment of automobiles and has a large customer base. This suggests that previous customers have had a positive experience with the dealership and return to them after every purchase.
7. Responsiveness
Inquiries should be answered immediately and often by a dealership. SBT Uganda offers online quotation requests and offers an immediate answer. This indicates that they appreciate your time more than you do; this is a sign of trust.
8. Assistive Services
SBT Uganda facilitates the comforts and eases the burden of automobile repairs. They make their service department experience pleasant and convenient by offering further support services.
9. Legal and certified
Purchasing a pre-owned vehicle from a reputable dealer is always the most secure option. They have the merchants that have received necessary registration from the local authorities. They always double-check to see whether they have the proper licenses and permits to operate in your region. Dealing with persons who do not have legal certification is a dangerous proposition.
10. Has a successful track record
When it comes to running a company, experience is essential. SBT Uganda has greater experience in providing superior services. They keep their businesses afloat by providing excellent service to their clients. Their track record is clean and dependable because of their years of experience. Their track record of success guarantees a vehicle of the highest sort and quality accessible. Select a used vehicle dealership that exhibits this characteristic. In order to ensure that, check out their current market reputation and speak with some of their prior customers to get a sense of how well they do what they do.
11. Cooperative and Polite
A competent auto dealer is expected to be available to help you throughout the procedure. This is a key quality of every worker in SBT Uganda. They are polite and accessible and always willing to confidently answer your inquiries. Their key goal is to provide dependable services to their customers. You also allow you to visit a few different used vehicle dealerships. 
12. Reliable and efficient in its operations
The number of clients a used cars traders in Kampala has is a good indicator of how trustworthy he is. SBT Uganda is the auto dealership in your neighborhood with a large number of repeat customers. Their satisfied customers may provide you with information on the quality of the automobiles and services provided by a certain dealer. They also constantly make sure that the items are delivered on schedule. Make sure you understand the ordering and delivery procedures and inquire about their turnaround time.
13. Service-Oriented
The efficiency of a car dealership is determined by the quality of the automobiles and the services offered. The technician at SBT Uganda is always available to you if you have any questions concerning the automobile you are considering purchasing from them. They are always able to provide their valued consumers with quick auto service.