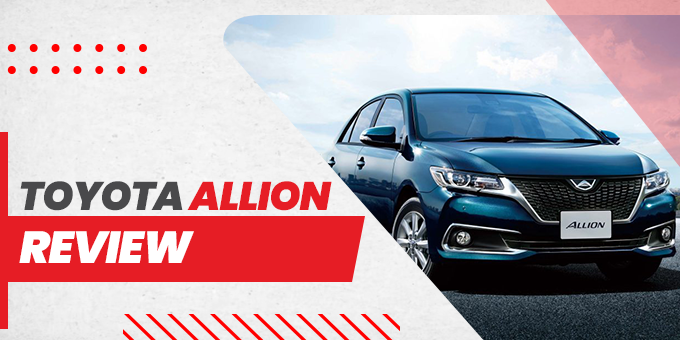 Toyota continues to enjoy its global market dominance by manufacturing top-quality automobiles primarily focused on the mid-range segment. It is where sedans like the Toyota Allion have developed a strong footprint, turning them into a primary alternative for most buyers.
Toyota Allion – An Overview
Allion has been on the roads since 2001 when its first unit was manufactured by Toyota. This automobile was brought to the Toyota lineup targeting young individuals who sought contemporary looks and decent performance while remaining within their budget.
Toyota launched two generations for the Toyota Allion (2001-2007, 2007-2010) followed by two facelifts (2010-2016, 2016-2021) in the final years of this automobile. Despite the enormous success, the manufacturer announced its discontinuation in 2021, putting an end to the two-decade reign of Allion.
Used Toyota Allion is still in popular demand, particularly the models launched between 2010 and 2016.
Power Behind the Wheel
Toyota Allion comes in two engine types:
1NZ-FE (1.5-litre)
2ZR-FE (1.8-litre)
Both of these engines are equipped with a Super CVT-i2 transmission which offers a smooth drive and better fuel economy.
One of the reasons behind this vehicle's popularity is the number of trims it is offered in.
A15 (FWD)
A15 G Package (FWD)
A18 (FWD)
A18 G Package (FWD) (Four-Wheel Drive)
A18 S Package (FWD) (Four-Wheel Drive)
Each variant comes with a unique set of features and price tags. Toyota also offers two different powertrains – front-wheel drive and four-wheel drive. Multiple trims and powertrains enable users to purchase a used Toyota Allion variant that perfectly meets their needs.
Inside the Cabin
Toyota Allion comes with ample cabin space for five people. This spacious interior is equipped with top-of-the-line seats to offer sheer ease and comfort for all five passengers. The leg space on the back further adds to the comfort of this car.
The aesthetics of the interior is yet another area even used Toyota Allion owners are proud of. Everything from wood-grain panel finishes to the sleek trims on the seats contributes to a luxurious feel inside the car cabin.
Used Toyota Allion owners still consider the cabin's utility as one of the major factors in their buying decision. The armrest is slightly tilted towards the driver while the instrument cluster is closer to the passenger seat. This sedan also enables users to fold the backseats into a 60/40 split, which is uncommon in a sedan. The cabin also features a 5.8" infotainment system, an HDD navigation system, a color reverse camera, and more!
An Aesthetical Exterior
The latest facelift is a primary choice for most people looking forward to purchasing a used Toyota Allion. Its eye-catching exterior complements its spacious interior. On the front, you will find a large grill surrounded by a chrome grill that is coupled with sleek headlights, translating into a truly sporty look.
On the bottom, you will find the parking lights embedded into the body. The sides of the car host a simple look with straight box-shaped outlines for the front doors. The back of this car makes a solid statement with large tail-lights slightly extending to the side of the car.
Environmental and Accidental Safety Features
Used Toyota Allion buyers consider this car's safety features to be one of the best in this class segment. This vehicle is manufactured with a structure that ensures lesser damage to pedestrians in the case of an accident.
Toyota Allion is also known for its environment friendliness with reduced emissions and better fuel efficiency. In fact, the car second generation was able to offer 10% more fuel-efficient than the standards set by the Green Taxation System in Japan for 2010.
Other key safety features in the Toyota Allion include:
Global Outstanding Assessment (GOA) which allows the vehicle's body to absorb part of the impact through its structure – it helps in reducing potential damage to passengers on board.
Eco-Drive Indicator which lights up upon efficient driving practices.
Fuel Consumption
Despite the discontinuation of this car, the demand for used Toyota Allion is expected to remain spiked due to its excellent fuel average. Users enjoy up to 20kms/litre on average on the 1.5-litre engine, while the 1.8-litre variant is capable of delivering up to 18.6kms/litre on average. The Super CVT-i2 transmission, alternator controls, and engine types contribute to the fuel efficiency of this car.
In a Nutshell
Toyota Allion has owned the roads in Asia from 2001 – 2020. Since the manufacturer has halted production of this car, a significant increase in the used Toyota Allion demand is expected over the next few years. This car comes with a complete package that includes comfort, interior, and exterior aesthetics, utility, environmental awareness, and performance behind the wheel.
SBT Japan is offering used Toyota Allions at compelling prices. You can also search for other automotive makes and models online through this link.