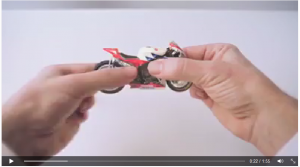 The video is the most appropriate way to share what the words are unable to express. It is one of the most effective way to engage audience. It is because of this Honda uploaded its history and products through an amazing video that explained everything quiet clearly.
Honda has been founded in 1946 and had gained popularity as the unique position motorcycle manufacturer. The video shows the transition from engine manufacturing from where the company started, to the motorcycle manufacturing. The diverse types of motorcycles were produced with sport one being the latest and most popular option.

Then a yellow sedan is shown, celebrating the entry to car market. Multiple body of the vehicle were produced leading to the sports option that has specially designed engine. The garden mower, tractor and many other options. They showed economy and safe for environment option by drinking the water extracted from car. The station wagon is also shown in the video with grip on road in a way that even when the palm is reversed the car stick to it. The robotic technology and lawn mower are synchronized to tell that Honda is able to manage simplicity and advancement together.
Enjoy the video below to explore the innovation on your own.