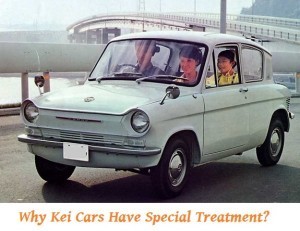 It was the Post World War II that the Japan market got short of finances. People had money to buy motorcycle but car was something hard to afford for masses. Considering the fact that businesses were suffering and people were having transportation issues the Kei Cars were introduced. Initially the displacement was as low as 150 CC, though later the upper limit of 360 CC was introduced.
It was basically done to promote growth of car industry that was among the most developed industry of the country. Every individual having the opportunity to buy a small car in a populous country, was a profitable deal for local car industry. With tax rebates to enhance the process, the cars were made more economical.

The automobile companies were able to have bulk production, that gave a boost to industry. The cars were given exclusive nameplate of size 230 x 125 mm which improved to medium size license plate of 330 x 165 from 1975 onward. To give the kei car specialized standing on road, the plates are now colored to Yellow and Black instead of White and Green. It gives the advantage of parking ease with low pollution and economy because of size.
Although in global market the kei cars are not that much popular; that limited the export market. With the export of used cars from Japan we see a number of small cars getting global, but the process to make it wide spread in urban and sub-urban areas is still happening around the world with exception to Japan.