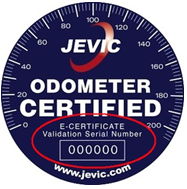 JEVIC stands for Japanese Export Vehicle Information Certificate, it is one of the most authentic and reliable Government entity besides JAAI to issue odometer inspection certificate. Each vehicle is evaluated on the basis of odometer tampering, there can be analogue, digital and diagnostic types of odometer tampering. The buyers and importers around the globe are very much concerned about the odometer readings.
The process of odometer inspection by JEVIC is very enhanced and it checks each car on the following criteria; condition of the car, repair or maintenance records, necessary documents etc and after checking the unit for all these factors a JEVIC sticker is pasted on the car's front glass. This approves that the car has been inspected fully by the JEVIC and it can be imported to any country without any hesitation about the car's condition.
The JEVIC checks each vehicle for the exterior, interior and exhaust system of the car:
Corrosion: There should be no corrosion and if found it should be removed and fixed with a paint so it wont be visible anymore.
Repairs: There shouldn't be any major or visible repairs and if any they should not be repaired with a tape.
Damage: A car which posses a damaged area of more than 1/4 of the size of panel will not pass the JEVIC inspection.
Car Doors: The doors should properly slide and locked there shouldn't be any defect in operating the car doors.
Automatic Doors: If car is provided with automatic sliding of doors they should automatically slide without any hassle.
Weather Strips: The weather strips should be fixed in place properly, broken weather strips should be fixed before sending the unit for JEVIC inspection.
Interior Damages: Each commercial or personal use vehicle is strictly checked for damages. In a personal use vehicle a damage of 10cm is tolerable while in a commercial vehicle of not more than 30cm is tolerable. These damages may be found in the lining, upholstery etc
Interior Corrosion: The interior of the car should be free from corrosion and if there is any part affected with rust or corrosion it should be painted with chassis black paint.
Leakages: There shouldn't be any oil, fuel or water leakages found in the car otherwise it may fail the JEVIC inspection.
Exhaust System Performance:The exhaust system is fully inspected for any noises or leakages.
Tires: The tires should be firmly fixed and treads should be below 1.6mm .
Under the Hood: Should be free from dust, and there shouldn't be any leakages from battery, it shouldn't be noisy and rusty and everything should work perfectly fine to ensure smooth drive.
Wipers: The wipers of the car should function properly without any issues, they should be fixed and wave when required and there shouldn't be any corrosion found on the surface.
Car Mirrors: The side , front and rear mirrors should be fixed perfectly, they should be able to move inwards and outwards without any difficulty. The mirrors should not be broken, there should not be any scratches otherwise it should be fixed before inspection.
Interior Features: The car's horn, steering wheel, ignition, air condition etc should work perfectly.
It is highly recommended to all used cars importers and buyers to get their Inspection certificate. This not only ensures a worry free purchasing of the unit but in most of the countries around the globe no car can be imported from Japan until it passes the JEVIC or JAAI inspection test.
This is the major reason why Japanese Used cars are considered to be the most durable, economical and reliable cars. One can find cheaper and stylish vehicles from other auctions but the high quality and low cost cars are exported from Japan have no comparison and never disappoints its buyers!