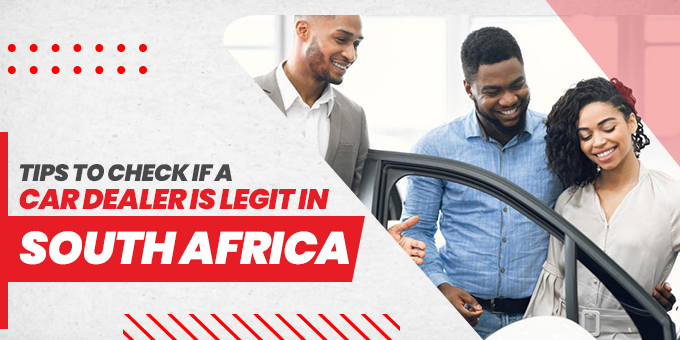 Buying a car is a huge investment, and it takes trust. The buyers need to take a little extra time and extra effort to get the right car from an authentic place. We're sure you must have also heard about the horror stories about car scammers and unsuspecting buyers making deals with the wrong people. So always look for authentic car dealers in Africa.
If you have no idea about cars, a car dealer can easily scam you. Such things happen everywhere. Therefore, it's necessary to get a good deal ahead of time. The question is how to check if a car dealer is legit? Are there any signs? Is it easy to find them? How to avoid scammers?
In South Africa, the recent Automart Durban scam caught the attention of many car buyers. Unfortunately, as the online dealer wasn't legit, many people lost their money. Later, they were found, and they faced legal procedures. However, the moral of the story is that it is always necessary to understand how to check if a car dealer is legit or not.
How to check if a Car Dealer is Legit?
When buying a car, the hunt for a perfect car leads you to the path of finding legit car dealers. There are some legit car dealerships in South Africa. However, you cannot trust everyone. Some of these put their customers first, while others put themselves first. Therefore, buying a car is always tricky as dealers always have excellent reputations.
Overall, if you want to figure out how to check if a car dealer is legit, you must know the signs of authenticity. The process is all about research, time, and money. Finding a trustworthy dealer can make the process of sale smoother.
Here are some points that can make your life easy when buying a car, as it's better to know how to check a car dealer is legit.
1.    Google
Before choosing any car dealership, always opt for a quick search on Google. You cannot miss the chance of finding relevant information. Then, start looking for authentic websites to check the reputation of the dealers.
On Google, you'll easily find the right sites where people share reviews. Also, the official websites of the traders can support you in receiving the information you need. Google rating is also helpful in confirming the authenticity and reliability of the legit car dealerships in South Africa.
2.    Check Reviews
The internet is full of reviews. It's a good place to start looking for when choosing local businesses and dealers. People share both good and bad reviews. When they aren't happy with the product or services, they commonly vent out on the internet. Thus, it provides you with an opportunity to explore and gather information.
So, before you choose a car dealer in South Africa, spend time reading feedback from your community. Also, visit the website and check for Google Reviews. Through this, you can get authentic and reliable information.
3.    Shop Around
Many times, you must have decided which car you want to purchase. But, even if this is the case, look and test at least two to three cars at the same dealership; if you're wondering why to let us tell you.
Through this procedure, you'll have an enhanced idea of the state of automobiles available at the dealers. Here, it would help if you looked for the red flags. If the salesperson is being fishy or giving excuses, walk away. Visit two to three dealers before you make a choice.
4.    No Bait and Switch
When looking for authentic car dealers in Africa, it's strongly recommended to look for the factors that make a dealer trustworthy.
Remember that some car dealerships are known for the bait and switch tactics. They advertise one thing and provide different details and vehicles when the customers show up. Hence, you must be aware of the idea of responsible marketing. If car dealers do not keep their end of the bargain, don't make a deal with them. Go elsewhere.
5.    Wide Variety of Vehicles for Sale
We have seen people commonly looking for how to check if a car dealer is legit in South Africa. If you're still confused, start looking for those with a trustworthy sales team and a wide variety of automobiles. Remember having an inventory full of different types of vehicles indicates the legit car dealership in South Africa.
The trustworthy dealers offer a variety of models and make. All these are available in good quality and condition. The point is that authentic car dealers in Africa focus on catering to as many customers as possible. Hence, they stock different vehicles, including sedans, SUVs, and sports cars.
Authentic Car Dealers in Africa
In Africa, some car dealers have achieved a strong reputation. They fall on the list of best car dealers in South Africa. These dealerships offer authentic and reliable information related to the available vehicles. Also, they have a transparent and simple process, which makes it easier to buy a vehicle.
Once you start probing, you must recognize how to check if a car dealer is legit in South Africa or not. Here, you must act astutely and look for the green and red flags. SBT Japan is an authentic dealer that offers a range of used vehicles that can easily satisfy your needs.
Do you know that the FBI has found more than 27,000 people complaining about fake online car sales in the past eight years? In America, it has cost more than $54 million. These scammers might ask for a check or wire money. Also, the gift card arrangement is one of the utmost common methods to con people.
Other than this, one of the keys to checking if a car dealer is legit in South Africa is to ensure that the dealers offer a service history for each car. It's vital to guarantee that the car's condition matches the service history.
Most of the authentic car dealers in South Africa have great connections with financing firms. Once you choose a car, you can also look for the available financing options as a buyer. It will help you pay the way you want and the way you can. Thus, look for dealers that provide transparent payments plans, warranty options, and a variety of vehicles.
Final Thoughts
When buying a car dealership, it is essential to check if a car dealer is legit in South Africa. First, you must be sure about their reputation, which helps confirm if they are telling the truth and selling vehicles in good conditions.
The recent growth in online dealer sites has caught attention. All you have to do is look for the best car dealers in South Africa and legit car dealerships in South Africa. Let us tell you that SBT Japan is one of the best ones. If you are still concerned if SBT Japan is trustworthy or not, check the online reviews and testimonials.