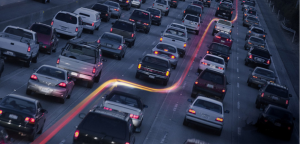 The traffic jam is something routine in urban areas. We can not avoid it for good, leading to the frustration and helplessness. As put by some, we are the traffic jam in our own selves. If we all would not be here at that very specific time the traffic jam would not have happened.
With all the discontentment, bitterness and failure to meet commitment, there is someone that came up with a simple yet effective option to counter. The scenario is a win-win situation implemented by default in eastern society, where instead of individual advantage, societal perceptive is given more importance.
They introduced a system through which you make a call and a biker comes to pick you in traffic jam, taking you to your destination. There is one other person too, sitting on the bike with biker. He takes your car back home when the traffic normalize. So you reach your destination safely while your car is back home.
This is an old concept that is in the process to be implemented on mass level. It will generate profit for company and will ease drivers to reach their destination on time.
So now no excuse of being late because of traffic will be entertained.