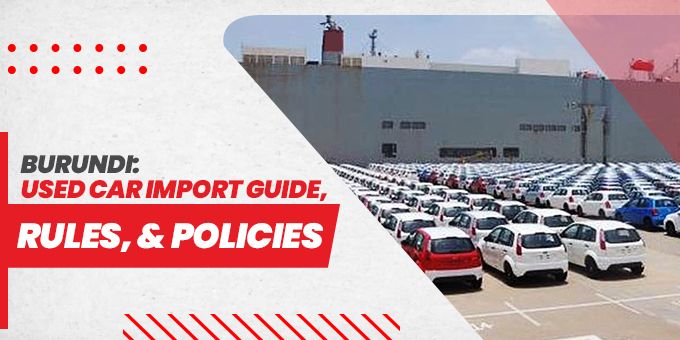 Burundi is a land-locked country, which shares borders with Congo, Tanzania, and Rwanda. The country's automobile industry has shown commendable and consistent progress with time. However, the economists claim that the automobile sector is not stable in Burundi.
As the demand for Japanese cars is growing rapidly, the used car exporters in Japan are facilitating Burundians with durable, reliable, high quality, and low cost used vehicles. All you have to do is choose a reliable and authentic dealer. Before this, focus on the car import policy and the process of used car import. Through this, you can manage the process more smoothly.
Before the COVID-19 pandemic, the overall value of imported vehicles was increasing annually. However, due to the trade restrictions, the trade of vehicles was affected to some extent. Despite this, the demand for used Japanese vehicles is there.
The people in Burundi are demanding the car import in Burundi. Hence, the buyers and importers must be aware of the car import policy. It not only provides guidance but also supports the overall trade.
Car Import Policy of Burundi
Over the past few decades, the automobile industry of Burundi has shown consistent progress. However, it is not yet very stable and reliable. As a result, people are commonly looking for imported vehicles that meet their needs and budget.
Thus, these people opt to import and buy used Japanese vehicles. These are low-cost vehicles that come along with durability and quality. Therefore, the people of Burundi can easily import vehicles of their choice without any inspection test or certificate.
When importing Japanese vehicles, you must know the cost of importing cars in Burundi. For a vehicle that can carry more than ten passengers, 15% CIF is required. Also, there is a diplomat handling charge of 1% and transactional tax of 17%. Additionally, the CIF is between 40% and 100% if you choose a tourism vehicle.
Here, we have listed the car import policy of Burundi:
1.    Main Ports
Burundi is particular about its trade and ports. Mainly, there are three ports for the import of automobiles:
Dar Es Salaam in Tanzania
Durban in South Africa
Mombasa in Kenya
Each of these ports has its routes and benefits. However, you must also be aware of the limitations to make choices accordingly. It's better to choose one of the ports that offer an easy trade process. Most commonly, the Dar Es Salaam port is used to import vehicles.
2.    Left Hand Drive
In Burundi, left-hand drive automobiles are commonly used. Along with this, it has been seen that the government and law authorities also allow right-hand drive cars in the country. According to the Burundi regulations, people who want to drive a car must have a valid driving license.
The Japanese vehicles are right-hand drive and allowed by the law. These are highly preferred because of their high quality, versatility, and reliability. All these vehicles make an excellent choice to travel on the roads of Burundi.
3.    Age Restriction
Additionally, for the import of Japanese used cars, there is no restriction for the age of cars. Hence, to import a car in Burundi, you can choose any vehicle regardless of its age or how old it is.
You can also pick a car that is 20 to 25 years old. After that, it's up to you. You must know that older vehicles are more affordable. Overall, there is no inspection restriction, making it more convenient to manage used car imports.
4.    Inspection of Used Cars
According to the car import policy of Burundi, the government has not developed any standards for car inspection. Therefore, you don't have to deal with any mandatory inspections once you choose a car.
Overall, Burundians are exempted from the inspection restrictions. Thus, you can conveniently get the inspection certificate, which allows you to import a vehicle of your choice. In the case of Burundi, three authorities offer certificates. These include:
Auto dealers like SBT Japan can manage the shipment after inspecting the vehicle. As a result, SBT offers high-quality vehicles at good rates while assuring quality that provides peace of mind.
5.    Required Documents
The used car import to Burundi is not very complicated. For the process, you require the following documents:
Original purchase invoice
Copy of passport
Registration form and card
Original Bill of Lading (including the brand, model, year of manufacture, chassis number, and cubic capacity).
Copy of passport
If any of these documents are missing, you must inform the legal authorities. Or else, it will become difficult to import used cars.
6.    Time of Shipment
The import of Japanese vehicles in Burundi takes around 24 to 34 days. It's based on the RoRo method of shipment. Also, you can opt for the vessel schedule, which is monthly.
Used Car Import in Burundi
In Burundi, the overall demand for used Japanese vehicles is high. First, the buyers must select a car make and model by connecting with authentic sellers. After that, they can follow the process, order, make payments, and get hold of the imported used cars.
The used car import is pretty easy in Burundi's case. From the simple import policies to no restrictions, everything supports the trade. But, overall, the successful import of vehicles relies on choosing the right sellers and exporters.
From Toyota to Honda and Mitsubishi, all the Japanese automakers have achieved a strong reputation and position in the international automobile industry. Even the used Japanese cars easily meet the requirements and needs of customers belonging to diverse segments. Thus, if you want to import a Japanese car, learn the car import policy and plan things accordingly.
SBT Japan is one of the largest and most successful Japanese used car exporters. They have served thousands of customers around the world. Thus, the success of SBT relies on meeting the customer's expectations by offering high-quality and affordable vehicles.
As experienced and specialized service providers, SBT Japan will ensure a smooth ordering and delivery process to your country. However, these vehicles are subject to car import duties and taxes.
Final Thoughts
Burundi used car import guide and policies have made importing vehicles of your choice easier. There are no age restrictions or requirements for inspection. Hence, the car importers and dealers in Burundi commonly opt for used car import.
All Japanese vehicles are famous in Burundi. Some demand the new ones, while others opt for used vehicles that are cheap and offer high quality. Following the car import policy of Burundi, it is easier to import used vehicles. You can use online platforms for this process.
If you're planning to import a used car to Burundi, you must know the policies and trade restrictions. Then, following the simple process of used car import, you can get hold of an automobile of your choice.