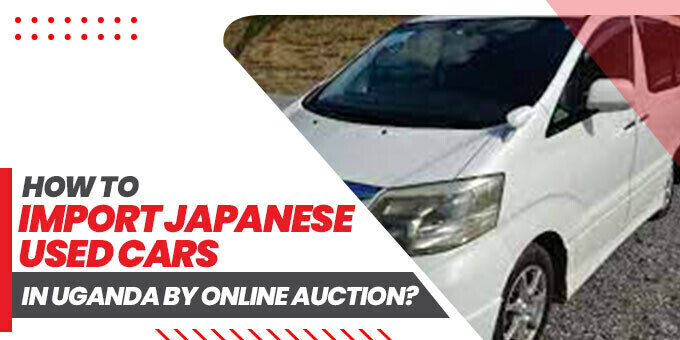 People in the market for used cars focus on finding a vehicle that meets their needs. As the prices of vehicles are soaring, people are commonly looking for used cars that are affordable and in good condition.
One of the methods to deal with high costs is to import Japanese used cars to Uganda. In addition, it provides the opportunity to review the quality and state of the vehicle.
Used Cars online auctions have become one of the primary sources of purchasing used vehicles. For example, if you live in Uganda, you can opt for the used cars auction in Uganda and bid price for your desired cars. When importing Japanese used cars, you must know that the demand for these vehicles is increasing year by year worldwide.
However, buying used cars from online auctions is not as easy as it sounds. It is possible. But, you must know the terms and regulations. Also, knowledge of Japanese standards and characters is essential.
Procedures of Importing Japanese Used Cars by Online Auction in Uganda
Firstly, you must be certain why you intend to trade in a Japanese automobile. These vehicles are reliable and durable. All these cars are carefully maintained as the roads in Japan are smooth. They have laws and regulations related to maintenance standards. According to the Government policies, the Japanese are discouraged from owning a car for more than 5 to 6 years. Thus, they make it available on online auctions or sell it individually.
When looking for affordable cars, Japanese used cars are the best option one can find. Japan has different auction houses. Here, all the used cars are sold on a bidding basis. The used cars online auction allows people from anywhere to buy vehicles.
The overall used cars online auction system is reliable, trustable, and fair. You can conveniently opt for a used cars auction in Uganda as the Japanese cars are trustworthy. The quality and fair dealing are the surprising elements. Every month, millions of Japanese used vehicles are exhibited in online auctions.
SBT Japan is a reliable automobile dealer that is operating internationally. It specifically deals in used Japanese cars and ensures the availability of these cars in different countries. So if you are looking for used cars auctions in Uganda, contact SBT Japan. They have a range of used vehicles that meet the quality standards and can ensure your satisfaction.
Used Cars Auction in Uganda
Japanese used cars are traded in countries around the world. These automobiles have achieved attention due to their reliability and durability. Also, these vehicles are commonly found on the roads everywhere.
Countries like Uganda have a high demand for Japanese used cars. Thus, the regulations have been made simpler. It is simpler to import these cars through used cars online auction.
Begin the process by finding a reliable exporter, choosing the right car, placing your order, and making the payment. The shipping is managed accordingly. Once it arrives at the port, you'll need a clearance from the company.
Import Rules and Regulations of Uganda
We all know that Uganda is a non-coastal country, which does not have any port of its own. Hence, they use the Dar-e-Salam of Tanzania or the Mombasa of Kenya ports to import vehicles.
If you want to import a used Japanese automobile, you must know Uganda's import rules and regulations. We've listed down some of these:
For the used cars auctions in Uganda, the JEVIC inspection is essential for every automobile. Without this, the cars cannot be imported. These are the standards set by the Uganda National Bureau of Standards. It's the roadworthiness inspection that ensures that the vehicles are reliable and safe for the roads.
There is no age limit on used cars according to the laws of Uganda. So you can import older models too.
When importing cars through vehicle auctions, it is necessary to pay the customs duty value. It follows the GATT valuation method of Uganda. Here are some taxes you need to pay when importing vehicles:
4% of the dutiable value as the withholding tax.
17% of VAT
2% of duty for import commission
15% of value for import duty
Right and Left-Hand Vehicles
In many countries, there are strict policies related to right and left-hand vehicles. However, in Uganda, you can import any of these according to your preference.
You require the following documents for the import process:
Immigration permit
Negotiable Original Bills of Lading
An invoice
Certification of Residence Change
Valuation for the vehicle
Original passport of Consignee
Original logbook of the automobile
Attestation reservation de cale
Copy of work permit
Inventory details, signed and dated by the customer
Tax identification number
Final Thoughts
The bottom line is that import of Japanese used cars to Uganda is at ease. People have been doing it for ages as the demand for Japanese vehicles is increasing. It is critical to note that acquiring from used car auctions in Uganda is a viable choice. Through this, you can acquire inspected and tested vehicles at reasonable prices.
SBT Japan is one of the credible automobile dealers that helps you import used Japanese vehicles to Uganda. Connect with their representatives to learn about their simple process. In a few days, you can get ownership of a quality and reliable vehicle. You must not miss the opportunity of owning one of the best and most reliable used cars.