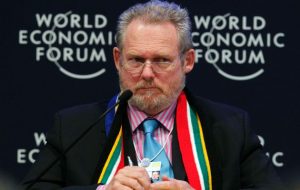 The recent revelation of Nigeria taking the top most position as the strongest and largest economy of the African continent has left South Africa in a state of jitters. In order to regain its position, South Africa aims to make certain changes to its policy in order to facilitate growth in labor intensitive segments of the country.
According to Trade and Industry Minister Rob Davies at the sixth iteration of South Africa's Industrial Policy action Plan, the aim is to move the country from a transition to a higher impact position. At the Industrial Development Corporation (IDC) the minister highlighted the structural shift that will take place by changing the focus from exporting mining commodities to making value added products. The has to be done in order to create further employment opportunities ensuring that there is maximum facilitation to locals for the country's economic progress. One of the most potential profitable sectors in this regard according to the Trade Minister is that of the automotive industry in South Africa. There is dire need of reviving and revamping the automotive industry that will generate value added products and will strongly sustain the economy putting South Africa back on the map as the strongest economy in Africa.
It is yet to see the actual implementations on part of the South African government in order to retain its previous position. Nigeria on the other hand has been altering its import policies to strengthen its own economy gradually and is resistant on moving from its top spot.