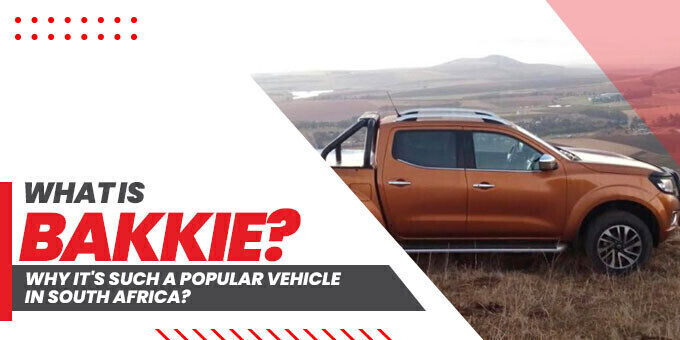 Bakkies or pickups facilitate the movement of goods and ensure a smooth ride on rough and bumpy roads. There's a misconception that companies only use bakkies to transport their products. However, it's also good for traveling and is commonly chosen as a family vehicle.
South Africans have always loved bakkies. Hence, the Bakkie market is doing well and will most likely continue to do so. Additionally, we all know that the country is attracting tourists from around the world. For traveling, tourists demand reliable vehicles like bakkies. Therefore, they come with standard features that facilitate traveling around conveniently.
If you are looking for Bakkies for sale in Africa or trying to find out why Bakkies are popular in the country, read on. We have listed down some explanations that can motivate you to purchase cheap bakkies in Africa.
What is Bakkie?
A Bakkie is a pickup truck. It's a light commercial vehicle with a hollow body larger than a car and smaller than a truck. Primarily, it was designed for the transportation of goods and materials.
In South Africa, it is usually known as "Bakkie," while elsewhere in the world, "pickup" or "pickup truck" is more common. It's a vehicle with an open load area. The word originates in the African word, Bakkie, which refers to a tub or a small bowl.
The Bakkies are also called workhorses because they were originally used exclusively to transport cargo around farms and factories since their introduction in South Africa in 1949. Since then, Bakkies for sale in Africa have caught more attention as compared to other automobiles.
Reasons Accounting for the Fame of Bakkies in South Africa
Bakkies gained popularity due to their ability to carry loads around efficiently and appropriately. In South Africa, it is also used as a family vehicle. Additionally, many businesses depend on bakkies for their daily operations.
The available pickups called the bakkies have always been extremely popular in South Africa. It is also an imperative aspect of the local culture of the country. With a Bakkie, you can get little to no depreciation. Also, these vehicles lessen your effect on the environment.
With time, the popularity of Bakkies has increased in South Africa. However, along with this, preferences and tastes have also evolved. The current trends show that people prefer the latest bakkies in single and double cab designs. These come with modern features and enhanced safety elements. Also, you cannot miss the luxury and performance it offers.
The local Bakkie market has been doing well for the past few years. It is because South Africans are constantly looking for working vehicles to deal with rough road conditions. The bakkies for sale in South Africa serve this purpose and provide drivers with safe and luxurious cabins. In addition, the towing vehicles are remarkable.
Why Should I Choose Bakkie?
In many countries, vehicles capable of hauling loads usually have their respective fan following. In South Africa, these have attracted people from different segments. Businesses are also choosing bakkies for the transportation of their goods.
Another reason for the success and fame of bakkies in South Africa is their affordability. As the country's infrastructure is centered on agriculture, the Bakkies for sale in Africa became the first choice.
If you live in or are traveling to South Africa, a Bakkie is essential. It's not only good for the farmers but also benefits the people living in big cities. You can enjoy your rides so much more in Bakkies.
You might be wondering if buying a used and cheap bakkie in Africa is a good choice or not. Believe us, it is. Both new and used have their merits. Also, these are safe options.
Bakkies are modern-day workhorses and can also prove to be the perfect option for investment. For off-road driving, a Bakkie can be the best choice.
Different credible dealers have both newer and older modes of Bakkies for sale in Africa. They also have used and second-hand vehicles. Moreover, the model comes with up-to-date safety features. You can get it easily customized. However, the customization option can be a bit costly.
Bakkies for Sale in Africa
If you are looking for Bakkies for sale in Africa, why don't you consider the locally-manufactured ones? Here's a list of the local ones:
Nisan NP 200 & 300 – Nissan South Africa manufactures these models. The locally manufactured vehicles have caught attention because of their durability and stylish exterior.
Mahindra Pik-Up – Mahindra manufacturers, are visibly achieving growth and success in the local market. So this can also be a good option to look into.
Isuzu D-Max – Isuzu has been producing Bakkies for a long time. In 2018, the company launched a local Bakkie portfolio. Its D-Max range is not only affordable but offers safety and durability.
Ford Ranger – The locals of South Africa have witnessed continuous improvements in the Ford Ranger models. Thus, the sales are also increasing.
Toyota Hilux – It's one of the top-selling bakkies in South Africa. The locally manufactured pickup trucks is not only reliable and durable but also offer amazing performance features.
The cheap bakkies in Africa have become one of the most reasonable choices for people looking to buy a vehicle. If you start searching, you'll come across many dealers offering second-hand and used Bakkies. It's easier to find Bakkies under 50,000 Rands.
A Bakkie is considered to be a driving hero by many people. Connect with SBT Japan if you are looking for used Bakkies at reasonable prices. We've got a range of them at affordable prices.
When buying a Bakkie in South Africa, look out for the following things:
Search for availability and popularity.
Choose between diesel and petrol bakkies. Diesel cars cost more, but these are also fuel-efficient.
It's up to you if you want an automatic model or one with a manual transmission.
Go for a test drive to assess and evaluate the features of the vehicle. If you aren't sure about testing, take a mechanic or any car expert with you.
Buying a Bakkie is worth it. However, it's necessary to focus on buying the right one so that you can save costs and enjoy your car later. When purchasing second-hand bakkies, you need to be more careful.
Final Thoughts
The bottom line is that a Bakkie is an extremely popular vehicle in South Africa. They aren't only affordable but also offer a range of benefits to their users. Today, the bakkies are more in demand than before simply because of the practicality they offer.
If you're impressed by the benefits a Bakkie has to offer, you can look for the Bakkies for sale in Africa. There will be a list of Bakkies under 50,000 Rands. People in South Africa claim that cheap bakkies in Africa exceed their expectations by offering reliable and durable features.