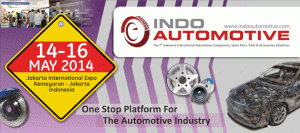 Indonesia with its increasing sales in the first quarter is predicted to be one of the most important and potential areas as an automobile industry hub. The increasingly inflow of investments from leading automobile companies in the world has made it the go to market of vehicle industry new and used alike. In order to put this picture forward, and Indoautomotive event has been carried out to showcase the growing automobile industry in the country.
The highly anticipated auto show in its 7th edition will be held at Jakarta International Expo Kemayoran, Hall B, Indonesia between 14th to 16th of May 2014. The auto show promises to showcase a wide variety of vehicle parts, accessories, tuning and upgrading of maintenance stations and other related entities. This expo will provide a platform to the numerous trade professionals, exhibitors and viewers alike to to engage in business activities, forge ideas and create market relations that can prove to be mutually beneficial for the companies and the government alike.
Featuring the most up do date technological prowess incorporated in the vehicle and numerous parts being provided in the market, IndoAutomotive will give the automobile industry in Indonesia a massive boost that is already on way to make this the next auto hub of the world.