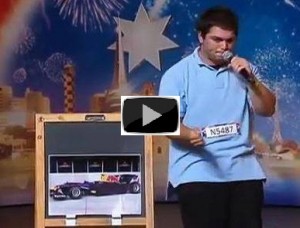 It is innovative, it is curious, it is talented, it is emotional… who it is? The answer is Human.. Yes we humans have all these traits and we are proud to be human. We traveled from earth to moon, we discovered planets and galaxies but till today we have not fully discover ourselves. There are multiple platforms where people show their uniqueness, there edge over others in other words we are taking about talents. We all are talented as we all are humans all we need to have some platform or we are just waiting for the right time to come.
In different countries we have seen very different types of TV shows on talent and today we will give you a glimpse of one of its contestant's performance.
We are taking about the show called "Australia Got Talent" where anybody with a talent can participate and if the judges give him/ her marks then he or she can be a winner and takes the crown of Australia's most talented person.
This show is a Australian reality television show with was first aired on 18 Feb. 2007 on a channel called seven. The judges of the show are Kyle Sandilands, Dawn French, Geri Halliwell and Timomatic.
In 2012 one of the contestants on the show came up with a unique talent. He performed the sound of 3 cars. You cannot even differ the sound from an original car if you are watching him. This amazing talent was highly appreciated not only judges but the audience and on viewer on internet as well.