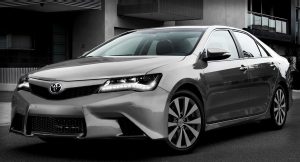 In order to hold they key position as America's most beloved car, Toyota Camry was given a makeover through substantial redesigning along with minimal conservatism. With the market penetration of sportier and flashy vehicles, Camry has been revamped to shed its vanilla reputation to wow its customers with the comfort and quality it provides along with an edgy spunk to it.
Due to the cut throat competition and a vast sea of opportunities and choice, the customers are nowadays inclined towards a vehicle that has impeccable quality, exceptional performance, ease of comfort and relaxation along with a cutting edge style and pazazz to it. According to Bob Carter, senior vice president of Toyota Motors Sales, USA the Toyota Camry 2015 is an amalgamation of all the above requirements and posses the most important element of all that the competitors lack in; the heart and mind share of America.
The new Honda Accord and the stylish Ford Fusion has been rapidly penetrating the market in order to take over Camry's market share. Camry in retaliation to this strategic move has kept the original engineering intact and revamped the style and body of the vehicle considerably. Being more refined with high grade material the Toyota Camry 2015 is "the quietest" Camry ever. The cosmetic redefinition through the installation of a sporty unique grille, sport tuned shock absorbers and suspension changes have left the audience in awe of their beloved Camry.