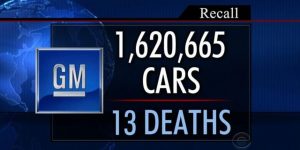 The year 2014 has not shown a good sign for General Motors. The process of recalls over and over again has left the company vulnerable to attack from the competition above the wavering trust and confidence of its users in the reputed company. Just last week General Motors announced a recall of 2.7 million vehicles. Not only this but the company was slapped with a fine of $35 million by the NHTSA due to its ignition switch recall mismanagement. As if that was enough the next sun rise brought another blow to the automobile giant, one which is sure to tarnish General Motor's reputation further down the pit hole.
General Motors has announced yet another recall of 2.4 million vehicles due to four separate safety recalls. The major chunk of cars included in the recall are Lamb da-platform crossovers and the last generation Chevy Malibu and Pontiac G6. However the newly launch Escalade and HD pickups are also being recalled though in small numbers. This is a strikingly difficult situation that GM is facing at the moment. The alarming element out of all these occurrences is the inability of General Motors to produce well rounded safety protected vehicles due to serious faults in engineering and manufacturing.
Chevy Cobalt which holds the highest record of recalls in the history of automobile recalls is another and major major disappointment on GM's part. Will GM be able to recover from the potentially destructing performance or won't they? Lets wait and watch.