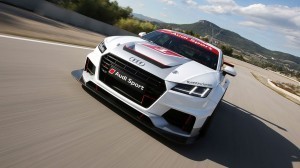 Audi gives a weight of 1,125 kg for the race car converted to TT. This corresponds to a power to weight ratio of around 3.3 kg per hp. Thus, the Cup-TT would be on the Nordschleife in the future as so-called Category A vehicle shall apply. So one day this Cup will end once and are used in the Green Hell of only pilots with the great Nordschleife additional license in racing, until the new Audi TT appears in the endurance championship some day. Nevertheless, this cross-reference is an indication that they are responsible for the Audi TT Sport Cup has made ​​a real race car on the wheels.
The New TT Race To The Audi TT Sport Cup!
Audi sees before 24 starting places and 18 of which are for permanent starter available. As in the Scirocco R-Cup, the six other cockpits share regularly changing guest starter. Audi takes care of the production, maintenance and use of the cars. Priced of Audi TT-Cup is just over the known from the Scirocco Cup prices. The permanent launch site costs 99,000 Euros.
With the new Audi TT-Cup Volkswagen Group continues its long tradition of the brand cups. First, in the Formula V and Formula Super VW driven with single-seater racing car. The new Audi TT is optically ago as a real racing car. The technical data promise that the performance can keep up with the look. Although Audi has somewhat surprisingly decided against the use of the brand's all-wheel drive.