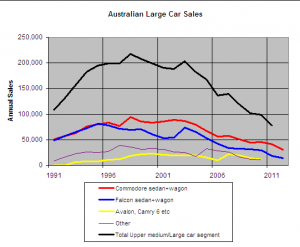 The Australian Automotive Industry faces a severely tumultuous time ahead with the closing of its automotive manufacturing plants. The huge step would result on the loss of 200,000 jobs along with $29 million loss in economic output.
According to the National Institute For Economic and Industry Research, the impact due to such a drastic action will go beyond the car making industry in Victoria and South Australia. In Victoria it is estimated that a loss of 100,000 direct and indirect jobs will be terminated. Not only that but South Australia will experience a major blow due to the elimination of 24000 jobs. Due to the flow on effects of the market, Australia will have to brace itself as the flood of 30,000 terminated job each in Queensland and NSW will be a result of the major shutdown.
The end of manufacturing plants in Australia is a regional as well as a national problem. Parallel to the economic hit that Australia will face, it is expected that the Australian dollar will fall to 80 US cents. The high Australian dollar has been one of the critical reasons for killing the Australian mass manufacturing.